Bondegatan
Bondegatan accommodation area is located in the heart of the area Södermalm. Here we rent a total of 19 apartments of varying sizes to international guest researchers and PhD students.
Location and room information
Bondegatan is centrally located in the popular area of Södermalm. The apartments and studios are located on the 3rd and 4th floor of the building. The apartments on the 3rd floor was completely renovated in 2013 and the apartments on the 4th floor are a bit older. The apartments range in size from 22-39 square meters (studios) and 32-42 square meters (two-room apartments). A laundry room is located on each floor.
Application information
Double occupancy is allowed in all apartments, however some of the studio apartments only have one single bed. The miniumum rental period is three months and the maximum rental period is one year.
Amenities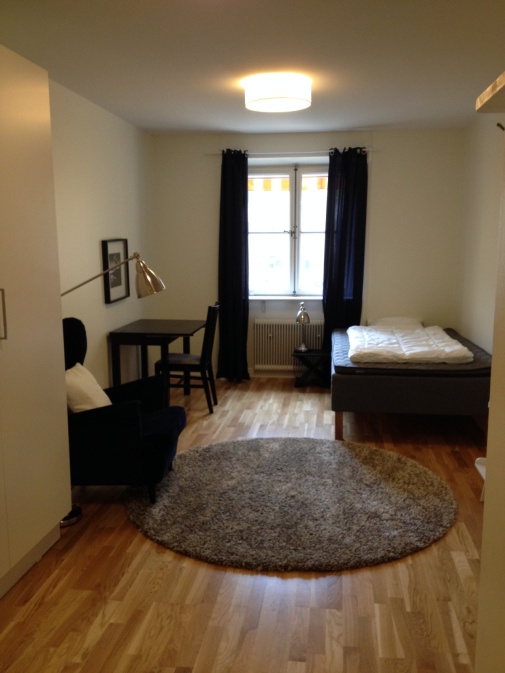 All apartments are furnished with a table, chair, bed, wardrobe/drawers and lamps.
They all have a private bathroom and a kitchenette or a separate kitchen.
Basic cooking utensils and dinnerware is included, however you must bring your own blanket, pillow, sheets and towels as these are not provided.
Rent and payments
All accommodation is rented out on a monthly basis and charged accordingly.
The rent per month is between 8300-14900 SEK depending on size of apartment, and that includes heating, cold water, hot water, electricity and internet. Excessive use of electricity will be charged extra.
For more payment information log into your accommodation account.
Internet
Wi-Fi is included in all apartments at Bondegatan. Each apartment has a router with information about the name of the network and the password. Please do not change the password.
If you have problems with the internet, please call the operator ComHem, telephone number: 0046 771 55 00 00
Transportation
From Stockholm University: Take the Metro Red Line towards Fruängen. Get off at the Subway stop Slussen, change to the Subway green line (same platform), and get off at Medborgarplatsen. Walk up the exit towards Folkungagatan. When you come out from the subway turn left. Walk along Folkungsgatan until you come to Södermannagatan, where you take a right turn. Walk along Södermannagatan until you reach Bondegatan, where you take a left turn. Walk until you reach Bondegatan 40. The walk takes approximately 10 minutes.
More information
For more information about the accommodation, area, amenities as well as general rules and regulations please read Tenant information Bondegatan.