Trädgårdsvillan
Trädgårdsvillan (the Garden House) is located in the Frescati Hage area located within walking distance from Stockholm University Campus Frescati. Here we rent 6 rooms with shared bathroom and kitchen to international researchers and PhD students at Stockholm University.
Location and Room Information
Trädgårdsvillan is a large older home with 6 bedrooms, common kitchen and two common bathrooms (one with a washer and drier), a library sitting area and an outdoor terrace It is located south of the Stockholm University main campus, in the Frescati Hage area. Frescati Hage is located in the Royal National City Park which is a beautiful and calm area close to Lake Brunnsviken, with a lot of surrounding nature and academic history. It is a 5 minute walk to Campus Frescati.
This house has been carefully renovated to preserve its historical interior architecture and is classified by the state as having high cultural value. The building consists of six bedrooms rooms, with a shared kitchen, three bathrooms, .
Application information
Double occupancy and overnight guests are not allowed in these rooms. The minimum rental period is 3 months and the maximum rental period is 6 months.
Amenities
All rooms are furnished with basic bedroom furniture such as a bed, wardrobe, desk and chair. The larger rooms have an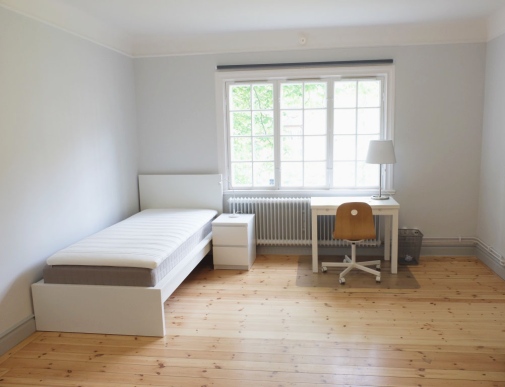 armchair. The kitchen has a refrigerator, freezer, stove, oven and microwave. Basic dinnerware and cooking utensils are provided. You will be provided with your own refrigerator shelf, freezer compartment, and kitchen cupboard.
Please note that you must bring or purchase your own quilt, pillow, sheets and towels as these are not provided.
Rent and Payments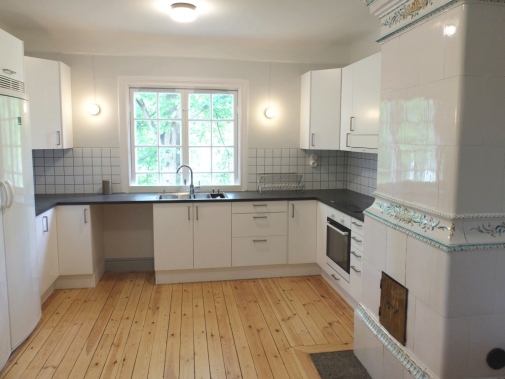 All accommodation is rented out on a monthly basis and charged accordingly.
The rent for one month is between 4400SEK and 8000SEK and that includes heating, cold water, hot water, electricity and internet (not Wi-Fi). Excessive use of electricity will be charged extra.
For more payment information log into your accommodation account.
Transportation
Trädgårdsvillan is located directly in the Frescati Hage area, a 5 minute walk from the Stockholm University Frescati Campus.
Internet
All apartments have access to wireless internet through the University network Eduroam.
More information
For more information about the accommodation, area, amenities as well as general rules and regulations please read Tenant information Trädgårdsvillan.