Baltic Breakfast: The Danish example shows that nitrogen leakage can be reduced
Increased nutrient efficiency in agriculture and decreasing atmospheric deposition have had large and sustained effects on the Danish river loads of nitrogen. But to reach the goal of the Water Framework Directive, further measures are needed, such as taking areas out of agricultural production, means researcher Gitte Blicher-Mathisen, Aarhus University. Benoît Dessirier, researcher at Stockholm University Baltic Sea Centre urges to reconsider today's focus on animal production to build a more resilient system and safeguard the water quality.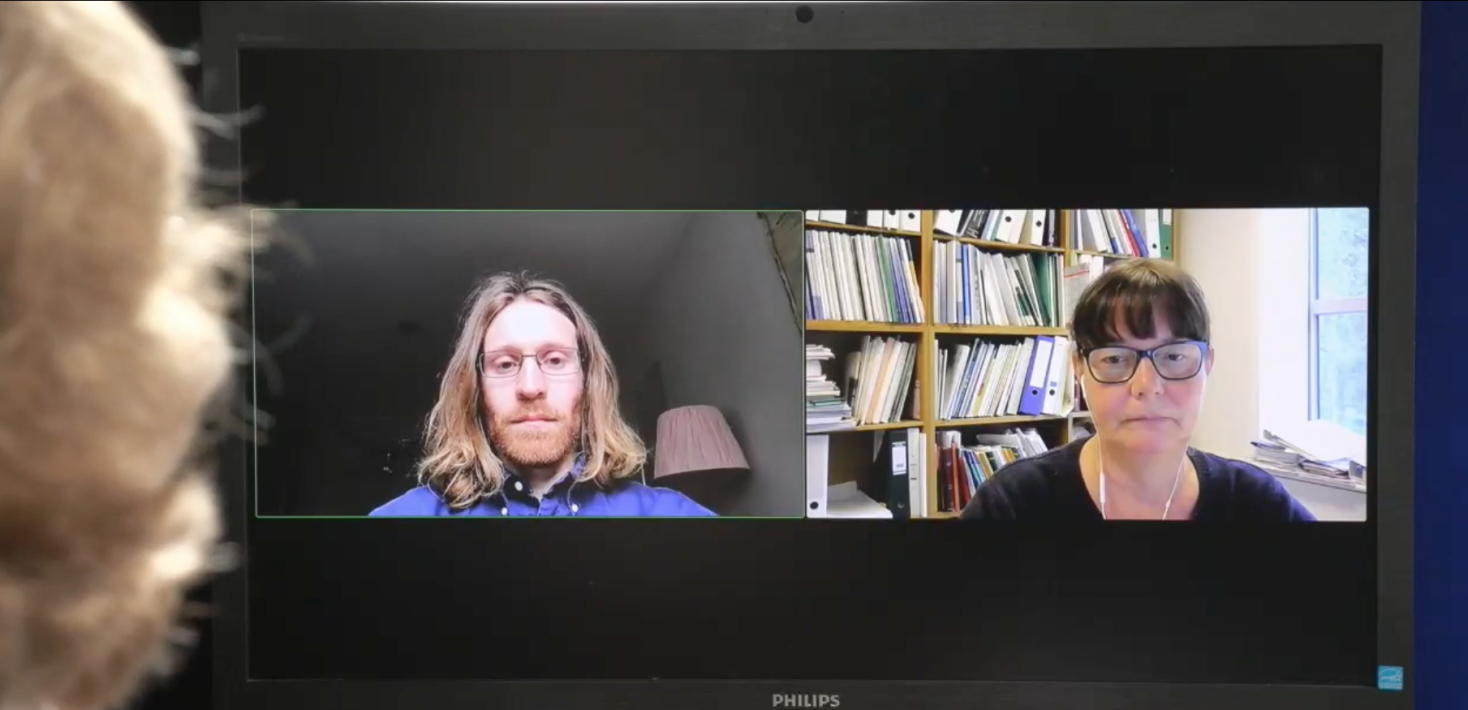 Denmark is an agriculture-intensive country, with over 60 percent of the land being farmed and a majority of the outcome used for animal feed. But it is also a country where the ecological issues of the coastal water have a strong focus and the nitrogen loading to the sea is considered a national concern, tells researcher Gitte Blicher-Mathisen, Aarhus University, who participated in the last Baltic Breakfast.
– The nitrogen loading to the coastal waters is the second most important figure every year, next after the Danish GNP, she says.
During the current monitoring program, starting off 1990, the load has steadily decreased, in total by 43 percent, with the steepest decline until 2005. Despite that, there is still some way to go to fulfil the target of the EU Water Framework Directive; 9 kg nitrogen per hectare and year.
– That's why we need more mitigation measures.
High-resolution map can improve measures
To fulfil the directive, a new regulation has recently been passed by the parliament, based on field surplus balances at farm levels. It consists partly of general regulations, that applies to all agriculture, and targeted regulations for areas with high loads to the coasts. The general regulations include nitrogen quotas, handling of manure, mandatory catch crops and later soil tillage.
– In 2016 farmers were allowed to add more fertilizers to the land and to counteract that effect, the catchcrops were introduced, explains Gitte Blicher-Mathisen.
For the catchment with too high loads to the coasts, there are additional targeted regulation and collective nitrogen regulation, consisting of constructions of wetlands, afforestation and organic soils. The implementation of catch crops is focused on areas that need groundwater protection and areas with low retention, says Gitte Blicher-Mathisen.
– Right now, we are trying to make the nitrogen retention map more detailed. With a better map you can locate catch crops to areas with low retention and have a higher cut in the load.
Measures have sustained effects
Researcher Benoît Dessirier, Stockholm University Baltic Sea Centre, and his colleagues have used numerical models to investigate the effects of the different measures taken in Denmark. By adding data on biological fixation and deposition of nitrogen, as well as the application of mineral fertilizers and manure, and then subtracting the nitrogen content of the removed crops, the nitrogen surplus on the field can be calculated. Combining this with hydrological data, the researchers can estimate the leakage of nitrogen to a river, in this case the Suså river in Danish Zealand (Sjælland). When the models are calibrated, they can test hypothesis and explore what the effects have been of different events.
– This can tell us what sustained effects that past practices in agriculture might still have – how much the agricultural system might lag – or if you flip the question: how long time you should expect for new policies to have effects, says Benoît Dessirier.
Comparing the effects of decreased atmospheric deposition, the set-asides of some agricultural land (replacing it with permanent grass), and the combined measures to improve nutrient use efficiency by increasing the use of manure, applying strict fertilization limits and making catch-crops mandatory, showed that the latter group of measures had the largest effects.
– This also shows that with very strict efforts to limit nitrogen you can reset the system to a new state where you have beneficial effects continuously. It is possible to have a durable action, says Benoît Dessirier.
Increased food production call for plant-based outputs
A precondition for this research, Benoît Dessirier stresses, is the very good availability of data from Denmark.
– It's really worth investing in data collection and monitoring. It helps researchers and practitioners to understand what's happening and what is working and not.
Climate change is expected to increase the need for food production in northern Europe. Benoît Dessirier highlights that this comes with strategic options, and point at the fact that the largest part of the grain production in Denmark currently is used for animal feed, in the meat and milk production.
– If we want to make our food system more resilient in the future and safeguard the water quality, we might want to transition the system towards more plant-based outputs relative to today's situation.
See the whole webinar here:
Answers to questions from the audience
Benoît Dessirier, what would you say is the residence time for nitrate in soil? Is there accumulation/build up in some soils as with phosphate?
Benoît Dessirier: in this simplified model, the build-up is not directly observed in the soil nitrate pool but in the labile soil organic nitrogen (SON). The turnover in the nitrate pool is well under a year. A higher level of labile SON will mean a higher level of soil nitrate though, by way of increased mineralization.
A correction to what was mentioned during the seminar: once nitrates have left the root zone, their average travel time in the watersheds seems to be of the order of 1-3 yrs.
Gitte Blicher-Mathisen, you said you have monitoring that distinguishes nutrient input sources, could you explain how you differentiate between sources?
Gitte Blicher-Mathisen: We have small monitoring catchments dominated with agriculture and no direct input from point sources, catchments dominated by forest and nature, catchments having direct input from point sources as seen on bottom graph. Link to monitoring report:
Videnskabelig rapport fra DCE - Nationalt Center for Miljø og Energi nr. 473
Regarding the fate of nitrogen from manure, do either of you know how much is actually available to crops?
Gitte: Ammonium content is 50 % of total N in cattle slurry, 70 % in pig slurry:
Kvælstofvirkning af gylle – effekt af lagringstid og naturlig separering i gylletank
In Denmark requirement for utilization of cattle slurry is 75 % for cattle slurry and 80 % for pig slurry:
Vejledning om gødsknings- og harmoniregler
Benoît: (complementing Gitte's answer) The N fraction that is not directly plant available will also contribute long-term via mineralization.
What is the trend in atmospheric losses of nitrogen from manure?
Benoît: Without being able to put a number on it, ammonia losses from manure have gone down (one of the underlying reasons for the decreasing trend in atmospheric deposition overall). This comes from improvements in the stables, in the storage facilities and in the application techniques and better synchronization with weather conditions that minimize volatilization.
How are the farmers in Denmark compensated for having to comply with regulations? Regulations seem quite detailed - how is acceptance by the farmers?
Gitte: Farmers are not compensated for agricultural regulation except for the target catch crops in the period 2016-2021. The farmers has to fulfil the regulations otherwise, their EU hectare payment will be cut off. Most issues from the farmers is to trust effect of measures and models. Requirements to documentation are therefore very high.
You have shown that the load concentration (kgN/ha/year) have decreased - how much is there a climate effect on that (e.g. due to reduced precipitation)
Gitte: The climate effect will not decrease but increase the N load – higher yield from increase in temperature will increase the economic optimum for fertilizer application and this will increase N leaching. Higher precipitation and run of as well as climatic extreme events with drought will also increase N load.
Benoît, are your model results published? I´d be strongly interested in the time series covering the whole century
Benoît: The results presented today are not published as of yet, but should be submitted for peer-reviewed publication in the near future.
Benoît Dessirier, in your graph of the history of the nitrogen surplus it seems that although mineral fertiliser use increased, crop yield did not increase this much. How could this be explained?
Benoît: Right, in the 60s and 70s. Without detailed knowledge of these two particular decades, I would hypothesize that there must have been inefficiencies in fertilizer incorporation leading to ammonia losses, and inefficiencies in timing fertilizer applications with crop demands. More work would be needed to ascertain this.
Gitte Blicher-Mathiesen, how do you manage to create acceptance for the targeted measures among farmers in Denmark because this means extra efforts/regulations for them e.g. if they have to cultivate more catch crops. Are they fully compensated for reduced yields? In Germany our experience is that we have great difficulties in implementing regulations in agriculture that are not the same for the whole country because local farmers will feel disadvantaged.
Gitte: Farmers are compensated for the target catch crops in the period 2016-2021. The rules for having catch crops have been tighten so farmers have to report which field that are catch crops covered. The fields are monitored by satellite and if the field do not have catch crops as reported by the farmers, the EU hectare payment will be cut off. The farmers do of course have focus on the next level of future regulation and the Waterplan 3. Target regulation will as much as possible be to place catch crops on fields with low retention and therefore higher effect. However, as told in the presentation the regulation model for the farmers is still under development.
Text: Lisa Bergqvist
Last updated: June 1, 2022
Source: Östersjöcentrum