SUBIC building
SUBIC will be located at Arrhenius Laboratory, at Stockholm University's Frescati campus and will be available to all researchers affiliated with Stockholm University or affiliated with other Swedish universities and their international scientific partners.
Arrhenius Laboratories
The first building (No. 10) was designed by architect Carl Nyrén (1917-2011) and was inaugurated in 1973. It was built for chemistry institutions and counts as one of the most consistent and architecturally successful examples in the style of "structuralism". According to this architect used a series of standardized, prefabricated concrete for pillars, beams, floor slabs and stairs, where the façade elements would ensure both flexibility, variability and unlimited expandability. Total building consists of four relatively narrow building bodies joined together so that an elongated, fully enclosed farm in north-south direction is formed. The exterior consists of untreated concrete columns with strongly protruding heels behind the smooth concrete parapets and low window strip silhouetted. Some wall sections, like the frescoed huge ventilation hoods, lined with silver-colored stainless steel.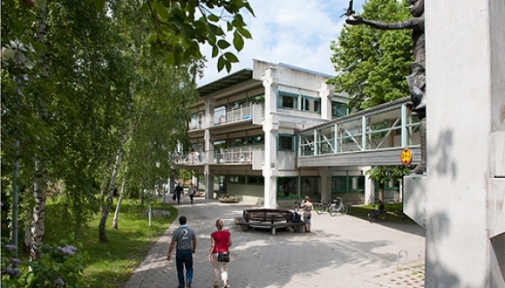 The building was designed by the architectural office Nyréns by architect Thomas Rosén and consecrated in 1995. It consists of a prefabricated system where the facades behind pelars have had a traditional character with stained breast slices and red wooden joinery.
The building was designed by architect Nyrén's offices by the architect Bertil Brodin and consecrated in 1985. It consists of three parallel, north-south oriented buildings bound together in the upper floors with glazed footbridges. It is also built up of long prefabricated systems with a special design of the windows. In the south, open building with generous balconies. The house's only auditorium has been broken out into a separate volume clad with green-painted wood paneling.
Fun facts
The buildings have been named after chemist Svante Arrhenius, who received the Nobel Prize in Chemistry in 1903. The first building has among other things inspired director Mikael Håfström, who let it be the company Angila Medical's plant in the film "Hassel - Botgörarna" from, 1991.