Environmental Status 2018
Stockholm University has a environmental impact due to resource use and emissions. On this web page you will e.g. find facts about carbondioxid emissions genereted by business trips and waste and energy use at the University.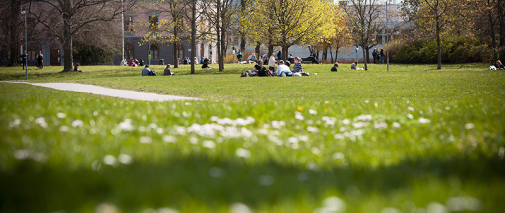 Transport, business travel and eMeetings
Carbon dioxide emissions from air travel have increased by about 6.4 per cent per year, which corresponds to about 56 kilos if you compare with 2014.
In 2018, approximately one tonne of carbon dioxide per annual workforce were released in connection with business trips. It is mainly air travel over 50 km that accounts for the majority of carbon dioxide emissions.
Train travel increases
During 2018, staff and students traveled just over two million kilometers by train. This is an increase of almost 13 per cent when compared with the previous year. The trend of more and more people choosing to go by train at the university has increased since 2015.
Digital meetings
In 2018 the number of digital meetings has increased rapidly at the University. During the year, for example, the use of the meeting and web conferencing tool Zoom increased by more than 400 percent.
Waste
In 2018, the University generated approximately 847 tonnes of waste. Approximately 55 percent of the waste is recycled through material or energy recycling.
In total, the amount of waste decreased by 11 percent in 2018 compared to the previous year. The dominant amount of waste consisted of unsorted combustible waste, which is 416.8 tonnes. At the same time, it is also the amount that decreases.
Below you will see other types of waste and quantity during 2018.
Recycled paper: 148.2 tons
Corrugated cardboard and paper packaging: 85.6 tonnes
Wood: 71 tons
Metal: 37.5 tons
Electric waste: 24 tons
Glass packs colored: 23.9 tons
Plastic: 19 tons
Fillers: 9 tonnes
Landfill: 7.2 tons
Glass packaging unpainted: 5 tons
Energy
It is the electricity, heat and cold that stands for the University's energy use.
In 2018, the University consumed approximately 53 135 megawatt hours. Calculated per annual workforce, each workforce consumes 11,038 kWH and full-year students 2,022 kWH.
Compared to 2017, energy consumption on the total has decreased by 0.7 percent.
Renewable electricity
All electricity at the university in 2018 can be defined as renewable. Which means that it comes from, for example, wind or hydropower. This includes both operating electricity (e.g electricity for computers, office appliances and lighting in work rooms) and real estate electricity (e.g. ventilation, pumps and elevators).
Purchasing and procurement
In 2018, environmental considerations were taken into account in 73 percent of all procurements and calls. During the year included, among others, printing services, settlement services for IT products and fruit baskets.
Purchasers at the university are trained in setting environmental requirements. The university has also developed a routine for following up on environmental requirements in procurement, primarily in procurement over the direct procurement threshold, but in the long term also in direct procurement.
Water consumption
In 2018, the university used approximately 81,481.6 cubic meters of water. At the same time, it is seen that water consumption is decreasing. Consumption has decreased by 35 percent since 2016.
Last updated: September 26, 2019
Page editor: Ilari Ohring
Source: The Environmental Council