About us
Physics is the science of studying the constituents of matter at a fundamental level and the forces that affect them. It studies the smallest elements of nature, but also the evolution and structure of the universe.
Lectures in physics were given from the start of Stockholm University in 1878. Svante Arrhenius (Nobel laureate in chemistry in 1903) became the university's first professor of physics in 1895. One of the leading figures in quantum physics - Oskar Klein - was also a professor of physics at Stockholm University (1930-62).
Fysikum in numbers
About 250 employees, of which about 90 are PhD students
250 students
About 5 programmes at undergraduate and graduate level
About 75 courses.
How it began
The university's physics activities began in premises on Kungsgatan, but as the business expanded, a new building was constructed on Vanadisvägen, where the physics activities moved in 1959. The Institute of Physics and the Institute of Theoretical Physics merged and eventually (1988) merged into one department - Fysikum. In the Stockholm area there was a desire to co-locate all academic physics activities.
Fysikum at Albanova
After many years of work to create such a physics centre, Fysikum, together with other physicists, was able to move into AlbaNova, located in the Albano area, in 2001.
AlbaNova - Stockholm's most beautiful house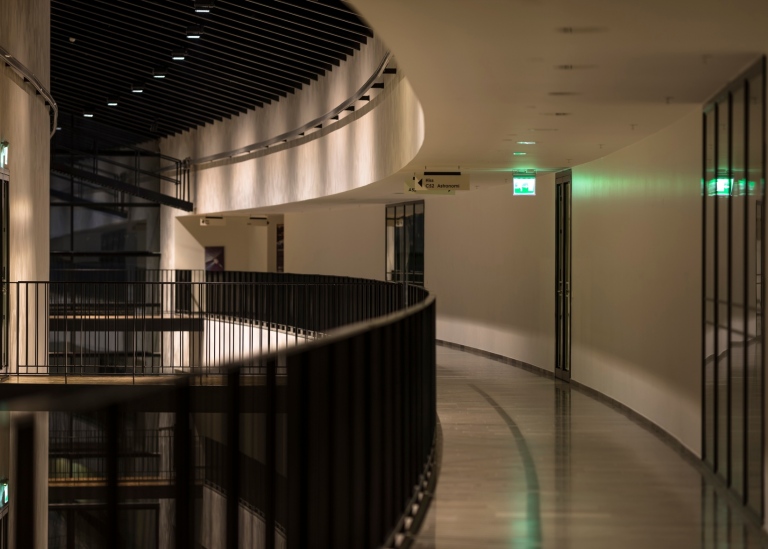 Fysikum is located on the AlbaNova campus area. The main building was inaugurated in 2001 and in the same year was named "Stockholm's most beautiful building". It is also located next to a national city park that invites you to take nice walks.
Here you will find contact information for the management and other important functions of the department:
Last updated: December 6, 2021
Source: Fysinfo