President's Blog: Meetings in Japan
For the past few days I have been in Kyoto, where the Sweden-Japan University and Research Leadership Summit has just been held, with a number of Swedish and Japanese university presidents and research funding bodies, in the presence of the Swedish ambassador and the Japanese deputy minister of research.
This was a follow up to the Japan-Sweden University Presidents' Summit in 2015, which became the start of the MIRAI collaboration between 15 Swedish and Japanese universities, including Stockholm University, and was a piece of the puzzle in the construction of the strategic partnership that we, together with KI and KTH, have established with the University of Tokyo.
The STS Forum (Science and Technology for Society) – an annual conference with about 1,500 participants from academia, the business community, the public sector and the political world – is currently taking place here in Kyoto. It was opened in style by Japanese Prime Minister Shinzo Abe, which
says something about its importance as an event. As is often the case with this type of broad gathering, the panels are of somewhat varying quality, but in terms of business intelligence, it is hard to beat. All current topical issues and emerging buzzwords are sure to be mentioned here.
Special meetings are also taking place, for example for university presidents, and yesterday I participated in an interesting discussion on the universities' specific culture with colleagues from all over the world. We discussed success factors – a topic on which we were remarkably unanimous regardless of geographical location. The main factor is the pursuit of excellence, but not only individual; rather, it is a matter of building strong environments and thus devoting great attention to recruitment.
We discussed the importance of focusing on our core duties, research and education, with collaboration as a result. We talked about the necessity of academic freedom – building trust and challenging authority – which also goes hand in hand with academic responsibility – being open, addressing societal challenges and providing knowledge. Particularly interesting was the discussion on challenges, although it was hardly a surprise that universities in many parts of the world are currently experiencing increasing pressure, both from governments and the business sector. Many bore witness to the latter being a particular threat to basic research through the demands for innovation and quick results. We also discussed the deeply problematic politicisation of universities that we have seen in, for example, the UK and the USA, with strong conflicts between different interest groups. Speaking of current issues: today, issues pertaining to culture and values are once again pervasive at universities around the world.
Tomorrow, KI President Ole Petter Ottersen and I will travel early to Tokyo for a meeting with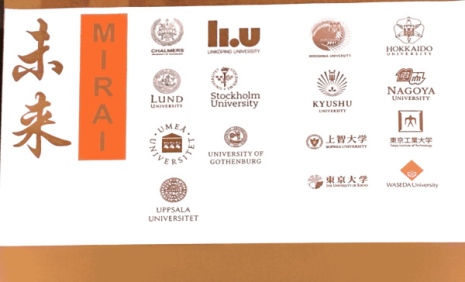 the President of the University of Tokyo, Makoto Gonokami. We will then commence a three-day seminar held in the context of the MIRARI collaboration, which will also be attended by a number of researchers from Stockholm University. In addition to panel discussions in the plenary sessions, there will be four specialised workshops on sustainable development, materials science, aging and innovation. The MIRAI seminar starts with the official signing of a Japanese-Swedish joint statement on increased collaboration in science and technology, and ends with an anniversary banquet to celebrate 150 years of diplomatic relations between Japan and Sweden.