Find your way on campus
Stockholm University's main campus is in the Frescati area, north of the city centre.
While most of our departments and offices are located here, there are also a number of smaller campus areas in other parts of the city.
Find where your department is located
Learn more about Stockholm University campus
Maps of Frescati and other campus areas
---
Studenthuset and Infocenter
In Studenthuset at Frescati you will find a wide range of student services and support. This house has been designed especially for our students and it serves as a meeting place on campus.
Read more about Studenthuset and Infocenter
"Andrum" – a room for everyone
Need to take a pause? 'Andrum', which means 'breathing space' in Swedish, is the name of a room for contemplation, open to all at Stockholm University irrespective of religion or creed.

The central motif for the room is light and is the creation of designers Fredrika Linder and Catarina von Matérn. "The wall of light is intended to create a feeling of looking out of a window – a view or an opening towards the unknown. The bubbles I see as thought bubbles that symbolise the movement of free reflection, swirling towards the unknown", says Fredrika Linder who created the wall of light.

Catarina von Matérn designed the room's benches and the large red mat. Her intention is to use the circle, a symbol of eternity, and the intense red colour to reflect the power of religion and of love.
Location: Södra huset, Frescati
Room E407 in Södra huset is open for individuals or groups without booking during normal opening hours:
Monday - Thursday: 6.30-22.00
Friday: 6.30-20.00
Saturday - Sunday: 8.00-18.00
Contact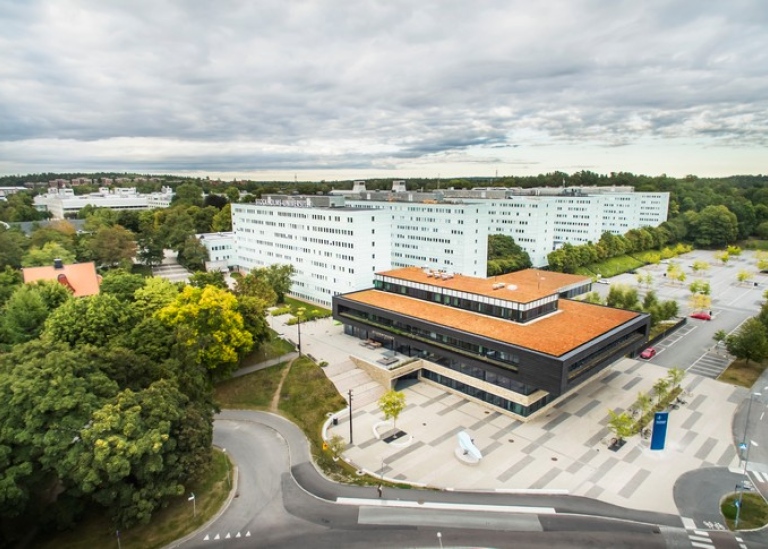 Most teaching and research activities at Stockholm University take place in the Frescati area just north of Stockholm city, which stretches from the Bergius Botanic Garden in the north to Sveaplan in the south.
About Stockholm University Campus
Lunch restaurants and cafes
There are a number of restaurants in the area that offer everything from simple sandwiches and salads to heartier fare including Middle Eastern, Thai, and classic Swedish favourites.
---
Guided tour of campus Frescati
In this short film our students Leo and Molly show you around Stockholm University's main campus Frescati. Don't worry if you haven't grasped the Swedish language yet. There are subtitles in English. Come on, let's go!
---
Contact
Visiting addresses and contact details for Stockholm University
Last updated: September 7, 2020
Source: Student Services