Mechanical workshop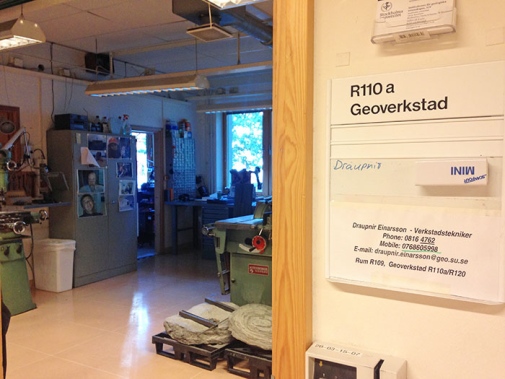 Mechanical workshop services at the Faculty of Science
A new core facility has been formed at the Faculty of Science which will cover the faculty's needs for mechanical workshop services.
The core facility comprises the mechanical workshops at IGV and AlbaNova. The services provided by the new core facility will replace services earlier provided by the central workshop, centralverkstaden, at Frescati Backe, which will be decommissioned during Spring of 2021. The new core facility will offer a continued high level of expertise and services in mechanical construction and manufacturing in the same spirit as before. The IGV and AlbaNova workshops will undertake both large and small scale tasks in mechanical construction and manufacturing. The implementation of the organizational structure of the new facility is on-going and will be completed during 2021.

Under the present up-start period please contact either Patrik Löfgren at Fysikum patrik.lofgren@fysik.su.se or Draupnir Einarsson at IGV draupnir.einarsson@geo.su.se for ordering mechanical workshop service.

According to the Faculty decision, the hourly rate is SEK 850, out of which SEK 300 will be subsidized by the Faculty (i.e. the net rate for the ordering department/project will be SEK 550).
Mechanical workshop address:
Svante Arrhenius väg 6A
Prices/cost:
IGVs employees internal SEK 550/hour plus materials.
External clients SEK 850/hour plus materials.
For more information contact
Draupnir Einarsson | +46 (0) 8 16 47 62/ +46 (0) 76 860 59 98
draupnir.einarsson@geo.su.se
Patrik Löfgren | +46 (0)8 553 788 93
patrik.lofgren@fysik.su.se
The mechanical workshop has the most common power/hand tools, digital measuring tools and good work spaces and vises. The room has a traverse with of 500 kg lifting capacity, to a maximum height of ~ 1.8 m. Outside there is also a traverse with a lifting height of 4 m.
Tools and machines in the workshop
Manual router for small manual tasks in plastic and steel

Lathe for large-sized jobs

Small lathe for smaller jobs

Welding machines (MIG and TIG)

Computer-controlled mill for larger jobs in metall or plastics

Horizontal band saw for profiles and pipes

Vertical band saw for plastics, wood and aluminum

Circular saw for wood

Sheet metal bending machine for up to 1 m long and 4 mm thick sheet metal

Computer-controlled milling cutter with vacuum table

Sheet plastic bending machine for up to 1 m long and 5 mm thick sheets

Hydraulic press, up to 40 ton pressure

Large drill press

Small drill press

Blasting cabinets with light and extractor/filter