Study with us
We annually give select Graduate Students the opportunity to write their doctoral thesis at the IIES. Here you can find further information on what we have to offer.
Graduate students are provided with a broad set of courses taught by faculty from IIES, the Department of Economics at Stockholm University and the Stockholm School of Economics, before embarking on their own research agenda. Our graduate students go on to have successful careers in and outside of academia, and numerous leading researchers have spent their formative years at the IIES. Here you can find information about some of our current graduate students and their work, our past placement record and the structure of the graduate program.
Our graduate students currently receive financial support from Handelsbankens forskningsstiftelser, the Torsten Söderberg foundation and the Tom Hedelius foundation. We are grateful for their investment into the future of economic research.
First and foremost, we house a number (currently over 30) graduate students, who all work toward their PhDs in economics (there are usually also some visiting students here). Their research is supervised by IIES faculty and it is a central pride of our department. IIES students are admitted when they have begun their dissertation work, i.e., after completing most of their coursework.
Second, faculty at the IIES of course teach courses on different levels: undergraduate, master's, and PhD. Since all of our faculty teach in the PhD program, our PhD students therefore first meet and get to know them in the context of the course-work phase of their education. On the master's level we teach a number of courses too, including development economics and climate and the economy. One of the largest undergraduate classes of the entire university, moreover, is taught by IIES faculty member John Hassler!
Much more on the Stockholm University PhD program and how to apply can be found here
Current Graduate Students
Meet some of our current graduate students.
Chloe Nibourel (Visiting Graduate Student, SSE)
Chloe joined the IIES as a visiting graduate student from Stockholm School of Economics in the midst of the pandemic, during the fall of 2020.
Hej Chloe!
Can you tell us a bit about your background, where you studied or worked before?
- After my childhood in Guadeloupe, I moved to Paris in 2012 to pursue post-secondary studies. I got accepted into a double Bachelor's degree combining Social Sciences at Sciences Po and Mathematics at Université Pierre et Marie Curie. Later, I chose to specialize in Economics and I entered a Master's degree shared between Sciences Po, Université Pantheon-Sorbonne, and Universitat Autonoma de Barcelona. In Parallel, I got the opportunity to discover the academic world as an RA for Prof. Roberto Galbiati (CNRS). I decided to continue working as an RA at INSEAD for one additional year after my graduation. In 2018, I started my PhD at the Stockholm School of Economics.
What research have you done in the past and/or what are your research interests going forward?
- My main research interest is Political Economy, even though I would like to start projects in Public Finance as well. I focus on applied micro technics, and I mostly use administrative data from European countries. In term of topics, I am interested in the rise of populism in western democracies, party coalition formation, and the allocation of EU funds, for example.
What's your first impression of the IIES?
- I am very pleased by the working environment at the IIES. I am grateful for the help and support I receive from my supervisor Torsten Persson. There is also a group of young assistant professors in applied micro who encourage students to be ambitious, and provide useful feedback on a regular basis. PhD students are particularly welcoming and I felt I was immediately part of the team. Unfortunately, I did not have the opportunity to introduce myself to everyone yet (because of the crisis), but I enjoy these random meetings in the kitchen!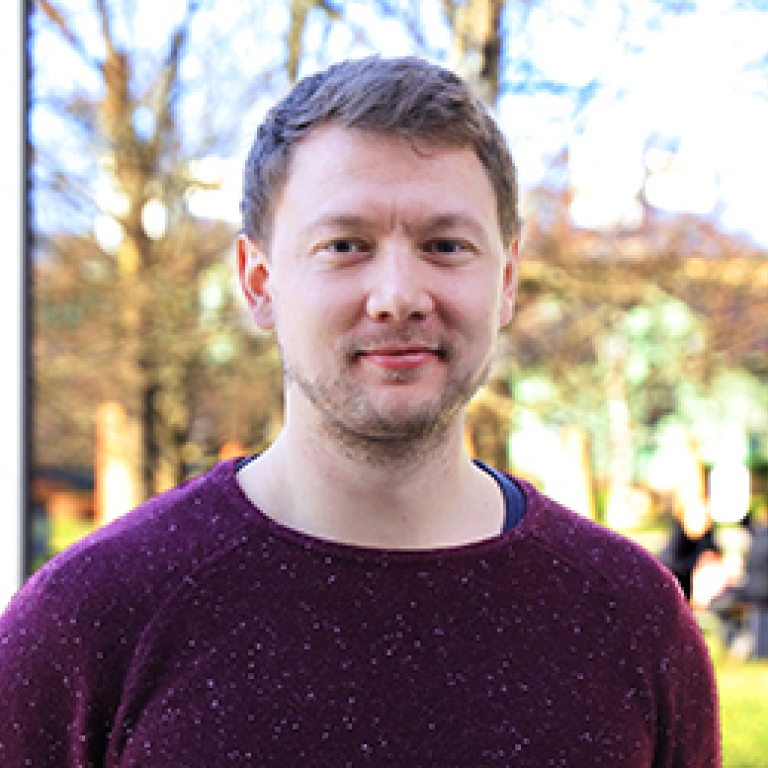 Hej Stefan, can you tell us a bit about your background?
- Hej! Well, my background is only as diverse as different lecture halls get, I guess. I started studying Economics at the University of Cologne, where I got my Bachelor's and Master's degree and then I went on to The University of Queensland for another Master as well as to start my PhD. Now I am very happy to be here and have gotten the opportunity to join the IIES as a graduate student.
What research have you done in the past and what are your research interests going forward?
- I am, and have been for some time, interested in studying environmental economics from a macro-perspective. I would like to investigate more the economics of climate change as well as issues of sustainability and growth more generally.
What you do think are the big questions in your field of specialization that we need to have better answers to?
- Clearly global warming is a pressing issue and is, at its core, an economic problem. Apart from understanding the economics of it better, I think it will also be crucial how we inform policy makers and design optimal and consistent environmental policy going forward.
How come you chose the IIES?
- My research agenda is mirrored in the work of Professor John Hassler and Professor Per Krusell here at the IIES. To work with these great academics is why I originally applied to visit the Institute. They are not only leaders in their academic field, but also create a great research environment for their graduate students.
Placements of IIES Graduate Students
Here you can find information on where our graduate students have accepted job offers after the completion of their graduate studies at the IIES.
2022
Mattias Almgren – National Institute of Economic Research (NIER), Sweden
José Elías Gallegos – Banco de España
John Kramer – University of Copenhagen
Xueping Sun – Princeton University (1-year post doc)
2021
Divya Dev – Storytel
2020
Richard Foltyn – University of Glasgow
Selene Ghisolfi – Bocconi University
Markus Karlman – NHH Norwegian School of Economics
Karin Kinnerud – BI Norwegian Business School
Kasper Kragh-Sørensen – University of Oslo
Benedetta Lerva – Monash University
Has Van Vlokhoven – Tilburg University (after a 1-year postdoc at Columbia Business School)
2019
Serena Cocciolo – World Bank (Washington D.C.)
Saman Darougheh – Danmarks Nationalbank (Central Bank of Denmark)
Jaakko Meriläinen – Instituto Tecnológico Autónomo de México (ITAM)
Matti Mitrunen – University of Helsinki (after a 1-year postdoc at University of Chicago)
Jonna Olsson – University of Amsterdam
Jósef Sigurdsson – Bocconi University
2018
Sirus Håfström Dehdari – Uppsala University
Karl Harmenberg – Copenhagen Business School
Mathias Iwanowsky – Ludwig-Maximilians-Universität München
Matilda Kilström – Stockholm School of Economics
2017
Nathaniel Lane – Monash University (after a 1-year postdoc at MIT)
Hannes Malmberg – University of Minnesota (after a 1-year postdoc at Stanford University)
Erik Prawitz – Research Institute of Industrial Economics (IFN)
Erik Öberg – Uppsala University
2016
Niels-Jakob Harbo Hansen – The International Monetary Fund (IMF)
Audinga Baltrunaite – Bank of Italy
Mounir Karadja – Uppsala University
Shuhei Kitamura – University of Rochester
Miri Stryjan – Ben Gurion University of the Negev
2015
Thorsten Rogall – University of British Columbia
2014
Alex Schmitt – Ifo Institute, Ifo Center for Energy, Climate and Exhaustible Resources
2013
Pamela Campa – University of Calgary
Christina Håkanson – Sveriges Riksbank (Bank of Sweden)
Ruixue Jia – UCSD School of International Relations
Ettore Panetti – University of Sassari
David Seim – University of Toronto
Abdulaziz Shifa – Syracuse University
Bei Qin – University of Hong Kong, School of Economics and Finance
2012
Johan Gars – Beijer Institute
Jinfeng Ge – Fudan University
Daniel Spiro – University of Oslo
2011
David von Below – University of Oxford
Andreas Mueller – Columbia Business School
Dario Caldara – Board of Governors of the Federal Reserve System
Michael Song – University of Chicago, Booth School of Business
2010
Maria Perrotta – Stockholm School of Economics, SITE
Jan Klingelhöfer – European University Institute in Florence, Italy
Erik Meyersson – Stockholm School of Economics, SITE
David Yanagizawa Drott – Harvard University, John F. Kennedy School of Government
Olle Folke – Columbia University, School of International and Public Affairs (SIPA)
2009
Anders Fredriksson – Namur University, FUNDP
2008
Erika Färnstrand Damsgaard – Research Institute of Industrial Economics
Martin Bech Holte – McKinsey & Company
Gisela Waisman – Stockholm University, Department of Economics
2007
Daria Finocchiaro – Sveriges Riksbank (Bank of Sweden)
Virginia Queijo von Heideken – Sveriges Riksbank (Bank of Sweden)
Mirco Tonin – University of Southampton, School of Social Sciences
Jose Mauricio Prado, Jr. – IMT Lucca
Anna Larsson – Stockholm University, Department of Economics
2006
Martina Björkman – Bocconi University, IGIER
Giovanni Favara – University of Lausanne
2005
Thomas Eisensee – Ministry of Finance, Sweden
Natalie Pienaar – National Treasury, South Africa
Alessandra Bonfiglioli – Institut d'Anàlisi Econòmica, Campus UAB
Mathias Herzing – Stockholm University, Department of Economics
Ulrika Stavlöt – Swedish Institute for European Policy Studies
2004
Conny Olovsson – Stockholm School of Economics
Emmanuel Kohlscheen – University of Warwick
2003
Bård Harstad – Northwestern University, Kellogg School of Management
Gino A. Gancia – CREI
2002
Charlotta Groth – Bank of England
Åsa Johansson – OECD, Economics Department
2001
Anders Olofsgård – Georgetown University, Edmund A. Walsh School of Foreign Service
David Vestin – European Central Bank
Director of Graduate Studies
Visiting address

South Buildings

Room: A889
Last updated: June 30, 2022
Source: Institute for International Economic Studies (IIES)