About the institute
The core mission of the Stockholm University Institute for Turkish Studies (SUITS) is to contribute to a broad and well informed understanding of Turkey and Turkish affairs in academia, civil society, government, and the private sector in Europe as well as the rest of the world.
Our Research
SUITS is an interdisciplinary research institute that aims to produce research of the highest international quality within both the social sciences and humanities. Research at the Institute falls under the broad label Turkish studies.
Researchers at SUITS
Paul T Levin, Director
Jenny White, Professor Emerita
Seren Selvin Korkmaz, Doctoral Researcher
Imren Borsuk, Postdoctoral Researcher (on leave)
Reuben Silverman, Postdoctoral Researcher
Application to become a visiting research fellow
SUITS is pleased to announce we are accepting applications for fellow residencies. While we unfortunately cannot offer funding ourselves, we offer a supportive research environment and limited travel grants for conferences and/or research to young scholars whose work is funded by other institutions.
There are 2 application rounds each year. Deadlines are 1 November and 1 February with announcements coming later the same month.
Previous Visiting Scholars
2016-2022
Cengiz Candar
2020-2021
Bengi Ruken Cengiz
2018-2020
Pinar Sayan

2018-2019
Erol Saglam

2017-18
Åsa Eldén
Bilge Yabancı
Lorenzo d'Orsi

2016-17
Berna Ekal Simsek
Asli Postaci
Shokoufeh Arvin

2015-16
Bahar Baser
Ahmet Kaysili

2014-15
Digdem Soyaltin

2013-14
Murat Somer
Jozsef Fekete
Policy Briefs
SUITS Policy Briefs give an audience of Swedish and Nordic policymakers, EU policymakers, and a broad audience of interested readers concise overviews of key issues relating to Turkey. In these policy briefs, SUITS invites experts on Turkey to present their analyses and recommendations.
Fall 2023, no. 3
Turkey's 2023 Elections: Successful Autocracy or Failure of Conventional Parties? by Murat Somer
Read online with links or

SUITS Policy Brief 2023 3 Somer Turkeys 2023 Elections.pdf (361 Kb)
Spring 2023, no.2
What should the European Union do in case of an opposition victory in Turkey?
Read online with links or as downloadable PDF

SUITS Policy Brief, Spring 2023 (259 Kb)
Winter 2023, no.1
What can we expect from Turkey's 2023 elections? by Jenny White
Read online with links or as downloadable PDF

SUITS Policy Brief Winter 2023 (447 Kb)
Events and Seminars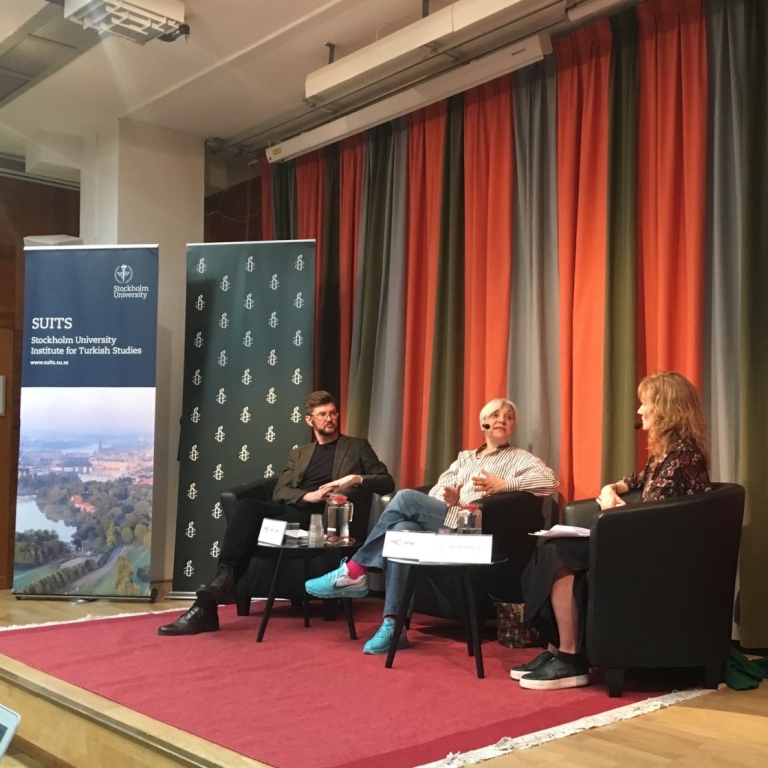 SUITS hosts open lectures and panel discussions throughout the year and our researchers also participate in open events hosted my numerous other institutions - in Stockholm, nationally and internationally. Please subscribe to our newsletter and like our Facebook page to keep updated on future events.
Upcoming events are listed on the calendar page
Research seminars are held throughout the academic year and are aimed at scholars working in related academic fields. Members of the public may be able to participate if space allows. Please contact Paul T. Levin paul.t.levin@suits.su.se for inquiries about Research Seminars.
Newsletters
Subcribe to receive updates on policy briefs, upcoming events, and the ways in which SUITS is having an impact on academia, the policy community and the broader public.
Organisation
The Stockholm University Institute for Turkish Studies – (SUITS) is an independent crossdisciplinary research institute within the social sciences and humanities academic fields. SUITS was established on 1 October 2012 and publicly inaugurated on March 12, 2013. The institute was first located at the Department of Asian, Middle Eastern and Turkish Studies, and is now affiliated with the Department of Economic History and International Relations since 2021.
The institute is managed by its Director who is appointed by the President of Stockholm University. The Director is employed full-time as a researcher, and charged with managing the institute in accordance with the decisions made by a Board consisting of four Stockholm University Professors together with a Chair.
Board Members
Jakob Hallgren, Chair
Helena Bodin, Member
Mark Rhinard, Member
Isabell Schierenbeck, Member
Jonas Tallberg, Member
Paul T. Levin, Director of SUITS
Magnus Petersson, Head of Department for Economic History and International Relations
The Board meets at least once per semester and approves a budget along with an activity plan as well as the annual report.
Operational Plan and Annual Reports

SUITS Operational Plan 2021 (240 Kb)

SUITS Annual Report 2020 (5063 Kb)

SUITS Annual Report 2019 (18607 Kb)
For general inquiries:
suits@suits.su.se
Director:
Dr. Paul T. Levin
Visiting address:
Södra huset, Building A, Floor 2
106 91 Stockholm
Postal address:
SUITS
Department of Economic History and International Relations
Stockholm University
106 91 Stockholm
Sweden
Subscribe to our newsletter
For press inquiries
The University press service is most effectively accessed via the press telephone number or email address below:
Press contacts:
Press telephone: +46 8 16 40 90
E-mail: press@su.se
Last updated: November 13, 2023
Source: Institute for Turkish Studies