Climate Change and Behaviour
Climate change and behaviour: The Earth's climate is changing at a rapid pace. Our research investigates how climate change impacts animal behaviours.
Effects of climate change on behaviour in the willow warbler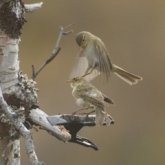 In this study on Sweden's most common bird species the willow warbler, Phylloscopus trochilus (Swedish: lövsångare), we want to investigate how phenological events have affected different behaviours, including time of arrival, protandry, degree of philopatry and timing of reproduction and autumn migration.
Principal Investigators: Sven Jakobsson, Cecilia Kullberg
Contributing Researchers: Johanna Hedlund
Fågelkalendern – collecting standardised bird phenology data using citizen science
An obvious effect of a warmer climate is the alteration in migratory behaviour in birds, with some former migratory species changing to a more sedentary behaviour. How will these changes affect for example reproductive behaviour? To address such questions, "Fågelkalendern" (The Bird Calendar); a long-term, nationwide project, will monitor Swedish bird phenology in a standardised way.
Principal Investigators: Cecilia Kullberg
Last updated: November 28, 2017
Page editor: Minna Miettinen
Source: Department of Zoology