Support in case of emergencies or crisis
Contacts in case of emergencies and Crisis Plan
In Case of Serious Emergency, Always Call 112!
Take the necessary steps to put yourself in safety and prevent further injury.
Call 112 and call for ambulance, police and fire brigade.
Call Security Guard 08-16 22 16.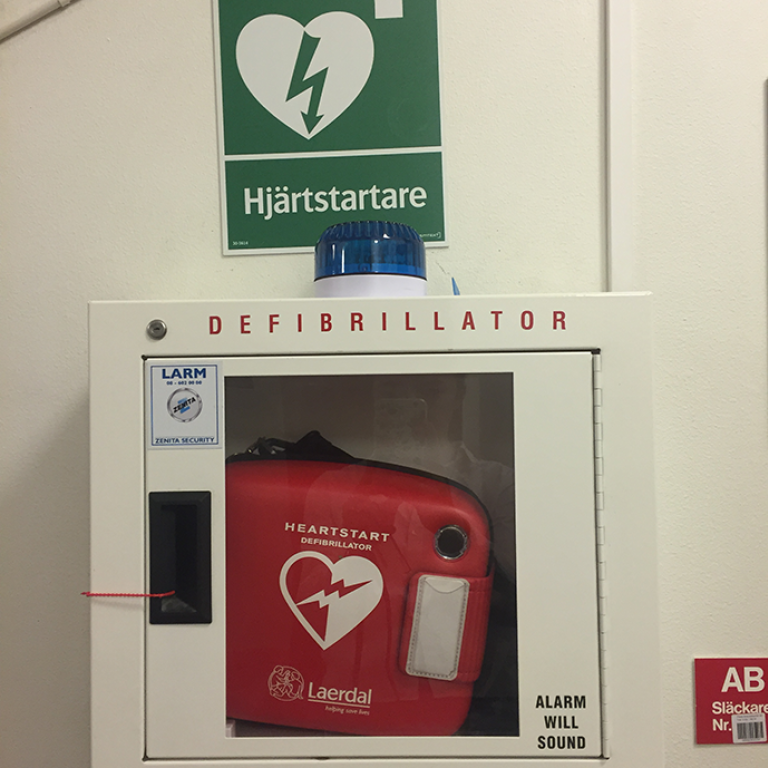 In the entranceway to the Department of Culture and Aesthetics at Frescativägen 24E, on the wall behind the red couches you will find an automated external defibrillator. When opening the door to the cabinet, an alert is sent to the staff of the section for safety and the security guard who is trained in CPR/AED.
Before you start CPR call 112 and send out a person to meet the ambulance.
What is a defibrillator?
The defibrillator has been available in the healthcare for a long time. The defibrillator provides spoken instructions to you, in Swedish, telling you how to perform cardiopulmonary resuscitation, CPR. The defibrillator analyzes the patient's heart rhythm and recommends if shock should be given or not. The defibrillator is intelligent and it will not give a shock to someone who doesn´t need it.
Everyone can use the defibrillator
There is an easy understandable instruction book in the defibrillator bag. There are no requirements for education, but it is a great advantage if you know CPR.
Courses on how to use the defibrillator
For those who wish, there is a much appreciated training on how to use the defibrillator and cardiopulmonary resuscitation. Training takes two and half hours and cost 375 SEK / person.
To sign up for training, contact jan.ekstrom@su.se, 08-16 35 45. After completing the training you will get the educational material "Mini Anne" and an instructional DVD.
All facalities must be evacuated in case of fire or threat situations when peoples life or health are at risk.
If you discover a fire, call 112 and ask for the fire-brigade.
Tell them:
where the fire is (the address)
what has happened
where you are calling from (telephone number)
who is calling (your name)
and answer any questions the alarm personnel may ask you
Assembly point
Evacuate the building and go to your designated Assembly Point: The lawn outside the Manne Siegbahn houses. Always meet arriving emergency vehicles and show them the way. Inform the Section for Safety and Security as soon as possible.
Evacuation leaders at the Department of Culture and Aestethics
Sofia Iaffa Nylén, room A 107
Magdalena Hernow, room A 208
Mattias Arreborn, studentexpeditionen, room A 260
Caroline Haux, room C 315
Tanja Schult, room C 402
Jacob Derkert
Sara Ekström
Erika Holst, room B 251
Åsa Eklöf, room B 348
Andrea Kollnitz, room C 519
Fire safety manager
Boel Hackman, prefekt
Fire safety controllers
Love Andersson
Torbjörn Wilson
Last updated: April 7, 2021
Source: Institutionen för kultur och estetik