Hidehisa Matsumoto this year's Global Swede
The Global Swede Award is honouring international students who excel in areas closely related to innovation and entrepreneurship. They should also be good representatives of their own country as well as Sweden. This year, Hidehisa Matsumoto from Japan is Stockholm University's student receiving the award.
Hidehisa Matsumoto who is currently studying the Master's Programme in International and Comparative Education at Stockholm University was nominated for the award by Stockholm University (see nomination below). Matsumoto is from Tokyo and got his bachelor's degree in political science at Meiji University, and in August 2018 he moved to Stockholm to study his master.
Award ceremony online
Hidehisa Matsumoto received the award in a Global Swede ceremony organized on 28 May by the Ministry for Foreign Affairs in cooperation with the Swedish Institute, a ceremony this year organized for the tenth consecutive year. For the first time, the graduation ceremony was organized digitally.
Minister for Foreign Trade and Nordic Affairs Anna Hallberg and Swedish Institute Director-General Madeleine Sjöstedt, addressed international students who have studied in Sweden. Diplomas were awarded to some 20 students from 16 countries around the world. The students have excelled in areas linked to innovation and entrepreneurship and have proven to be good representatives of both Sweden and their own country.
"Global Swede is our way of thanking a number of outstanding students every year for choosing Sweden, and at the same time, welcome them into our global alumni network. It is a challenging time to graduate, but with their experience from Sweden I am convinced that they will help build bridges between Sweden and the outside world", says Anna Hallberg.
Hidehisa Matsumoto attended the online ceremony in the company of Karin Helmersson Bergmark, Senior Advisor on International Affairs to the President of Stockholm University in Bloms hus at Stockholm University.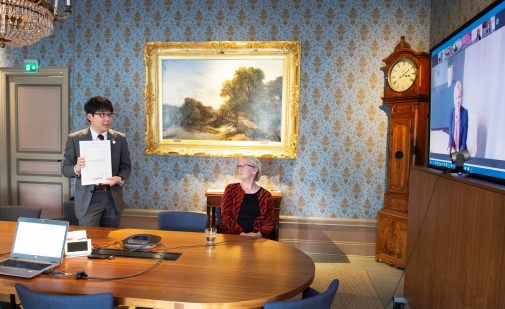 Moving to Sweden to further international collaboration
"Before I enrolled in the master's programme at SU, I worked at a Swedish university as an exchange staff member from Japan. Since then, I am attracted to Swedish culture, which provides a good balance between work and private life, and has close access to nature. So, I dreamed of returning to Sweden in the future as a Japanese living in Sweden to contribute to international collaborations between Japan and Sweden", says Hidehisa Matsumoto explaning why he chose to go to Sweden.
International and non-hierarchal study environment
On the question what he likes most becoming a student in Sweden, Hidehisa Matsumoto answers the variety of programmes and courses offered in English. He also stresses the high English proficiency among local people and the multicultural environments.
Regarding Stockholm University he emphasises the non-hierarchal and close relationships between teaching staff and students combined with a wide range of student backgrounds (like age, gender, ethnicities and professional experience). Hidehisa Matsumoto also enhance the various support for international students which the University provides, such as a library, academic writing support, career development and the opportunities to deepen his own understanding of higher education and the internationalisation of the sector.
Awarded for innovation, creativity and talent
When congratulated to becoming the 2020 Global Swede, Hidehisa Matsumoto says that he was surprised that he was nominated for this award since he assume other students are more innovative, creative, and talented in his own study field and/or other areas.

"However, I also think that there are many ways to contribute to innovation and creativity. I am relatively good at listening to others, identifying similarities and differences between people or ideas, and supporting constructive conversations. I believe that is one way of contributing the innovation and creativity".
Promoting collaboration between Sweden and Japan
"Moreover, I attempt to make a close relationship between Sweden and Japan at the student level by being a language café coordinator and a volunteer for organising a joint seminar with the University of Tokyo. I appreciate if such skills and experiences are considered", says Hidehisa Matsumoto.
"I wish to stay in Sweden indefinitely, at least 10 years", Matsumoto says. "I would like to pursue my career to contribute to making close relationships between Sweden and Japan, particularly in the field of higher education".
Stockholm University nomination
"Hidehisa Matsumoto has been an excellent representative for Stockholm University and the Master's programme in International and Comparative Education when he has participated in different international activities representing the programme. Hidehisa has shown excellent social skills, motivation and engagement in both his studies and in different projects he has been involved in. He has consistently demonstrated an innovative and creative approach to education and the study of education. We believe that he has all the skills needed to promote the Master's programme in International and Comparative Education and Stockholm University. His broad experiences of education and different countries combined with his excellent social skills will enable him to act as a valuable ambassador in a wide range of situations."
The Global Swede initiative
The Global Swede initiative, presented by the Swedish Institute, is Sweden's way to honour young international students in Sweden who are outstanding in their field, and to stay in contact them in their future endeavours. The Swedish Institute is a government agency that promotes interest and confidence in Sweden around the world. Attracting foreign talent is a key objective.

Global Swede alumni are part of a broad alumni network, administered by the Swedish Institute which today comprises about 15,000 people from 140 different countries.

Read more about Hidehisa Matsumoto.