About me
I am a Docent/Associate Professor in Japanese Language and Culture at the Department of Asian, Middle Eastern and Turkish Studies of the Stockholm University. I am an art historian specializing in Japan and East Asia with a transnational education and career (including Poland, Japan, the Netherlands, Sweden, and Norway) in museums and academic institutions. I am also an elected member of the Young Academy of Sweden (elected in 2019). And I serve as a member of the Royal Swedish Academy of Sciences's International Committee (Kungliga Vetenskapsakademien, Kommittén för internationella frågor).
Education
2008 Ph.D., History of Art, Gakushuin University, Tokyo, Japan
2002 M.A., Japan Studies, Jagiellonian University, Krakow, Poland
1998 M.A., History of Art, Jagiellonian University, Krakow, Poland
Employment
2017 - Associate Professor/Docent (tenured) in Japanese Language and Culture (specialization: Art History), Dept. of Asian, Middle Eastern and Turkish Studies, Stockholm University, Sweden
2011-2017 University Lecturer (tenured), Art and Visual Studies of Japan, Leiden Institute for Area Studies, Leiden University, Leiden, The Netherlands
2008-2011 Guest Curator, Museum of Japanese Art and Technology (Krakow); Museum of Cultural History(Oslo); Museum of Far Eastern Antiquities (Stockholm)
1999-2008 Curator, Dept. of Far Eastern Art, National Museum in Krakow, Krakow, Poland
Teaching
My teaching encompasses the following subjects: the arts and visual culture of Japan across genres and periods; early modern print culture and poetry pictorialization; environmental art history; contemporary socially engaged artictic practices; art and gender; art theory, methodologies of art history etc. I am also the Director of the MA Asian Studies Programme at our Department. And I am one of the three Directors of the SU Doctoral School in the Humanities's Theme "Digital Humanities: From Methods to Knowledge".
Research
As an art historian, I am interested in interdisciplinary approaches that intersect art/material culture and social and environmental history. In the past I studied text-image relationships in early modern Japanese visual culture, history of the East-West relations, Japonisme and Orientalism. My current research projects engage with an anthropological theory of visual art, and focus on contemporary socially engaged artistic practices and ecological art. I am also interested in the applications of digital technologies to the study of cultural artifacts and historical processes; and the potential transformative effects that computational methodologies hold for the discipline of art history in general.
Monographs and edited volumes
2009 Hokusai`s Hyakunin isshu: Visual Genesis of Japanese National Identity. Brussels: P.I.E-Peter Lang. (peer-reviewed monograph)
2016 Too Pretty to Throw Away: Packaging Design from Japan, by Ewa Machotka and Katarzyna Cwiertka. Krakow: Museum of Japanese Art and Technology. (book) [Open Access]
2018 Consuming Life in Post-Bubble Japan: A Transdisciplinary Perspective, co-edited by Ewa Machotka and Katarzyna Cwiertka. Amsterdam University Press. (peer-reviewed edited volume) [Open Access]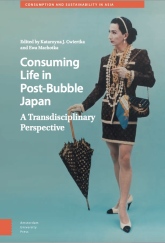 Grants & Awards (selection)
The Royal Swedish Academy of Letters, History and Antiquities, 2020-21
The Board of Human Sciences, Stockholm University, 2019-20
The Bolin Center for Climate Research, 2018/2019
The Swedish Foundation for Humanities and Social Sciences, 2018
The Leiden Asia Center, 2013-15
The DNP Foundation for Cultural Promotion, 2014-2015
The College Women's Association of Japan, 2009-2011
The Mitsubishi Foundation, 2006-2007
The Metropolitan Center for Far Eastern Art Studies, 2006-2007
College Women's Association of Japan, 2006-2007
The Ukiyo-e Ota Memorial Museum of Art, 2004-2005
The Japan Arts Foundation, 2003-2004
The Japanese Ministry of Education, 2002-2006
The Kyoto Art Center, 2002
The Toshiba International Foundation, 2001-2002