About me
I am Associate Professor in plant systematics and I teach on courses on all levels in subjects involving systematics, biodiversity, evolution, taxonomy, and evolution of organisms. My field of expertise lies within the immense diversity of extant Angiosperms.
Research
The focus of my research is one of the largest families of Flowering plants, the Asteraceae (the Daisy family), but I have also been involved in studies of the caryophyllid families Caryophyllaceae and Plumbaginaceae. My PhD thesis was a monograph of a large genus of daisy everlastings, which are endemic to one of the global Biodiversity hotspots, i. e., the Cape Floristic Region (CFR) of South Africa. After many years of subsequent studies of Asteraceae at subfamilial and tribal level, I returned, also literally, to the CFR and summer rainfall area of South Africa.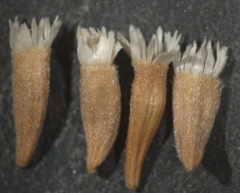 My current research centres particularly on the use of morphology and anatomy as means to reveal the taxonomy in small clades within the monophyletic Arctotideae-Gorteriinae. In short, this means exploring species limits and updating the nomenclature. The end product, a revision, can then be used for identification (using a proper name) of the species, which in turn has important implications in any situation where a species name is applied. Revisions are crucial for making sound decisions of conservation in all its forms. My research is part of a larger project aiming at producing well-supported phylogenies based on molecular and morphological data for a clade comprising 130+ species. Different issues can then be scrutinised, such as, the evolution of life forms (annual or perennial herbs, shrubs), the presence of re-seeders/re-sprouters (after fire), distributions and adaptations to the three rainfall regimes (winter, year-round, summer), or the evolution of morphological properties (leaves, diapores, fruits).