About me
I am a researcher and teacher in history of science and ideas at the Department of Culture and Aesthetics since December 2017. I completed my PhD at Umeå University in 2014. I was a research fellow at Uppsala University 2015–2016 and then held a postdoctoral position in cultural history at Stockholm University 2016–2017. Since May 2016 I am a board member of the Swedish Society for Eighteenth-Century Studies.
Research
My research broadly concern Enlightenment encyclopedism and knowledge practices in eighteenth-century Europe. I study practical, intellectual, and cultural aspects of scholarly text production, but also changing values and ideas about different kinds of knowing. I am particularly interested in encyclopedic projects that for different reasons 'failed', and their unfinished and unpublished materials providing insights into the work abandoned in-progress.
Just published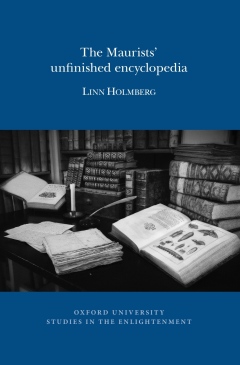 In The Maurists' Unfinished Encyclopedia (2017) I explore a hitherto unknown encyclopedic project that was being developed in eighteenth-century Paris at the same time as Diderot's Encyclopédie. While the latter became a controversial but successful bestseller – often considered to be the medium of Enlightenment thought par excellence – the former never reached the public. The compilers were Benedictine monks, also known as Maurists. After ten years of work, they abandoned their encyclopedic enterprise. For the next 160 years, their manuscript largely escaped the attention of researchers.
By reconstructing the history of the Maurist encyclopedia, the book gives a detailed insight into the intellectual reorientation of a monastic community in eighteenth-century Paris, while also shedding new light on Diderot's Encyclopédie. The study highlights striking similarities between the Benedictine project and that of Diderot, showing that the philosophes were neither first with their encyclopedic innovations, nor alone in their secular Enlightenment endeavours.
The Maurists' Unfinished Encyclopedia is part of the series 'Oxford University Studies in the Enlightenment' (formerly SVEC), published by the Voltaire Foundation. Read more:
http://xserve.volt.ox.ac.uk/VFcatalogue/details.php?recid=6667
https://voltairefoundation.wordpress.com/2017/02/10/exploring-an-abandoned-18th-century-encyclopedia-an-academic-detective-story/
The book is based on my PhD dissertation, titled The Forgotten Encyclopedia: The Maurists' Dictionary of Arts, Crafts, and Sciences, the Unrealized Rival of the Encyclopédie of Diderot and d'Alembert (Umeå, 2014). It has been awarded the Royal Swedish Academy of Letters' prize for 'outstanding scientific work' (2015) and Johan Nordström's and Sten Lindroth's prize for 'outstanding dissertation' (2016).
Current research project
My current research project is financed by the Swedish Research Council (Vetenskapsrådet) and treats encyclopedic practice and discourse in eighteenth-century Scandinavia. By analyzing emerging conversations about factual dictionaries (real-lexica) in Scandinavian journals, and parallel cases of encyclopedic production, I explore how the so called Enlightenment 'dictionary craze' took form in Northern Europe, c. 1700–1800. My pilotstudy examines a forty-year long encyclopedic enterprise in Sweden. It was undertaken c. 1740–1789 by two mining officials of the Swedish Bureau of Mines (Bergskollegium): the acclaimed metallurgist Sven Rinman (1720–1792) and the practically unknown mining official Anders Robert Bellander (1726–1772). The preserved material – consisting of a ten-volume manuscript draft (compiled by Bellander c. 1740–1772), later annotations and revisions (added by Rinman c. 1784–1787), and the finished Bergwerks lexicon (published 1788–1789) – has never been subjected to focused research. Together this set of sources provides an intriguing insight into the transnational process of defining and redefining the boundaries of metallurgy during half a century, but also the very formation of modern encyclopedic practice.
Select publications
Linn Holmberg, The Maurists' Unfinished Encyclopedia, Oxford University Studies in the Enlightenment (Oxford: Voltaire Foundation, 2017).
–, 'Texten som artefakt: historisk rekonstruktion och det kreativa fältarbetet', i Humanister i fält: metoder och möjligheter, ed. by Åsa Arping, Christer Ekholm & Katarina Leppänen (Göteborg: LIR.skrifter, 2016), 49–57.
–, The Forgotten Encyclopedia: The Maurists' Dictionary of Arts, Crafts, and Sciences, the Unrealized Rival of the Encyclopédie of Diderot and d'Alembert (Umeå: Umeå universitet, 2014).
–, 'Traquer les lettres absentes: stratégies pour retrouver des sources afin de reconstruire l'histoire d'une oeuvre inconnue des mauristes', i La correspondance: le mythe de l'individu dévoilé?, ed. by Philippe Martin (Leuven: Presses universitaires de Louvain, 2014), 101–112.
–, 'The Unknown Rival of the Encyclopédie: the Maurists' Abandoned Dictionary of Arts, Crafts, and Sciences', Frühneuzeit-Info 24 (2013), 81–89.
–, 'Att återupptäcka handskrifters tysta öden: En forskarberättelse om arkivets roll i produktionen av historisk kunskap', Lychnos (2013), 107–128.