Study with us
Linguistics is the scientific study of human language. The Department of Linguistics is an interdisciplinary educational environment where questions about language are addressed from different angles.
Our courses and programmes are offered within two main areas: Linguistics and Sign Language. On behalf of Karolinska Institutet, we also give courses within the Speech and Language Pathology Programme.
Education and research in collaboration
Linguistics of today is an interdisciplinary field of research with connections to the natural sciences, behavioural sciences and the humanities. Our researchers are active in areas such as child language development, computational linguistics, the multilingualism of the deaf and hard of hearing, phonetics, sign language and typology and linguistic diversity. This academic breadth is also noticeable in our courses and programmes. Starting from the undergraduate level, our students can get to know the different areas of linguistics.
Experimental labs
Two research laboratories are linked to our department: SUBIC and the Phonetics Laboratory.
Stockholm University Brain Imaging Centre (SUBIC)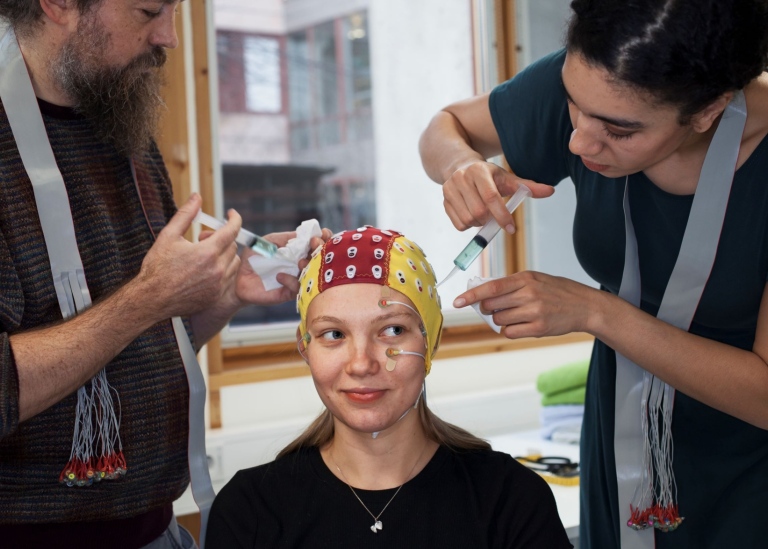 Hear from our students
We bring together students with different backgrounds and different future plans. Meet some of them below.
There is probably no other subject with such a variation
Amanda Kann is studying the Master's Programme in Language Science with a specialisation in Typology and Linguistic Diversity.
– The best thing about linguistics is the breadth. Languages can be examined from so many different angles: from how children learn their first language to how to teach computers to understand "human language". Linguists can be brain researchers, behavioural scientists and programmers, but we all share an interest in language.
– A good thing about the education at Stockholm University is the varied approach and the committed lecturers. In the bachelor's programme in Linguistics, you get to try out the different specialisations of linguistics to find what you are most interested in.
– When I started the bachelor's programme, I was worried about standing out as a natural scientist. It was completely unnecessary. My classmates had studied everything from social sciences to technology and aesthetic subjects and with our different backgrounds we could help each other. Linguistics often feels more like a subject of natural science - there is a lot of laboratory work and practical elements during the education.
As an interpreter, I get to combine my interest in language with my interest in people
Nina Sterby studies sign language at the undergraduate level.
– In Sweden, we have many sign language speakers, but people in general knows very little about sign language. Many still believe that sign language is international, but there are lots of sign languages in the world. I want to become a sign language interpreter, so I can combine my interest in language with my interest in people.
– As a new student in sign language, you start training your language skills immediately. Our deaf teachers are very used to meeting beginners and it's easy to communicate with them. I had deaf people around me when I grew up. It made me more curious about sign language.
– My studies in sign language have given me a new understanding of history. For example, it is not very long since deaf people in Sweden were not allowed to use sign language in school.
I was lucky to get in
Elena Moser from Switzerland studied the Master's Programme in Language Science with a Specialisation in Typology and Linguistic Diversity.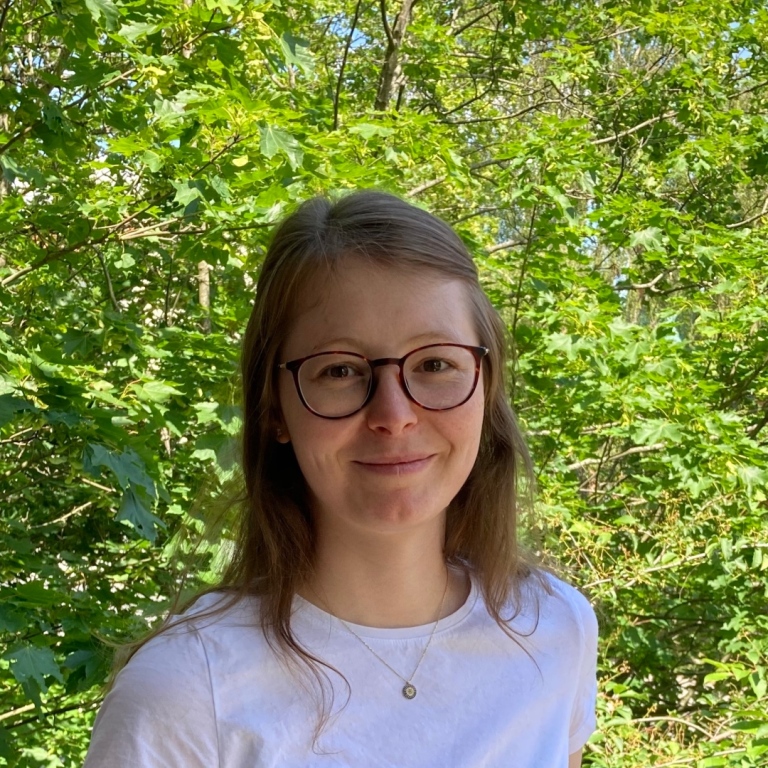 – I started my bachelor in Bern. During my second year I went on Erasmus to Stockholm University. Since I wanted to visit Sweden, Stockholm became my first choice. I was here for one semester and had a great time and a great experience at the Department of Linguistics. When it was time to choose my master, it became my first choice. And I was lucky to get in!
– Beeing part of the Student Council at the department was a great way to get to know my fellow students, but also to be involved in our programmes. We had the opportunity to work together with our professors and organise workshops that we needed for certain classes.
– Most students within Linguistics continue with research but there are a lot of different things you can do. Tech companies that are doing language recognition software programs need linguistics. This is coming up more and more.
Meet the teachers
Our teachers are also active researchers.
Mattias Heldner, phonetics
We are a bit odd in the Faculty of Humanities
Mattias Heldner is Professor in Phonetics and our Head of Department. It was his interest in music, language and technology that originally led him into phonetics.
– I like the fact that phonetics is so interdisciplinary. It is a language subject and it is about speech, something that is very important to us as humans. But it is also an experimental and technical subject. We measure and count a lot, which makes us a little odd in the Faculty of Humanities.
– I got into phonetics when I was young and played in bands. I was interested in computers and the phonetics laboratory seemed exiting. There were early opportunities to record sound digitally with high quality, there was an echo-free room and I could do acoustic analyses of the recordings. I became involved in research projects and soon discovered that I enjoyed phonetic research.
Julia Uddén, neurolinguistics
Neurolinguistics is brain research on language
Julia Uddén is a researcher and teaches in our courses in neurolinguistics.
– Very early on, I was curious about how the brain processes sequences, the type of abstract patterns that extend in time and are found in language, music and dance. Later I became interested in how the brain manages to create meaning beyond what is literally expressed. Today I am researching the differences in the brains of people who interpret the same literal meaning in different ways. Some people read more between the lines and I am interested in how the brain develops to support that behaviour.
– Language is a window to the human interior. By studying the language with stringent methods, we understand ourselves and can contribute to a better society - that will be needed with the climate changes.
Student Office
Due to the covid-19 outbreak, the Student affairs office is temporarily closed to visitors. You are welcome to contact us by e-mail or telephone!
Phone hours

Tuesdays 9–10

Wednesdays 13–15

Thursdays 9–11 and 13–16
Last updated: March 12, 2021
Source: Department of Linguistics