Body Utopianism: estrangement and transformation
Lecture
Date: Thursday 7 April 2022
Time: 15.30 – 17.00
Location: Online via Zoom and in the library, 300, Department of Culture and Aesthetics, Frescativägen 24E
Welcome to a guest lecture by Franziska Bork Petersen. She will present insights from her forthcoming book Body Utopianism: Prosthetic Being Between Enhancement and Estrangement. She picks out two issues from the book that she deems to have a particular relevance to Performance Studies: estrangement and transformation.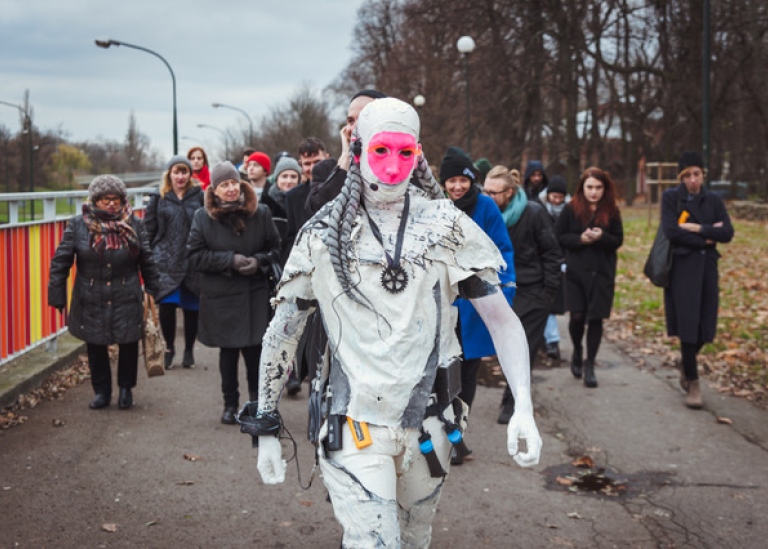 Link to the lecture in Zoom
https://stockholmuniversity.zoom.us/j/64005098812
Abstract
Performance Art tethers performing bodies in the here and now, at the same time as it potentially estrangessomething deeply familiar – bodily being – in an almost uncanny way. Transformation – a key concept in Performance Studies – is at the same time foundational for the discipline of Utopian Studies as a Marxist concern with transformative effects on society.
Overall, the book – and my presentation – investigate the paradoxical relation between utopianism and the human body. Drawing on cultural studies and recent developments in utopian studies, I ask: What are the differences between classic and contemporary utopias? And what is the body's respective place in them? What effects have changes in everyday notions of 'a better life' had on utopian visions of the body? I argue that in practices such as bodybuilding and the use of plastic surgery, but also in performance and artistic contexts, bodies themselves become utopian sites.
About Franziska Bork Petersen
Franziska Bork Petersen completed her PhD in Theatre and Performance Studies at Stockholm University in collaboration with Freie Universität Berlin in 2013. She has since taught and researched at Roskilde University, the University of Copenhagen, The Danish National School of Performing Arts and Heinrich-Heine Universität, Düsseldorf. Her work on dance, performance and fashion has appeared in Performance Research, Peripeti and Nordic Theatre Studies.
Last updated: March 11, 2022
Source: Department of Culture and Aesthetics