A new program is training the brains of preschool children
Research has shown that the brain has an amazing ability to adapt to its environment. But for children who grow up in an insecure environment this can have negative consequences for learning, social relationships and mental health later in life. Together with his colleagues, Eric Pakulak has developed methods for training these children's brains in the hope that they can have more positive outcomes in school and in life. He is now part of a team currently developing a method for teaching early math to preschool children in Sweden.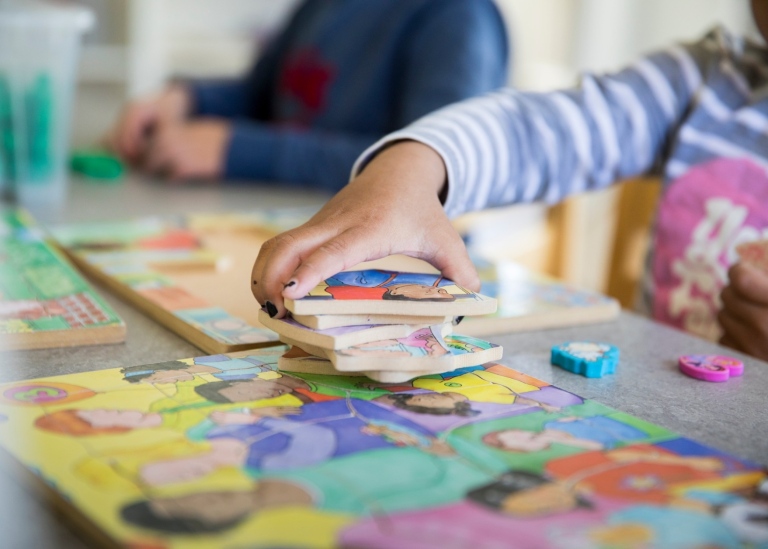 Eric Pakulak previously worked at the Brain Development Lab in Oregon, US where he conducted research in cognitive neuroscience and became interested in the plasticity of the brain.
"I'm interested in how we can help children from lower socioeconomic status backgrounds, who often haven't had the same opportunity to develop skills that are important to succeed in school and life in general", Pakulak explains.
Research has shown the ways that brain development is affected by growing up in an insecure environment. The ability to concentrate is not as good and self-regulation skills are not as strong, which means differences in the ability to control one's emotions as well as the ability to behave in a way that is expected in different social situations. If you live in an unsafe environment, you will tend to have elevated stress levels involving the stress hormone cortisol and if the brain is exposed to high cortisol levels for a long time, it becomes hypersensitive to potential threats. This in turn can affect how you interact with your surroundings as well as the ability to concentrate and learn.
Both children and parents participated in the program
In Oregon, Pakulak was involved in developing Brain Train, a program for 3 to 5 year-old children who have grown up in lower socioeconomic status areas. The program is designed to improve attention and self-regulation, including emotional regulation. The children get to practice managing frustration and talking about emotions, increase their body awareness and practice self-control.
"The evidence so far indicates that there are aspects of the environment that are protective even when other aspects are more difficult. Parental characteristics seem to be one of the most important aspects and providing a safe, consistent, predictable and caring environment is especially important", says Eric Pakulak.
There is a link between socioeconomic status in childhood and health problems in adulthood, but that relationship basically disappears when researchers look at adults who had very caring mothers. It was this research, among others, that led the researchers to combine Brain Train with a program for the children's parents.
"There are of course exceptions, but in several studies there is a statistical tendency for parents from lower socioeconomic status areas to use language differently with their children. They tend to use less complex speech, less varied vocabulary, less child-directed speech, more directives ("don't do that") and when they share books they tend to ask fewer questions and elaborate less on the content".
Lower stress levels and better self regulation
"Based on the knowledge we have today, it seems that for families living in environments where there are many factors that are beyond their control, parenting is even more important because it's something they can control and change. So if the parents can make the home environment less stressful and strengthen the child's ability to regulate – that is, give the child more tools to regulate stress and regulate him/her self – it may be a buffer that can help the child."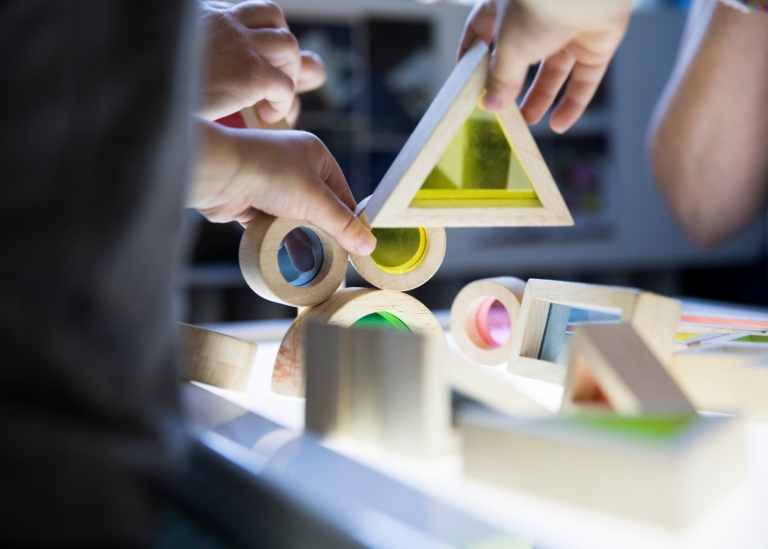 One way to give the child an increased sense of control is by offering choices instead of "empty questions", i.e. questions that are not really questions. An empty question might be for example that the parent says "do you want to go home now?" when the parent wants to go home now and doesn't intend to wait any longer. The parent can instead offer choices by saying "now it's time to go home, do you want to walk the road through the park or past the preschool?
"Not using such empty questions also creates a feeling in the child that it is worth listening to what adults say. It helps teach children to pay attention to words and develops their ability to think and reflect, which are important qualities in a classroom", Pakulak explains.
The parent training program is working on improving communication between parents and children, something that is carefully planned. Parents are asked to increase their awareness of the language they use when communicating with their children (how much positive versus negative language they use). Once parents understand the importance of positive interaction, they are taught strategies for providing specific praise and specific noticing to increase their children's self confidence.
Other strategies emphasize reducing overall stress by boosting predictability for the child through an increase in consistent home routines. For example, parents are encouraged to implement picture-based schedules to give the child an understanding of what will happen during the day. The parents in the program also get to learn how to increase their child's self-confidence, help the child manage his/her emotions and train his/her ability to concentrate.
Improved results for the children in the program
At the end of the program, Pakulak and his colleagues found that the children who participated improved more on tests for language, IQ and brain function for attention than children randomly assigned to two control groups (which also consisted of children who were growing up in lower socioeconomic status areas). They also improved their social skills and showed fewer problem behaviors, such as acting aggressively and acting in socially inappropriate ways. The researchers also saw improvements in parents' language use in interactions with their children, as they engaged in more balanced turn-taking, which is related to better language development. The parents who participated in the program also reported lower self-perceived stress.
The researchers used electroencephalography (EEG) to measure the brain activity of the children in the study. In one experiment, children were asked to listen to two stories at the same time, from speakers on each side: one story they were asked to follow, and another story they were asked to ignore. In several studies using this experiment, results show that children from lower socioeconomic areas have different brain function for attention and, specifically, more difficulty ignoring the story they are asked not to listen to. However, results from the training study found that children who participated in Brain Train, and whose parents received the program for parents, showed improvements in brain function for attention.
"One reason why children from lower socioeconomic areas might have a harder time ignoring distractions may be that their brains have not been trained for it. For children who grow up in a more insecure environment it may be important to pay more attention to their surroundings. But this can become a problem when they start school and it's important to be able to ignore distractions – such as classmates talking – in order to pay attention to a teacher and succeed with a task", Eric Pakulak explains.
Developing new method for teaching children early math
Currently, Eric Pakulak is part of an interdisciplinary team developing a novel method for teaching preschool children in Sweden early mathematics. The project is called DigiTaktik and combines a digital game that teaches children math with physical exercises adapted from the Brain Train program. The digital game is called Magical Garden and is developed by Eric's colleagues at Lund University.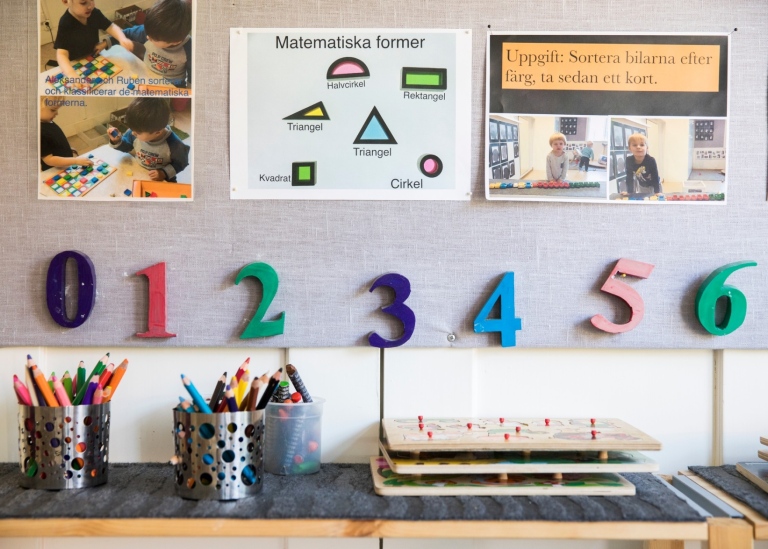 "The most innovative part is probably the tool for educators that was designed in a series of workshops with preschool teachers. The tool contains information about research on early math and self-regulation and learning. It also gives educators advice on how to implement the digital game and the self-regulation exercises. The tool also allows teachers to follow the development of individual children and make adjustments based on that", says Eric Pakulak.
The goal of DigiTaktik is that all children who start school should have the early math skills necessary to learn more advanced mathematics. After the project is completed, the idea is that, if it is effective in improving early math skills, the non-commercial learning game, Magical Garden, and the educational tool can be used in preschools throughout Sweden during the children's last year of preschool.
"We just finished a pilot study and in the spring of 2021 we will conduct a larger study, so we hope to have preliminary results ready by fall 2021. Due to Covid-19 we will unfortunately not be able to implement the study design we had planned but we will still be able to learn a lot from data from the digital game, which will be very exciting."
5 things to think about if you want to train your child's brain
Teach your child to get to know his/her feelings and to put their feelings into words, as this can train self-regulation*.
Read a lot to your child and elaborate on the content, such as asking questions about the words or pictures in the book, as this can help develop his/her language. Good language skills are important for success in school and also help children develop self-regulation skills.
Create clear routines for the child, for example before bed time, as this can provide security, consistency, and predictability. Insecurity and stress can have a negative impact on brain development.
Help children learn to deal with adversity by teaching them that s/he can use his/her brain to regulate how he/she feels. This also trains self-regulation. Examples might be to show how deep breathing can help calm you down when you are upset or disappointed, and how you can use your brain to change your focus away from a disappointment ("Oh well – I can't do X right now but I can do Y, and I can do X another time"). This can also help adults, so remember that by modeling good stress regulation for your child you might also be helping yourself.
Offer choices instead of using "empty questions" (see explanation in the text). Increased sense of control is associated with lower stress levels.

Last updated: March 4, 2021
Source: Communications Office