Riana Harvey is this year's Global Swede
The Global Swede Award honours international students who excel in areas related to innovation and entrepreneurship. Candidates for the award should also be good representatives for Sweden and for their own country. This year, Stockholm University student Riana Harvey, from the United Kingdom, will receive the award.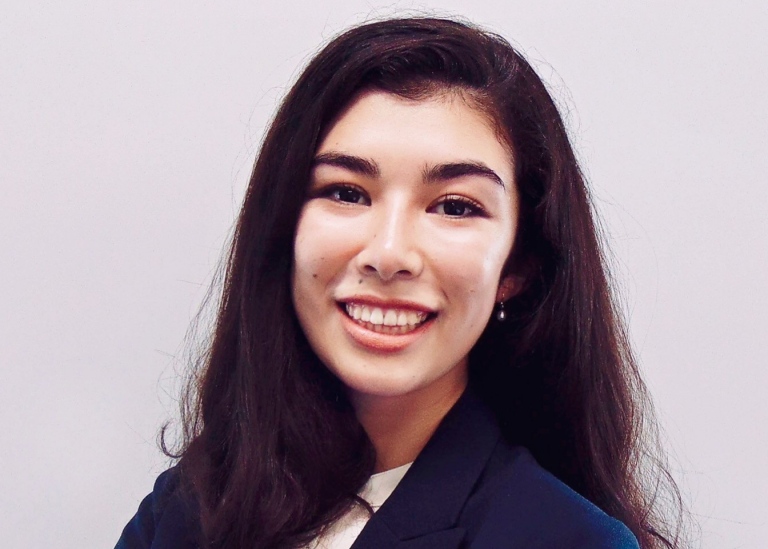 Riana Harvey who is currently studying European Intellectual Property Law was nominated for the award by Stockholm University (see nomination below). She is from Cambridge and has been studying European Intellectual Property Law at Stockholm University since September 2020 .

How does it feel to get the award?
"It was a big surprise, and I am really honoured to be considered for such a high profile award. I have always tried to stretch myself in everything I do and to also get involved in things beyond my degree, so it is great to have this recognised".
How did you end up at Stockholms University?
"I have always been interested in studying for a Masters outside of the UK, and when I heard of the LLM in European Intellectual Property Law it seemed the perfect match for what I was looking for. Stockholm University has a great reputation, so I was delighted to be accepted onto the course".

How has the last year been?
"Covid travel restrictions have resulted in the entirety of my study being completed from my home in the UK. Nonetheless, I have been keen to get involved in university activities and make the most of my virtual experience. I am Co-Chief Editor of the Stockholm Intellectual Property Law Review, where I have worked with some great people, and have also been involved with several events run by the Law Faculty's Institutet för Immaterialrätt och Marknadsrätt (IFIM), which I have thoroughly enjoyed".

When are you planning to come back to Stockholm?
"My programme finishes in June 2021, after which I will be pursuing opportunities elsewhere. However, I do hope to visit Stockholm and spend some time getting to know Sweden as soon as travel restrictions permit it".
Digital graduation ceremony
Riana Harvey received the award in a Global Swede ceremony organized on 28 May by the Ministry for Foreign Affairs in cooperation with the Swedish Institute. Minister for Foreign Trade and Nordic Affairs Anna Hallberg and Swedish Institute Director-General Madeleine Sjöstedt, addressed this year´s Global Swedes at the digital ceremony.

Stockholm University nomination:
"Riana Harveys is a very impressive and inspiring European Intellectual Propery Law (EIPL) student with a self-starter attitude. She is highly intelligent and motivated which is shown by her consistently receiving top marks in the LLM-programme; this serves as proof of her being an excellent student and with high academic abilities. She is active on social media and currently contributes to internationally award-winning IP blog The IPKat. The blog, focusing on intellectual property law worldwide, have over 16400 subscribers and have over 50 million page views and Riana has published both her own articles as well as writing miscellaneous posts every week to the readers. Alongside her demanding LLM-studies she is also one of the Co-Chief Editors of the Stockholm Intellectual Property Law Review (SIPLR) and has during this year of the pandemic proven to be both innovative and creative as such, helping out and organizing all the events under both the SIPLR, the EIPL-programme and for the departments Institute for Intellectual Property and Market (IFIM). Her strong motivation, engagement and entrepreneurial skills, along with her friendly and always curious personality, makes her an excellent ambassador for both the EIPL-programme, Stockholm University and for Sweden".
The Global Swede initiative
The Global Swede initiative, presented by the Swedish Institute, is Sweden's way to honour young international students in Sweden who are outstanding in their field, and to stay in contact them in their future endeavours. The Swedish Institute is a government agency that promotes interest and confidence in Sweden around the world. Attracting foreign talent is a key objective.
Last updated: May 28, 2021
Source: Communications Office