Gå till denna sida på svenska webben
Optics and Laser Physics
Optical devices are ubiquitous in our everyday life. We rely on devices like eyeglasses, displays, cameras, and optical fiber networks. Optical instruments and lasers are essential tools in our research. This course provides students with a working knowledge of optics and laser physics from both a theoretical and practical perspective.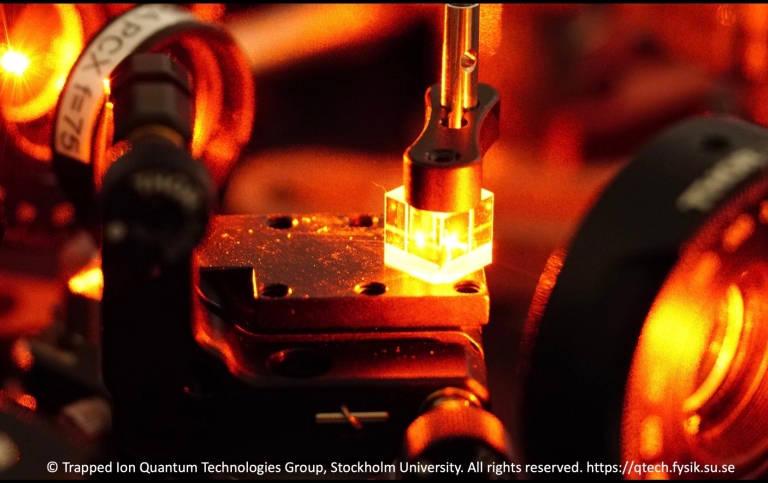 Trapped ion experiment using an orange laser
Optics and laser physics is a rapidly developing field of research with applications in all science. For instance, novel optical devices, like super-resolution microscopes and optical tweezers allow the manipulation of microscopic objects in biology and medicine. Adaptive optics and gravitational wave detectors give us new perspectives in astronomy. Frequency combs and optical atomic clocks set new standards in precision measurements.
In this course you will learn the fundamental physics of such devices. You will learn about ray and wave optics, learn to identify aberrations in optical systems and to describe resolution limits in microscopy. You will also learn the working principle of a laser and its applications. Furthermore, you will discuss modern optics applications, like the ones mentioned above.
The course will provide students with the theoretical background of optics and laser physics, give practical information for the work in the lab, as well as hands-on lab experience.
This is a second cycle (advanced) course given at half speed during daytime.

Teaching format

The teaching on this course consists of lectures, demonstrations, exercises and laboratory work.

Assessment

This course is examined with written and oral examinations and reports from practical laboratory work.

Examiner

Markus Hennrich

Phone: +468 5537 8614

E-mail: markus.hennrich@fysik.su.se

Note that the course literature can be changed up to two months before the start of the course.

Pedrotti, Pedrotti, Pedrotti: Introduction to optics (third edition, Prentice-Hall 2007)
Hecht, Optics (4th edition, 2001)