Gå till denna sida på svenska webben
Basic Radiobiology
The aim of the course is to give a basic knowledge of the biological effects of ionizing radiation, both for understanding radiation protection rules and regulations and the rationale for treatment of cancer using radiation. You will learn the fundamental aspects of radiation interaction with the biological material.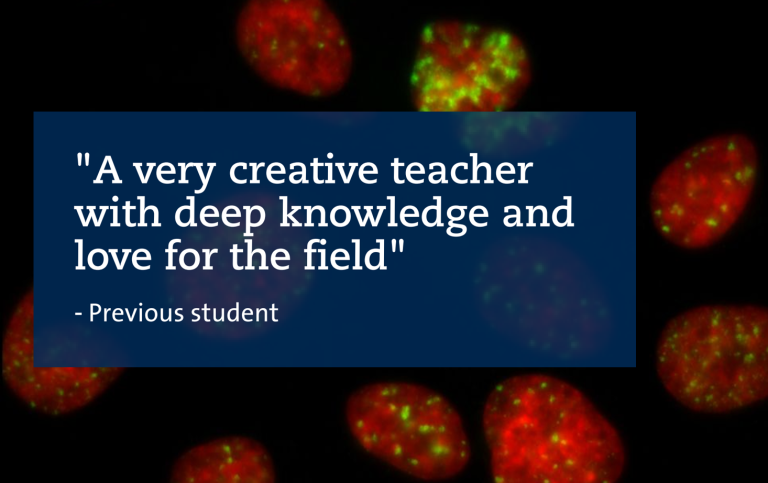 Foto: Andrzej Wojcik
In this course you will study the radiobiological effects on living tissues and the factors affecting the relationship between the dose of radiation and the biological effect in order to have a fundamental understanding of these processes. The radiation effects at the cellular level resulting in damages of the DNA molecule in the cell nucleus and the cellular repair mechanisms will also be studied as well as the theories for cell survival after irradiation and dose-response curves. You will also study the stochastic, deterministic and the hereditary (genetic) effects of radiation and the biostatistics models to describe them and analyse radiobiological data. The course includes classroom lectures, computer exercises, calculation exercises and a study visit to a radiobiological laboratory.
This is an advanced course given during the daytime. The course is included in the Master`s Programme in Medical Physics. I can also be taken as an independent course.

Teaching format

The education consists of lectures and tutorials, calculation exercises and computer exercises as well as practical demonstrations. Active participation of the students in the education is achieved through active learning exercises and oral presentation of project assignments.

Assessment

The course is examined through written exam.

Examiner

Emely Kjellsson Lindblom

E-mail: Emely.Lindblom@fysik.su.se

The schedule will be available no later than one month before the start of the course. We do not recommend print-outs as changes can occur. At the start of the course, your department will advise where you can find your schedule during the course.

Note that the course literature can be changed up to two months before the start of the course.

Eric Hall and Amato Giaccia: Radiobiology for the Radiologist, Lippincott Williams and Wilkins Sixth Ed 2006, Chapters 1-13

When can I apply?

Registration is open from mid-March to mid-April for courses that run in the fall, and from mid-September to mid-October for courses that run in the spring.

Please note that many courses open for late registration in mid-July for courses in the autumn term and in mid-December for courses in the spring term.