Gå till denna sida på svenska webben
Radiation Therapy Physics and Biology
This course aims at giving basic theoretical and practical knowledge of the physics and biology of radiation therapy and to prepare the student for working as medical physicist in radiotherapy.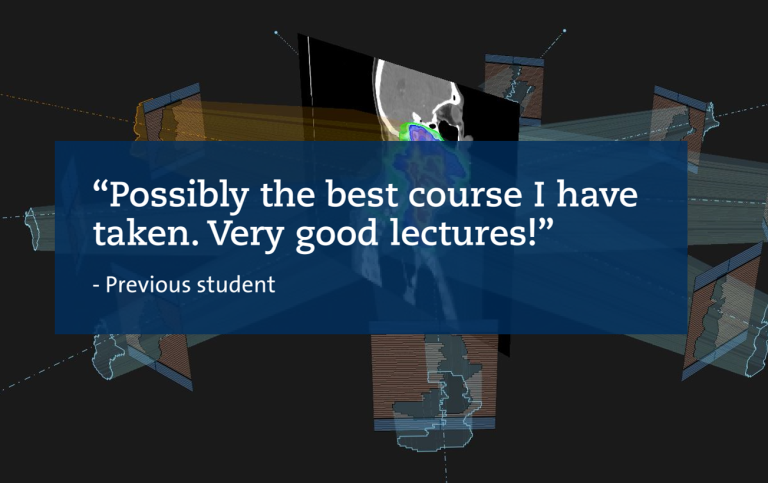 Foto: Suryakant Kaushik
In this course you will start by studying the physical and dosimetric aspects of clinical radiation fields as used in external radiotherapy and in brachytherapy as well as the theoretical algorithms for dose calculation in the treatment planning systems. The techniques and approaches for planning, optimizing and delivery radiotherapy will also be studied. The practical aspects in radiotherapy regarding the quality assurance, quality control and verification of patient treatment are also included. Special attention is given to the clinical radiation biology of the tumour and normal tissues and its applications for fractionated external beam radiotherapy and brachytherapy. The protection of the patients and staff from the unwanted effects of radiation will also be studied by you if you take the course. The course includes classroom lectures, demonstrations at the radiotherapy department in the hospital, treatment planning sessions, problem based learning exercises and calculation exercises.
This is an advanced course given during the daytime. The course is included in the Master`s Programme in Medical Physics.

Teaching format

The education consists of lectures and tutorials, calculation exercises and computer exercises as well as practical demonstrations. Active participation of the students in the education is achieved through problem based exercises.

Assessment

The course is examined through written exam.

Examiner

Iuliana Toma-Dasu

Phone: +4672 147 42 57

E-mail: Iuliana.Livia.Dasu@fysik.su.se

The schedule will be available no later than one month before the start of the course. We do not recommend print-outs as changes can occur. At the start of the course, your department will advise where you can find your schedule during the course.

Note that the course literature can be changed up to two months before the start of the course.

Podgorsak E. B. and International Atomic Energy Agency: Radiation Oncology Physics: A Handbook for Teachers And Students 2005
Eric Hall and Amato Giaccia: Radiobiology for the Radiologist, Lippincott Williams and Wilkins Sixth Ed 2006

When can I apply?

Registration is open from mid-March to mid-April for courses that run in the fall, and from mid-September to mid-October for courses that run in the spring.

Please note that many courses open for late registration in mid-July for courses in the autumn term and in mid-December for courses in the spring term.