Gå till denna sida på svenska webben
History of Dress
History of Dress 7,5 credits is a mandatory part of Master's Programme in Fashion Studies. Only students admitted to the programme can take this course and are registered by the Department.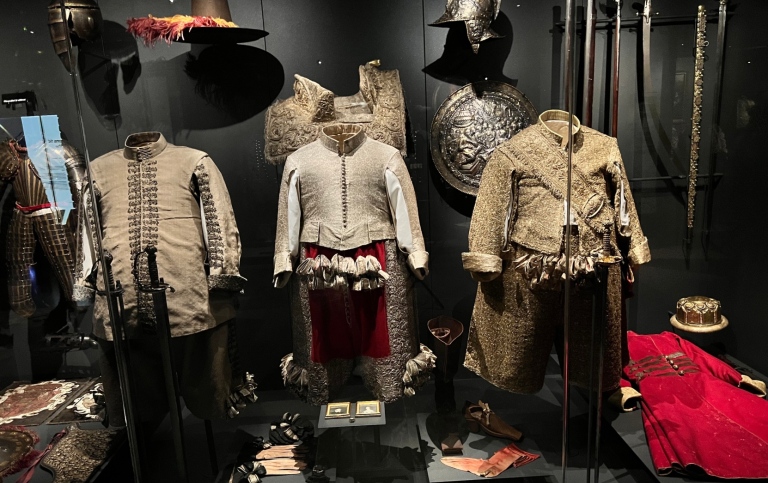 For her course within the Master's Program in Fashion Studies, Associate Professor Paula Von Wachenfeldt and her students had a guided visit at the amazing Royal Armoury in Stockholm. The history of dress cannot be experienced in a better way!
Fashion has often been the subject of different social, political and cultural debates that have contributed to its formation and development. This first unit identifies the terminology that is used in the field of fashion studies and examines the controversies and questions that were raised in regard to the dress. Moral discourses on identity, gender and consumption constitute in addition one of the central themes of the course. The history of dress offers an extensive understanding of the role of dress in western society and its contribution to the establishment and conversion of different customs and values. This course within the Master's program in Fashion Studies brings into focus the western dress with a particular attention to French socio-cultural history between the seventeenth and the nineteenth century.
Expected Learning outcomes
On completion of the course, the student is expected to be able to:

Discuss the historical development of dress and reflect on its social meanings
Critically evaluate different concepts and theoretical accounts that can be related to dress history
Analyze the role of clothing in transforming customs and values in society as well as the production of social discourses

Teaching format

Instruction is given in the form of lectures, seminars, and field trips. All course elements are mandatory. Thelanguage of instruction is English. For more detailed information, please see the course description.

Assessment

The course is assessed through the completion of a written take-home exam graded on a criterion based seven-grade scale.

Examiner

The schedule will be available no later than one month before the start of the course. We do not recommend print-outs as changes can occur. At the start of the course, your department will advise where you can find your schedule during the course.

Note that the course literature can be changed up to two months before the start of the course.

Student Affairs Office Fashion Studies

Visiting address

Floor 5 Garnisonen

Karlavägen 104

Office hours

According to agreement

Phone hours

Monday 13:00-14:30 Tuesday 13:00-14:30 Thursday 13:00-14:30

Student Counsellor Fashion Studies

Office hours

According to agreement