Gå till denna sida på svenska webben
Master's Programme in Analytical Chemistry
Analytical chemistry is important to many different fields, and a master's degree in this area is one of the most sought after by employers.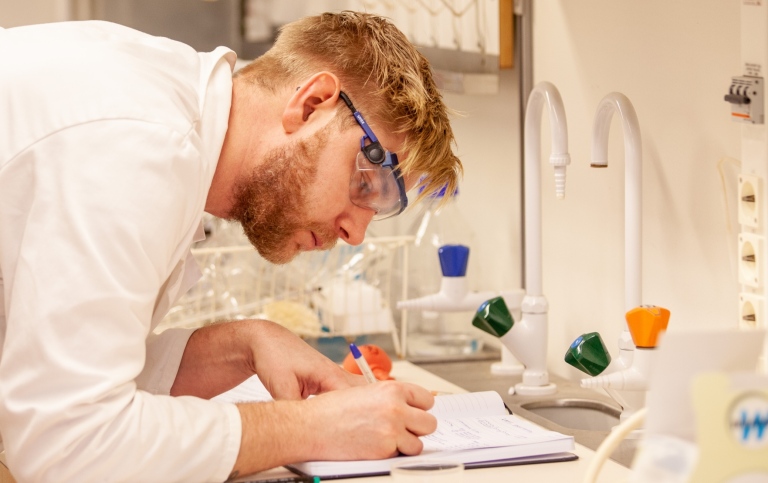 As as student in analytical chemistry, you can expect to spend a lot of time in the lab.
Being able to isolate and analyse the chemicals in a sample - and to interpret the findings – is crucial for determining the health of an environmental system, developing sustainable manufacturing techniques that pollute less, or even which athletes deserve a medal.
The master's in analytical chemistry uses problem-based teaching methods, presenting a problem that an analytical chemist might face and then letting you plot your own course to the solution. The class sizes are very small and many students develop a strong sense of community because of the extensive lab work. They also appreciate that the laboratories are very well equipped with instrumentation that only professional researchers would expect.
The project-based structure means that students see a problem through from beginning to end, from setting up their own labs to writing and presenting the results. You will work closely with leading researchers with low teacher-student ratios.
You will be surrounded by the world's top chemists, not only some of the people who chose the Nobel winners but even attending the Nobel lectures of the prize winners themselves.
The program is 120 ECTS.

The program consists of four mandatory courses, a total of 60 ECTS and an independent project of at least 45 ECTS.

You will also be able to take 15 ECTS of university level electives. A maximum of 15 ECTS on first level are allowed in your degree. Perhaps study a different branch of chemistry to become interdisciplinary. Some of the most important discoveries are happening where multiple disciplines meet, like where analytical chemistry meets biochemistry or materials chemistry.

Year 1

Fall semester

Advanced Separation Methods, 15 ECTS

followed by

Chemistry, Mass Spectrometry, 15 ECTS

Spring semester

Bioanalytical Chemistry, 15 ECTS

followed by

Year 2

15 ECTS elective courses and 45 ECTS degree project (mandatory).

or

60 ECTS degree project (mandatory).

Independent project

The masters program in analytical chemistry contains an independent project of a minimum of 45 ECTS.

In order to start working on your independent project you will have to have passed three of the mandatory courses.

More information about selection of master's thesis project will be provided during the first year and can be found below.

You apply for the program through universityadmissions.se/intl/start

Next application round will be starting October 15th 2021.


Selection process

Additional eligibility criteria

Relevance of previous studies in relation to the programme and motivation letter.

As part of the application for our Master's programme you will be asked to provide a motivation letter. The motivation letter is an important selection criteria and must be uploaded together with your application at the university admissions site.

Please answer the follwing questions, and add the document to your application on university admissions. We expect maximum one A4 page in total.

Your full name
E-mail address
The name of the masters programme you are applying to
Relevant experience, such as research, employment, volunteering that has contributed to experience
A list of completed courses, including number of credits, which count toward meeting the specific eligibility requirements for the program (please include courses not completed as well).
What inspired you to apply to this particular program?
Lab experience
Why are you a good candidate?
What do you hope to achieve with your degree?
What research questions interest you and how do they relate to the ongoing research at Stockholm University?

Upload this letter with your application on to universityadmissions.se

Specific information for admitted students admitted fall 2021

2021-08-30, 10.00

First introductory meeting. Distributing the plan for the courses of the first year, explaining the organization of courses and labs for the fall semester. Explaining the diploma projects organization.

The introduction will take place in Arrhenius lab, Svante Arrhenius väg 16C. The gathering place will be in the lobby ar 10:00

Specific information for admitted students admitted fall 2020

2021-08-30, 13.00

September 2, 2021 10:00 - 12:00 Orientation for MSc thesis supervisors

September 2, 2021 13:00 - 17:00 Seminar on writing the MSc thesis

September 3, 2021 9:00 - 17:00 Seminar on presenting research data

September 30, 2021 9:00-15:00 Literature seminar

November 18, 202 9:00-15:00 1st research seminar

January 27, 2022 9:00-15:00 2nd research seminar

March 31, 2022 9:00-15:00 3rd research seminar

May 22, 2022 23:59 Submission of final thesis

June 1, 2022 9:00-17:00 Master's thesis defense, day 1

June 2, 2022 9:00-17:00 Master's thesis defense, day 2

Useful info

Formalites regarding projecs anchem (119 Kb)

MSc Thesis Template (132 Kb)

MSc Thesis Project Plan Template (15 Kb)

MSc Thesis assessement (247 Kb)

MSc Thesis Preparing for Defense (34 Kb)

Meet our students

Meet Bashar, masters student in Analytical Chemistry

You will get high-quality education and all kinds of support from teachers and the administration. The most important thing is to make friends and study in groups – then college might as well be the best time of your life.

My name is Bashar Abdelahad and I'm doing my first year at the master program in Analytical Chemistry. I came to Sweden 4,5 years ago but I was born in Syria and did my initial chemistry studies there. I love chemistry, and since chemistry has the same language all over the world I decided to complete my studies at Stockholm University.

I needed one year of study to get my bachelor's degree from Stockholm University. I felt that I needed to understand chemistry more deeply and that's why I continued with the master program. For me, chemistry is a science with no end.

I think the most interesting part of chemistry is biochemistry since you study proteins, DNA and energy processes in our bodies. The best thing about the program is that we spend a lot of time in the lab. At Stockholm university, you will not forget what you have learned because you get the information theoretical and then you apply it practically at the lab. My favourite lab is the analytical one because there we can test different methods to find and analyse compounds. It could be for example the amount of toxic compounds in the water, soil, materials, food, air or organisms. ​

Chemistry has many branches and at the bachelor level you will learn about all these branches. You will learn how to plan, think logic, solve problems and develop your skills, you will learn, explore and discover things and details which you can't imagine exist. After the bachelor you can choose the branch that you love and move to a more advanced level. I think it's more fun at this level since it allows you to be more independent at the lab and you can use your knowledge to solve the problems. ​

Throughout your study at Stockholm University you will get high-quality education and all kinds of support from teachers and the administration. The most important thing is to make friends and study in groups – then college might as well be the best time of your life.

Best of luck! 

Bashar

Meet our researchers

The career prospects for someone with master's in analytical chemistry are extremely good. The degree is very flexible and can be used in many fields including healthcare, the environment, manufacturing, pharmaceuticals and more. For the last ten years graduates of this programme have found full employment upon graduation.

Web: kemi.su.se/english and mmk.su.se

Instagram: @chemistry_stockholmuniversity

Facebook: ChemistryStockholmUniversity

Subject responsible, analytical chemistry

Chemistry Section & Student Affairs Office

Visiting address

Arrheniuslaboratoriet, room M345

Svante Arrhenius väg 16 A-D

Bachelor and Master education, application, admission, registration, examination, bookings Magneli hall

Here you will get support form the Chemistry

Student administrator

International coordinator

Student advisor

Office hours

Wednesdays 10.00-11.30 and 12.30-15.00

Phone hours

Wednesdays 10.00-11.30 and 12.30-15.00