Baltic Seminar om klimatförändringar och korallrev
EVENT
Date:
10 March 2016, 3.30 PM
-
10 March 2016, 7.00 PM
Venue:
Vivi Täckholmsalen, NPQ-building
10 mars hölls vårens första Baltic Seminar med efterföljande bar. Denna gång höll tre internationella korallexperter föredrag och deltog i en intressant modererad panel som avslut. Evenemanget lockade ett sextiotal forskare och andra som arbetar med havet på flera olika institutioner.
The seminar was held in collaboration with the Department of Ecology, Environment and Plant Sciences, and will be followed by a Baltic Bar.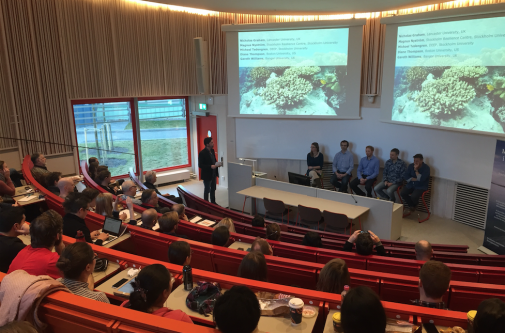 Effects of climate change in coral reef ecosystems

Program
15:30-17:00
Opening by Christoph Humborg, scientific supervisor at Baltic Sea Centre
Keynote speakers:
Gareth Williams, Biophysical decoupling and the loss of coral reef ecosystem predictability
Nicholas Graham, Predicting climate driven regime shifts versus rebound potential in coral reefs
Diane Thompson, Variability in reef connectivity in the Coral Triangle
Moderated panel talk:
Gareth Williams, Bangor University, UK
Nicholas Graham, Lancaster University, UK
Diane Thompson, Boston University, US
Michael Tedengren, DEEP, Stockholm University
Magnus Nyström, Stockholm Resilience Centre, Stockholm University
Moderated by Henrik Hamrén, Baltic Sea Centre
Baltic Seminar aim
Baltic Seminar is a seminar serie aiming to promote current marine issues related to Stockholm University, and strengthen its marine research community. All university employees or affiliated who work with questions related to the sea are warmly welcome.
Baltic Bar
17:00-19:00
Mingle with bar at cost price, please bring cash.
WELCOME!