Gå till denna sida på svenska webben
Observational Astrophysics I
This course deals with fundamental concepts in observational astronomy/astrophysics. It teaches the concepts needed to plan and execute observations for scientific purposes, as well as for interpreting the resulting data.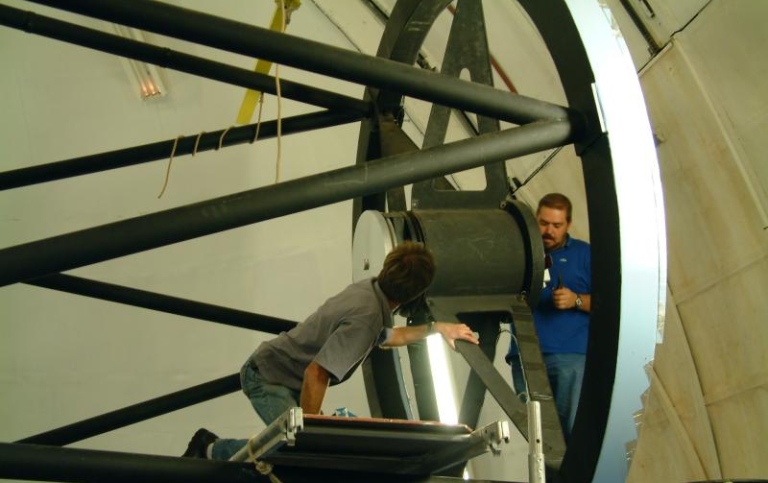 The Nordic Optical Telescope. Image credit: NOT
Collecting data and interpreting the results, as well as assessing the uncertainties involved, is a key component of the scientific method. In this course, you will learn the implementation of this process for the context of observational astronomy. We will discuss how to prepare observations, how different telescopes and detectors work, and how to acquire, reduce and analyze astronomical data. Aside from learning about these principles, you will also apply them in real-life to an actual observation that is performed during the course. The course will also prepare you for the option of taking the follow-up course "Observational Techniques II", where you will have the opportunity to both plan, execute, and analyze observations with large telescope facilities.
The course is given during daytime. It is given as part of the MSc program in Astronomy, but can also be taken outside of this framework. It is a prerequisite for taking the course "Observational Techniques II" unless equivalent experience can be demonstrated.

Teaching format

The course includes lectures and exercise sessions. In addition, there is a lab session for acquiring observations with either the AlbaNova telescope or a remote telescope facility.

Teacher

Angela Adamo, angela.adamo@astro.su.se. Correspondence also via the course page in Athena.


Teaching assistant

Gayathri Viswanath, gayathri.viswanath@astro.su.se . Correspondence also via the course page in Athena.

Assessment

There is a written exam at the end of the course. The score on the exam along with possible bonus points from solving exercises in class forms the basis for the course grade. In addition, there is a telescope lab report that needs to be handed in and a group work that needs to be presented to pass the course.

Examiner

Angela Adamo

The schedule will be available no later than one month before the start of the course. We do not recommend print-outs as changes can occur. At the start of the course, your department will advise where you can find your schedule during the course.

Note that the course literature can be changed up to two months before the start of the course.

"To Measure the Sky – An Introduction to Observational Astronomy", Frederick R. Chromey, Cambridge University Press, 2nd edition.

The academic advisor and student office can be contacted via studieinfo@astro.su.se.