Gå till denna sida på svenska webben
Marine Geophysics
This course provides an introduction to marine geophysics and geological interpretation of marine geophysical data.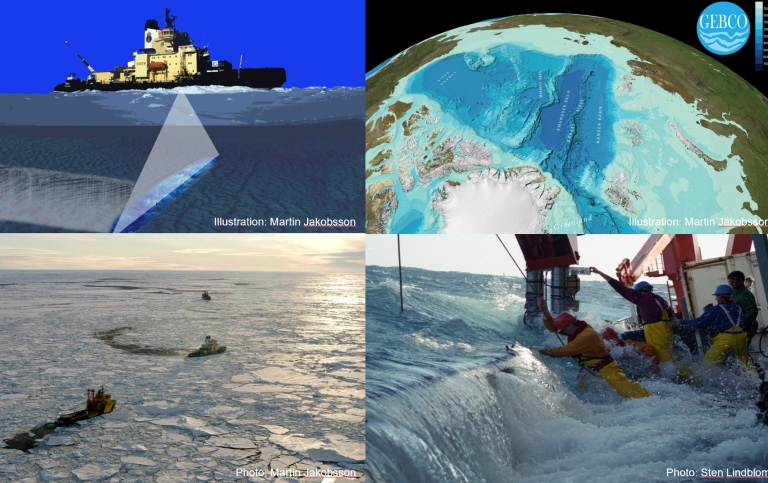 The course covers the theory behind standard marine geophysical mapping, focusing particularly on acoustic methods. The course includes a historical overview of how geophysical methods have been used to explore the oceans and how seafloor mapping has contributed to understanding of Earth's evolution.
Course period Autumn 2021: Wednesday December 1–Sunday January 16 2022 (incorrect study period in the right column).
The course is given on-site & by distance
Note! For the distance course the re-exams may be held on campus.
The course litterature is the same for both courses.
For the distance course please go to course page
For the on-site course please keep reading the information below.
Autumn term 21 | Depending on the number of students and current restrictions, the course will either be given "as usual" or with lectures via Zoom and exercises on as many occasions as needed to be able to work in smaller groups.
The information will be updated before the start of the course depending on the situation at that time.
Assessment

Is based on a written/oral assessment at the end of the course. Assessment criteria are:

A = Excellent
B = Very good
C = Good
D = Satisfactory
E = Sufficient
Fx = Insufficient
F = Entirely insufficient

The assessment criteria will be outlined at the start of the course. To pass the course, a minimum grade E is necessary.

The schedule will be available no later than one month before the start of the course. We do not recommend print-outs as changes can occur. At the start of the course, your department will advise where you can find your schedule during the course.

The schedule is for the on-site course.

Note that the course literature can be changed up to two months before the start of the course.

E. J. W. Jones, 1999
Marine Geophysics
Wiley
ISBN: 978-0-471-98694-2

Course evaluations allow the possibility to affect and take responsibility for your own learning and gives important information for our work with pedagogical development.

It's important that all students complete the course evaluations after each course, it gives the Department the opportunity to improve the courses' quality.

The course evaluation is composed of a number of questions and specific questions for each course. If you, as a student, want to contribute with more course specific questions you may send them to studies@geo.su.se.

If you haven't received the course evaluation for your finished course, or if you have other questions regarding course evaluations at IGV please contact studies@geo.su.se.

Course evaluation = student's review of the course
Course report = course leader's reflections about the review

For the distance course:
Professor of Marine geology and geophysics
Martin Jakobsson
martin.jakobsson@geo.su.se
+46 (0)8 16 47 19 | Room: R209

For the campus course:
Assistant professor, Marine geophysical mapping and modelling
Christian Stranne
christian.stranne@geo.su.se
+46 (0)8 16 78 35 | Room: R215