Gå till denna sida på svenska webben
International Master's Programme in Art History: Technical Art History and the Art Museum
This two-year master programme gives you in-depth empirical and theoretical knowledge in the field of Art History with a focus on Technical Art History, the history of the art museum and its professional practice, as well as History of Collections and Archive Studies.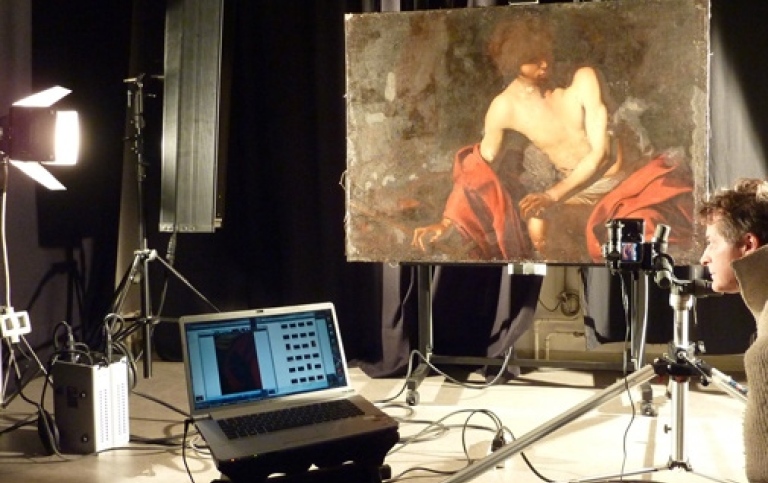 Photo: Emmebi Diagnostica Artistica.
We are currently working on being able to launch the program in the autumn of 2024 – information about the next admissions round will be published on this site when it is available. For further information, please contact study counsellor Richard Carlsén, richard.carlsen@su.se
The programme provides you with knowledge and skills for activities and work in the international Art History field with a clear focus on the museum world and the art market. The programme has an international profile with English as the language of instruction as well as international teacher competence. You develop your ability to understand and apply professional practices regarding logistics, economics, law and administration that is applied in museums or other institutions where early modern art is handled.
The teaching is largely in direct contact with the studied material: in the university's art collection, in the laboratory, in archives and in museums. The courses within the programme are theoretical and pragmatic with elements of laboratory work, instrument management, analysis of technical results, knowledge about reconstruction and understanding of collections and museum management.
Approved leave from studies

The student who wishes to do a leave from studies within the programme is requested to fill in the form and send it in to the study councellor.

More information can be found in the form:

Application for study leave in Art History (32 Kb)

Year 1

Semester 1

Semester 2

Year 2

Semester 3

Semester 4

Applications are to be submitted online via University admissions. There are two admission rounds, please read more at University admissions:

Information about admission rounds

To complete the application, supporting documentation has to be uploaded electronically or submitted by delivery service/regular post in time for RECEIPT (not date of postmark) by University admissions in Sweden by January 15th (first admission round) and April 15th (second admission round) at the latest. Applications lacking the required documentation will not be considered – please make sure that your application is complete, well before the deadlines!

We regret that late or incomplete applications will not be accepted.

Selection process

Additional eligibility criteria

Students will be recruited on the following principles:

quality and relevance of previous academic merits
a Letter of Intent
a personal interview (on campus or via Skype).

Please note that practical experience of artistic work or from the art field is not considered as equivalent to academic studies in Art History.

Required supporting documentation

Your application must be accompanied by a Letter of Intent, in which you describe your background and particular areas of interest, your motives for applying to the programme and future career plans etc. The Letter of Intent should be upload electronically at universityadmissions.se during the application process.

Please note that all supporting documents in the application must be issued in Swedish, Danish, Norwegian or English. Documents that are not issued in Swedish, Danish, Norwegian or English must be translated into either Swedish or English.

Reference Committee

Reference Committee at the International Master's Programme in Art History: Technical Art History and the Art Museum.

Lisa Gartz, Bukowskis auction house
Heli Haapasalo, Hallwyl Museum
Cecilia Hillström, Cecilia Hillström gallery
Camillla Hjelm, Stockholm University
Merit Laine, Uppsala University
Lars Ljungström, Kungliga Husgerådskammaren
Pia Bengtsson Melin, The Swedish History Museum
Martin Olin, Nationalmuseum
Kriste Sibul, Nationalmuseum
Karin Sidén, Prince Eugen's Waldemarsudde
Patrik Steorn, Gothenburg Museum of Art
Anna Womack, Nordiska museet