Gå till denna sida på svenska webben
Art, Architecture and Visual culture in Sweden
The course is an introduction to art, architecture and visual culture in Sweden from the Middle Ages to the present day.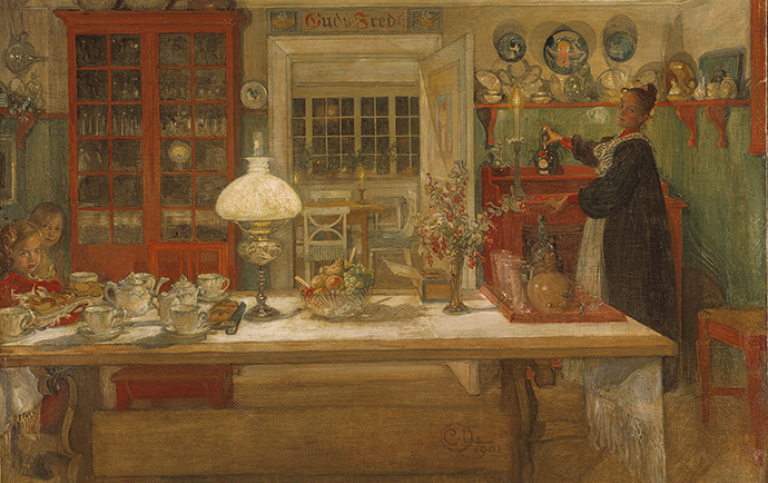 Carl Larsson, 1901. Nationalmuseum.
The objects of study are discussed and analysed in relation to the historical and social contexts in which they were produced and used. Through selected case studies and on-site seminars, students are given opportunities for close studies of individual works or environments, as well as of art museums and other exhibition spaces.
Teaching format

Instruction is given in the form of lectures, seminars and study visits. Participation in seminars and study visits is mandatory. The language of instruction is English.

Assessment

The course is examined on the basis of a take-home examination and oral presentations.

Examiner

Spring 2022:

PhD Charlotta Nordström
Professor Peter Gillgren

The schedule will be available no later than one month before the start of the course. We do not recommend print-outs as changes can occur. At the start of the course, your department will advise where you can find your schedule during the course.

Note that the course literature can be changed up to two months before the start of the course.

Study Councellor Art History

Visiting address

Manne Siegbahn house

Room: 255

Contact your Study Counsellor via email.

Students Office

Visiting address

Manne Siegbahn house, A

Room: 260

Frescativägen 24E

Office hours

Tuesday, 24/5, 10.00-11.30 and 13.30-15.30

Wednesday, 25/5, 13.30-15.30

Phone hours

Phone Hours: Tuesdays and Wednesdays 13:30-15:30.

Irregular office hours

New information on office hours coming every week.