Virtual and real-world elements integrating
By merging virtual and physical on an interactive display, students at DSV have created a mixed reality tabletop experience. The project has been guided by the concept "ease of use".
We took the opportunity to pose a few questions to Erik Lopez, Hoda Ismail, Sharad Poudel, Stella Millwood and Leo Nordén. They are all final year students in the Master's programme in Design for Creative and Immersive Technology and have spent the past months working together as a project team.
What was your assignment in this course?
"Firstly, we were required to develop an interactive prototype by applying concepts of design processes, focussing on knowledge that we gained throughout the programme. Secondly, we were assigned to collaborate with external stakeholders. We have been working with Adrià Cruz, XR designer and developer at Ericsson. He has supervised and contributed with key design guidelines for the project. And lastly, we generated empirical knowledge through data collection and analysis to write a paper."
Tell us about your project!
"The project expands on the concept called 'ease of use' where we look at different interactions in a specific setting. It's a basic concept in usability that describes how easy it is to use a system. We expand on the concept by using a qualitative approach and applying it to a mixed reality prototype."
"The prototype involves an interactive tabletop display composed of physical 3D printed objects representing a city landscape. Then, with the use of a projector mounted from the ceiling, the whole table and its elements are brought to life. By merging the virtual with the physical on one table we create a mixed reality (MR) tabletop experience!"
"Our research question was: How can interactive MR tabletop experiences be applied to enable 'ease of use'? We aim to both contribute academically to the field of mixed reality and to provide knowledge that is valuable to the Ericsson Virtual Portfolio Experience team. They are developing customer experiences to showcase the company's products and services."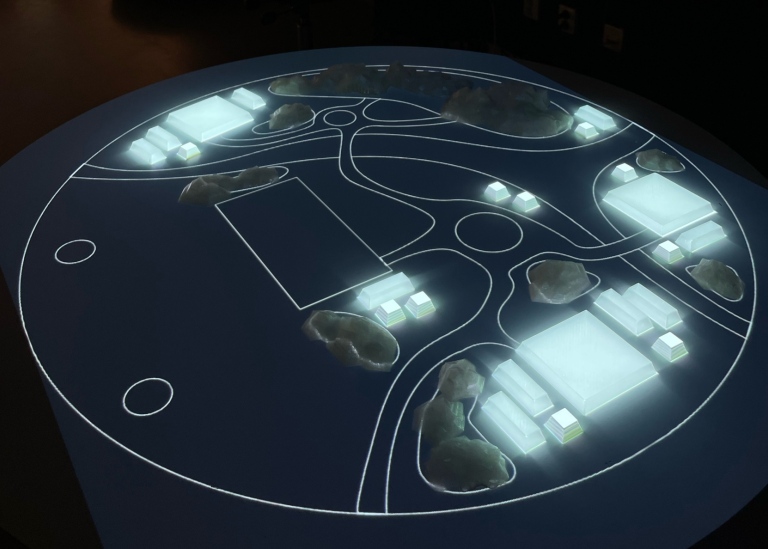 What will happen now?
"The knowledge and experience we gained through this course will help us when we write our master theses. This project also has the potential to become part of our portfolios. It will help us share a small part of what we've learned during the programme and highlight the type of projects being done at the Department of Computer and Systems Sciences, DSV."
What has been the most enjoyable part of this project?
Leo Nordén: "It has been fascinating to see how virtual and real-world elements can be seamlessly integrated, creating unique and immersive experiences."
Hoda Ismail: "Seeing how different technologies affect different user experiences."
Sharad Poudel: "It was an exciting journey to co-learn within the multidisciplinary team. I also felt that I was able to exercise the learnings from all the previous courses of our degree programme."
Stella Millwood: "Exploring what's possible in mixed reality through the lens of what's intuitive and fun has been exciting and thought-provoking."
Erik Lopez: "Being exposed to a multidisciplinary work environment, involving both design and technology implementation, as well as pitching a project idea, has been a fun experience."
Last updated: January 20, 2023
Source: Department of Computer and Systems Sciences, DSV