Gå till denna sida på svenska webben
Molecular Cell Biology
Molecular cell biology is a unifying discipline, describing the structure and function of cells in all their biological, biochemical, genetic and developmental aspects. Our experienced teachers and active scientists will introduce you to the exciting and complex molecular structures and processes of cellular life.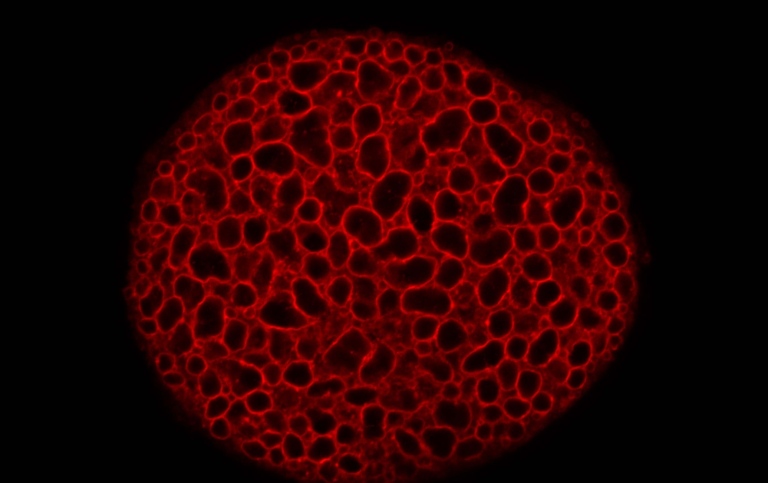 Microscopic analysis of a cell of the Drosophila salivary gland expressing a fluorescently-labelled protein. Image: Yunpo Zhao.
To introduce the research frontiers of the diverse topics of molecular cell biology covered within this course, each lecture will be given by a researcher in the specific field, invited from different Universities and Departments all over Sweden. These lecturers will provide you with an introduction to their scientific field and then present their ongoing research, with the aim to go beyond textbook knowledge and discuss open and pressing research questions.
You will gain an understanding of the functions of subcellular structures, regulatory mechanisms involved in chromatin organization and gene expression, cell communication, signaling pathways, cellular quality control systems, membrane dynamics and intracellular trafficking and learn from experts how defects in these processes translate into disease. We will cover a number of different eukaryotic model systems, ranging from nematodes and fungi to mammalian cell culture, mouse and plants. In addition, you will be introduced to fundamental methods in molecular cell biology during laboratory work and develop an experimental strategy to address a yet-unanswered question in the broad and dynamic field of molecular cell biology under the guidance of an assigned mentor.
This course covers 2 months of full-time study and is taught on campus, where lectures, experimental work and other teaching activities will take place. The lectures are scheduled throughout the course, with 2-4 lectures per week.

Experimental lab work will cover fundamental methods of molecular cell biology, including the basics of mammalian cell culturing, transfection of mammalian cell lines to achieve siRNA-mediated silencing, RT-qPCR and SDS-Page/Immunoblotting to assess knockdown efficiency, as well as fluorescence microscopy to visualize protein abundance and localization. The different scientific topics covered by you in team work in the course of the Symposium range from RNA biology, proteostasis, autophagy and interorganellar communication to amino acid metabolism and fungal pathogenicity.

There are on campus activities virtually every day during the course, but also time for self-studies, e.g. for poster design and proposal writing. In the final week, you will present the results of the experimental lab work and conclude the course with the Course Symposium, where you will present and discuss the posters you have generated.

Modules

Teaching format

Different learning opportunities will be provided, including:

lectures
laboratory exercises and subsequent presentation of the results
the development of an experimental strategy to tackle assigned research questions,
the generation of a poster for assigned research question and the presentation of this poster at a Course Symposium, as usus during a typical Scientific Conference, as well as
writing of a short proposal for assigned research question. Several of these tasks will be performed in groups. Participation in all teaching activities is mandatory.

Assessment

There are no written tests or oral examinations of the classical type during this course. The mentors/teachers constitute an evaluation group, evaluating your activity by considering:

Activities and performance during the experimental work
Activities and performance during the preparation for the course Symposium
The poster generated for the Symposium
Activities and performance during the Symposium
The written 3-page proposal

Examiner

Sabrina Büttner

E-mail: sabrina.buettner@su.se
Tel: +46 8 16 4170

Other teachers:
Anki Östlund-Farrants
Claes Andréasson
Per Ljungdahl
Neus Visa
Deniz Ozata

The schedule will be available no later than one month before the start of the course. We do not recommend print-outs as changes can occur. At the start of the course, your department will advise where you can find your schedule during the course.

Note that the course literature can be changed up to two months before the start of the course.

No mandatory course book. Recommended literature:

Alberts, B. Molecular Biology of the Cell. 6th ed. Garland Science 2014.

or

Lodish, H. et al. Molecular Cell Biology. 9th ed. Macmillian 2021.

Student office

Visiting address

Arrheniuslaboratory, room E315

Svante Arrhenius väg 20C

Office hours

Closed for the summer June 22nd till August 13th

We check info.big@su.se all summer

Irregular office hours

Staff meeting May 15th CLOSED before lunch

Study counsellor for advanced level

Visiting address

Arrheniuslaboratoriet, room E315

Svante Arrhenius väg 20 C