Gå till denna sida på svenska webben
Statistical Physics
What happens when ice melts or a material becomes superconducting? A small change in external parameters can have a big impact on material properties. Phase transition is a core physics concept explored in this course. Statistical physics provides a link between the visible macroscopic properties of a system and its microscopic details.
Information for admitted students Spring 2021
Congratulations! You have been admitted at Stockholm University and we hope that you will enjoy your studies with us.
In order to ensure that your studies begin as smoothly as possible we have compiled a short checklist for the beginning of the semester.
Follow the instructions on wether you have to reply to your offer or not.
universityadmissions.se
Checklist for admitted students
Activate your university account

The first step in being able to register and gain access to all the university's IT services.

Register at your department

Registration can be done in different ways. Read the instructions from your department below.

Read all the information on this page

Here you will find what you need to know before your course or programme starts.
IMPORTANT
Your seat may be withdrawn if you do not register according to the instructions provided by your department.
Information from your department
On this page you will shortly find information on registration, learning platform, etc.
Welcome activities
Stockholm University organises a series of welcome activities that stretch over a few weeks at the beginning of each semester. The programme is voluntary (attendance is optional) and includes Arrival Service at the airport and an Orientation Day, see more details about these events below.
Your department may also organise activities for welcoming international students. More information will be provided by your specific department.
---
Find your way on campus
Stockholm University's main campus is in the Frescati area, north of the city centre. While most of our departments and offices are located here, there are also campus areas in other parts of the city.
---
Read more
---
For new international students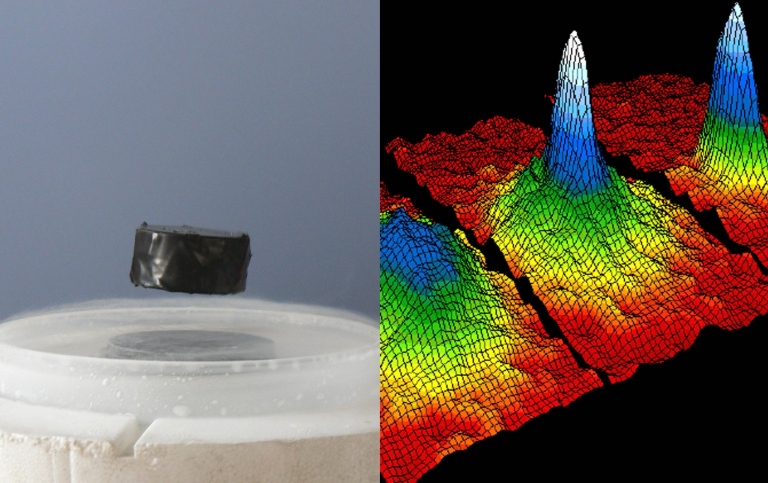 Left: magnet levitating above a superconductor. Right: Velocity distributions of rubidium atoms confirming the existence of the Bose Einstein condensate.
This course describes the thermal properties of several systems in equilibrium with an emphasis on explaining the phenomena of Phase transitions. The models and their relevance for physical systems that are treated include: the Ising model, the Van-der-Waals fluid and some introduction to the XY and Heisenberg models. Some of the topics covered are convexity properties of the Free energy, methods for exact solutions, order parameters, mean-field theories, the Landau theory of phase transition and its limitations, spontaneous symmetry breaking, first and second order phase transitions, scaling and universality classes and the Kosterlitz Thouless phase transition.
Teaching during the spring semester 2021
Teaching will be done remotely. The course is examined through hand in exercises and a remote monitored written exam.
The course is using the Athena learning platform.
This is a second cycle course given at half speed during daytime. This course can also be taken as a third cycle course.

Teaching format

The teaching consists of lectures and problem solving sessions.

Assessment

The course is examined by a final written examination, and continual assessment through weekly hand-in assignments which can earn the students some bonus points.

Examiner

Supriya Krishnamurthy

Phone: +468 5537 8741

Note that the course literature can be changed up to two months before the start of the course.

"Lectures on Phase Transitions and the Renormalization Group," by Nigel Goldenfeld, Addison Wesley (1992)