Gå till denna sida på svenska webben
Bachelor Programme in Latin American Studies with specialization in Portuguese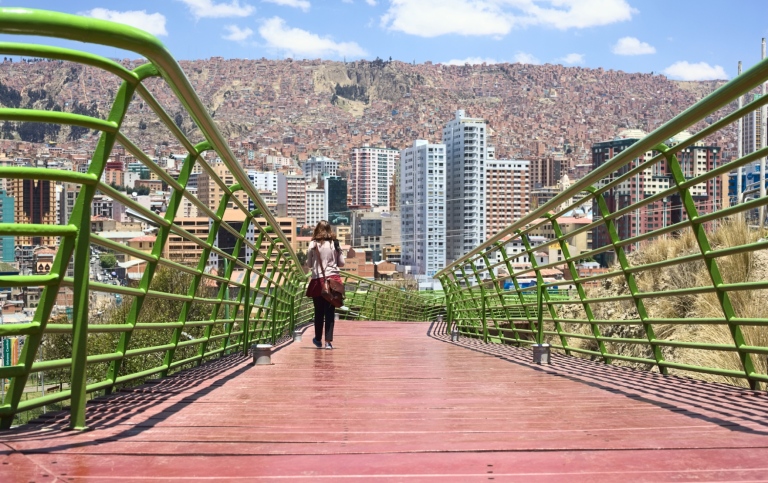 The pedestrian Via Balcon (Balcony Path) (about 3 kms long) over the Parque Urbano Central (Central Urban Park) built to enjoy the view of the city photographed on October 14, 2014 in La Paz, Bolivia
This Bachelor's program has a multidisciplinary and international profile. It provides knowledge about History, Politics, Economics and Social and Cultural Development of Latin America, the Caribbean and the Hispanic American. This region is currently undergoing major changes, with new movements and ideas gaining ground, trading patterns change, and the reduction of poverty. While the continent is looking for its role in today's global context, giving political and economic development opportunity for previously excluded and marginalized groups to demand their rights. However, despite the progress, many of the countries on the continent are marked by the inequality and instability that characterized their past. The interplay between the past, the present and the trends are the focus of Latin American Studies, and you as a student will study Latin America from many perspectives.
Latin American Studies is an interdisciplinary subject that derives its theoretical and methodological approaches from the social sciences and humanities. The Bachelor's Programme in Latin American Studies includes six semesters of study (180 credits) and consists of the main area-specific required courses totalling 90 credits, compulsory courses in Spanish or Portuguese, totalling 60 credits and other (a) the course (s) for a total of 30 credits. Within the program, students have the opportunity to do an internship / field work in Latin America. In addition to the study of Latin America given the opportunity to focus on individual themes and geographical areas of the continent. All teaching in Latin American Studies conducted in English. Language of instruction is English and the language that belongs to the chosen specialization (Portuguese / Spanish). The training requirements for admission to the advanced level.
Labour market
Knowledge of Latin American Studies are in demand in the labour market because of the continent's growing importance in trade and industry, government, international organizations and diplomacy, tourism and media.