Gå till denna sida på svenska webben
Early Childhood Education focusing on Mathematics and Technology
This course provides an introduction to the field of mathematics. It covers both children's and the student´s own relationship to mathematics, as well as mathematical learning theories related to gender. The course considers children's mathematical activities and exploration in their daily lives.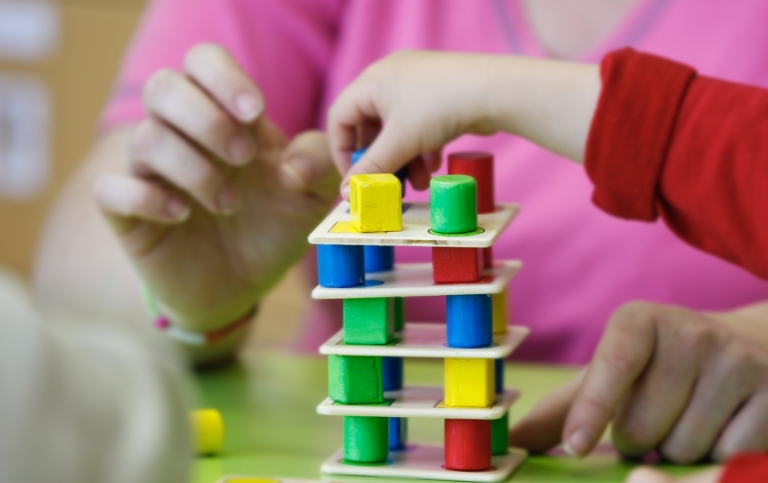 Photo: Mostphotos/dgr.
In the course, mathematics is treated as a language and studied using practical-aesthetic and multimodal forms of expression. The course also give an introduction to technology.
The use of pedagogical documentation is extended as a tool to monitor and challenge learning processes, as well as to reflect on the students' own pedagogical actions. The course content is consistently discussed in relation to the task of a preschool teacher and the objectives of the curriculum:
the importance of play for children's use of mathematics;
how children create meaning from the study of signs and symbols;
various practical-aesthetic approaches that stimulate mathematics;
stimulate and challenge children's interest in technology;
listening and conversation as didactic tools.
The course is offered for international exchange students, students from the Program in Early Childhood Education as well as students who have applied for the course as a free standing (single subject) course.
The course is offered autumn semesters and spring semesters.

Study pace: Full time studies, 100%.

Modules

Course module: Basic mathematics and technology in preschool (1 credit)

The module aims for the student to, through course literature and through their own exploration in workshops, learn how children's play and exploration of signs, symbols, and other expressions carry meaning for mathematical and technical learning.

Course module: Teaching mathematics in the everyday life in preschool (2 credits)

The module aims for the student to acquire knowledge of practical and aesthetic learning processes; to show knowledge of elementary mathematical learning; and to use practical aesthetic forms of expression and play in the planning of activities that stimulate mathematical learning.

Course module: Mathematics, learning theories and theories of knowledge (2 credits)

The module aims for the student to be able to describe, compare, and relate different theories to mathematical learning and to relate them to the preschool's policy documents.

Course module: Mathematics - explorative work and teaching (7 credits)

The module aims for the student to acquire knowledge of the basics of the mathematical concepts of space, form, position, and direction; the basic properties of quantities, amounts, orders, and number concepts, as well as the basics of measurement, time and change; to provide knowledge on how to use pedagogical documentation as a tool to monitor mathematical learning processes; how to reflect on one's own relationship to mathematics and to reflect on mathematical learning theories related to gender.

Teaching format

Instruction is given in the form of seminars, lectures, workshops/laboratory work, individual assignments and group assignments, as well via the learning and collaboration platform Athena.

Specified teaching sessions are mandatory. Absence must be compensated for as described in the study guide.

Study Guide

The Study Guide for the course will be published at the latest one month prior to the course start.

Study Guide UB314F Early Childhood Education Focusing on Mathematics and Technology Spring_2022_ (432 Kb)

Study Guide the autumn semester 2022 (to be updated at the latest one month prior to the course start)

Assessment

Forms of examination

The course module Basic mathematics and technology in preschool is examined on the basis of participation in workshops (grading G = Pass U= Fail).
The course module Teaching mathematics in the everyday life in preschool is examined on the basis of an oral and written group examination (grading G = Pass U= Fail).
The course module Mathematics, learning theories and theories of knowledge is examined on the basis of participation in examining seminars (grading G = Pass U= Fail) and an individual paper (grading G = Pass U= Fail).
The course module Mathematics - explorative work and teaching is examined on the basis of and Individual paper (grading A-F).

In order to pass the course, students must at least receive grade E or G on all examinations, complete all assignments as per the course description and complete all obligatory attendance.

For more information about the examinations please see the study guide for the relevant semester.

Next opportunity for re-examination

The next opportunity for re-examination will take place the 16th of August 2022.

Students who want to re-take the examination shall contact the course administrator at the latest the 1st of July.

The assignments will be the same and will be handed in on the Athena page no later than 16th of August 17.00.

Examiner

Spring semester 2022: Emilie Moberg

Autumn semester 2022: Emilie Moberg

Spring semester 2023:

The schedule will be available no later than one month before the start of the course. We do not recommend print-outs as changes can occur. At the start of the course, your department will advise where you can find your schedule during the course.

The course is offered spring and autumn semesters.

Spring semester 2022 April 5th until June 3rd

Schedule spring semester 2022 (Preliminary until one month prior to the course start)

Autumn semester 2022 November 14th until January 13th

Schedule autumn semester 2022 (To be published at the latest one month prior to the course start)

Spring semester 2023 tba

Schedule autumn semester 2022 (To be published at the latest one month prior to the course start)

Note that the course literature can be changed up to two months before the start of the course.

The course literature will be published at the latest two months prior to the course start.

Meet our students

Meet the exchange student Nagomi Sugiyama from Japan

Nagomi was studying courses in Early Childhood Education during the fall semester 2020 at the Department of Child and Youth Studies.

Nagomi Sugiyama

If you have questions regarding the content of the course please contact the teacher responsible for the course. If you have administrative questions regarding admissions, registration, registration of grades etc. please contact the course administrator.

Teacher responsible for the course and course examiner:

Emilie Moberg, e-mail: emilie.moberg@buv.su.se

Course administrator: Malin Håkansson, e-mail: malin.hakansson@buv.su.se