"The fundamental goal is to question what we believe to be truths"
Ann-Zofie Duvander is driven by the desire to contribute to the development of society. Trying to look behind what we see as "truths," and find what needs to be questioned. At the same time, it is important to distinguish between research and political policy decisions, stresses Ann-Zofie Duvander, Professor of Demography.
Ann-Zofie Duvander appreciates the concrete in the field of demography, as well as the slightly more abstract in the field of sociology.
"Demography is concerned with how society develops, not only the big things that take place in the society but also how people act in this big picture. Perhaps that's why I like the field of demography so much, that one can see developments over time. Such as looking at that as people are living longer, people are having more, or fewer, children."
It can be described as she slipped into the fields of sociology and demography without really having a defined goal from the beginning. Several events led her to where she is today, an academic researcher and since 2017 Professor of Demography: studying psychology, theology, and then obtaining a research assistant position in demography that led to a doctoral studentship in demography. Then she switched to sociology and then back again to demography. In addition to research, she teaches demography in the master's degree programme and undergraduate programme in sociology.
Focuses on the Swedish parental social insurance
Her research revolves around family policy in general, but with a focus especially on parental leave. How parents share parental social insurance benefits, the developments of the reforms, how the citizens use the insurance, and how it affects our behaviour.
"Swedish family policy is really interesting to study, because so much is happening; there is a huge international focus on it because everyone assumes it's so good. But I think it is important to study how it actually works in reality in Sweden, what is good about it and what doesn't work so well."
Recently, she has researched how fathers use the Swedish parental social insurance, which is largely unique from an international perspective as Sweden introduced early reserved time for each parent.
"What has been special in Sweden is that fathers have started taking parental leave earlier compared with many other countries, and this has to do with how the social insurance is designed here. But the important thing is that - of course, we have a social insurance that has led to many fathers taking parental leave - but we still experience problems with the fact that a large proportion do not take out days."
A report Ann-Zofie co-wrote for the Swedish Social Insurance Inspectorate (Inspektionen för socialförsäkringen, ISF), which was published at the end of last year, shows that as many as one-third of fathers of children born in 2017 in Sweden spent less than 30 days on parental benefits, and many none at all. Ann-Zofie believes that it depends primarily on what the labour market looks like.
"If one is in a poor situation in the labour market, it is difficult to use these social insurance benefits that are linked to the labour market. One may not want to risk being away from their job, fearing receiving very poor compensation, or even to extent of not having a job to be on leave from."
A large percentage of the fathers who do not take parental leave either have a low level of education, low income, or lack permanent employment. Another large group are the self-employed, a special group in several ways.
"Parental social insurance is not made for them. It is really complicated to understand what benefits they should be receiving and of course in many cases it is super complicated and problematic to be away from one's own company. In the social insurance, it is not allowed to combine work with receiving parental benefits. On the other hand, this should not be interpreted as meaning that fathers who are self-employed in particular spend less time with their children, because we do not know that."
The report has been widely circulated at the political level. As we speak, Ann-Zofie has already presented it to both the Ministry of Social Affairs and the Swedish Social Insurance Agency, and the same afternoon will present it to the Swedish Gender Equality Agency. Next in line is AFA insurance.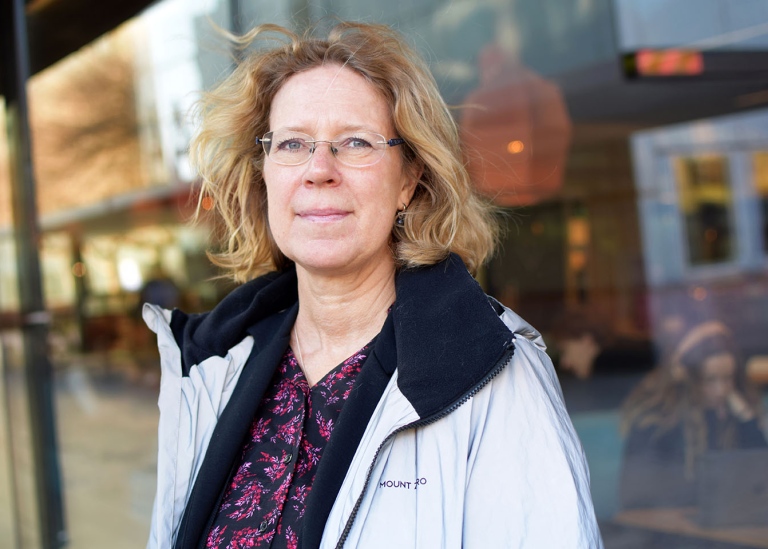 Has one foot remaining outside the academic world
How did it happen then that she became interested in family policy? In the 1990s, she was asked to assist with an assignment from the Kvinnomaktsutredningen [The study of the distribution of economic power and economic resources between women and men Commission] to look at how the parental benefits and allowances were used, and then she co-wrote an article on this and then became interested in the field of family policy. Ann-Zofie enjoys researching in an area that affects such a large part of the population. And thinks that it is important to work even outside academic contexts - a responsibility she believes all academic researchers have.
"I also have one foot left outside the academic world. This report received far much wider dissemination and a chance of influencing policy than if I were to write a scholarly academic paper, which would certainly give greater points to my career as an academic researcher but not be read by as many."
Additionally, she has also studied how child and family policy affects women's and men's situation in the labour market after they have had children, and how parents share parental rights and responsibility after a separation, for example who pays or does not pay maintenance. Together with Johanna Schiratzki, Professor of Law, she examines i.a. how administrative courts and district courts have ruled in various court cases regarding maintenance; not only what patterns exist but even if there is inconsistent treatment of similar cases and situations.
Right now she is also researching immigrants' use of parental leave, in several studies together with Eleonora Mussino at the department.
"In many cases, it has taken several years to migrate, and when one comes to a country new, childbirth has often been postponed. This means that immigrants often have more children at the beginning of their time in Sweden. Then family policy becomes important in another way."
Together with Linda Kridahl at the department, she has also studied how couples divide their finances and whether they have financial conflicts. In the future, Ann-Zofie and Linda Kridahl will continue their research of divorce among the elderly, which has significantly increased in recent decades.
"This will be quite interesting! We will make comparisons with other countries in this regard: what the pension systems look like, what kinds of income one has as an older person, can one afford to divorce if one now wants to?"
In addition to her professorship at the Department of Sociology at Stockholm University, Ann-Zofie has also been working at Mid Sweden University for a few years to obtain new impressions. Mid Sweden University does a lot of risk and crisis research, something she looks forward to becoming involved with.
"It is a very hot topic right now and a completely different perspective that I am not so familiar with, not having been involved with it before."
Another thing that motivates and inspires her is her assignment as coordinator for a large international network of more than 60 members from 47 countries are involved – The International Network on Leave Policies and Research (LP&R). Every year, this network compiles a report with the latest that has been taking place in the field of parental social insurance in the various participating countries.
Important not only taking the simplest paths
One of Ann-Zofie's primary motivations in her work is to contribute to the development of the society.
"In my view, the fundamental goal as an academic researcher is to question what we believe to be truths, to look behind these and try to find other perspectives. In my case, it's looking at family policy, what it actually looks like. Who benefits from and who does not benefit so much from the family policy? Who uses it? In what ways? And what does it lead to?"
Ann-Zofie returns several times to the responsibility of the academic researcher, to direct the research to what needs to be questioned.
"It is important not to just take the simplest paths, not just do research that is the easiest or research that strikes a public interest just because it's sensational."
I wonder if she has seen political policy decisions be changed that might have been a result of her research results.
Ann-Zofie talks about of a study she did with her then-colleague at the Swedish Social Insurance Inspectorate Mats Johansson and the Swedish Social Insurance Agency when the first reserved month was introduced in 1995: how the reform affected fathers' use of parental benefits from the Social Insurance Agency.
"It was of course a very successful change of the social insurance and led to fathers starting to use it to a much greater extent. When they then introduced the second and third reserved month for the father, I have seen that they referred to our study in later investigatory commissions and government bills."
That Swedish policy-makers are interested in her research has not gone unnoticed. But it is important to keep research and the politics of making policy separate, she says. It is important to remember that one's role as an academic researcher is to generate knowledge that can be used in various ways. How the knowledge is then used is up to the elected decision-makers. She says that it is important to have policy recommendations in research, but that one should nevertheless be careful not to become political.
"Take gender equality, for example, there is no political party that is really against gender equality. But how to achieve it has to do both with the ways that are effective and the political orientation that one has. I think that as an academic researcher it is important to be very clear about what the research results are and what the possible consequences of the results might be."
Text and photo: Elin Sahlin
The article was published 2022-03-03

Last updated: August 30, 2022
Source: Department of Sociology