Gå till denna sida på svenska webben
Master's Programme in Language Science with a Specialisation in French
The programme aims at extending and deepening your knowledge in French. It also strengthens your grasp of research methodology, research ethics and your ability to carry out scientific reasoning.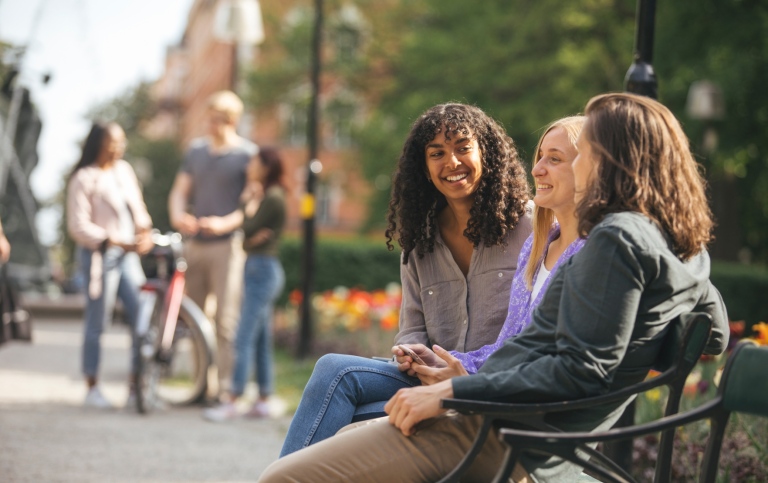 Foto: Niklas Björling
Application for autumn 2023:
Please note that you may have to switch course instance to get the correct application information (to the right on desktop, further down the page on tablet or mobile phone).
About the specialisation:
In addition to taking the faculty-wide courses which are obligatory in the Linguistics programme – philosophy of science, research ethics, academic English – and the obligatory training of your academic language skills in French in both speech and writing, you will choose the area and courses for your linguistic specialization, connected to the Department's research profile: philology (history of language and critical editing of texts), acquisition of French as a second or third language, conversational and discourse analysis of French on television/radio and in the press, and translation studies (contrastive approaches to French-Swedish).
Schedules and Course literature are available on each course page.

Elective courses

You can search for courses in Stockholm University's online catalogue or take a look at the programme's list of suggested courses:

List of elective courses (Master's Programme in Language Science)

Year 1

Semester 1

Language in Use (LIM026)
Scientific Methods and Research Ethics, 7.5 ECTS credits
Romance Languages' Development from Latin, 7.5 ECTS credits
French Linguistics and Discourse Analysis, 7.5 ECTS credits

Semester 2

Language Contact, Multilingualism and Minorities in the Romance-Speaking World, 7.5 ECTS credits
Second Language Acquisition: Romance Languages, 7.5 ECTS credits
Elective courses amounting to 15 ECTS credits

Year 2

Semester 3

English for Academic Research, 7.5 credits
Elective courses amounting to 22,5 ECTS credits

Semester 4

French, Independent project for the Degree of Master, 30 ECTS credits

Coordinator

María Bernal Linnersand, Deptartment of Romance Studies and Classics
maria.bernal@su.se

The Master's Programme in Language Science is administrated from the Department of Linguistics in collaboration with the language departments at Stockholm Univiersity. Each specialisation has its own coordinator.

Department of Romance Studies and Classics