Gå till denna sida på svenska webben
Master's programme in Biochemistry with specialization in protein chemistry
Proteins are the building blocks of life. They play a central role in various disease processes and can also be used for therapeutic purposes. If you want to learn more about these fascinating molecules then the master's programme in Biochemistry with specialization in protein chemistry could be for you.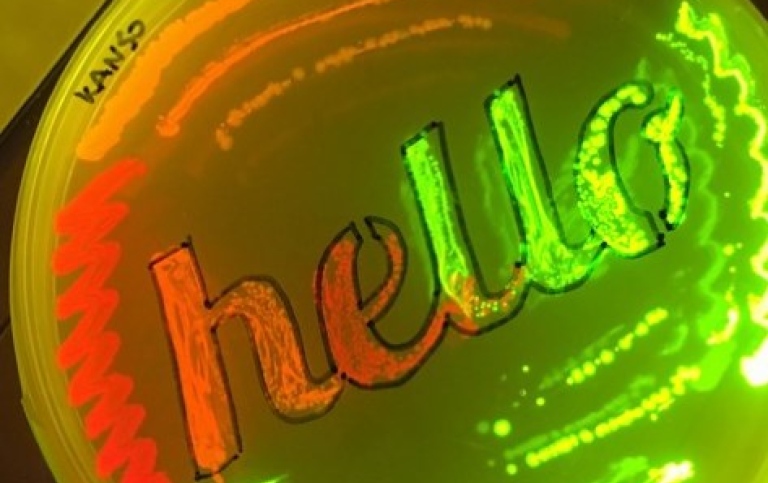 What you see here are streaks of bacteria that express different mutants of green fluorescent protein (GFP). The recombinant proteins fluoresce under UV-light in colours ranging from red to green.
The Master's Program in Biochemistry with specialization in protein chemistry will provide a 360 degree understanding of proteins, from their physical properties and structures, to how they behave, interact and function in complex environments.
Current techniques used to study proteins, their folding, structure, cellular localization, interactions and functions is another important focus in the programme.
You will learn the basics principles of recombinant protein production, protein engineering and protein purification, as well biophysical characterisation and structure determination of proteins by for instance x-ray crystallography, NMR and cryo-EM. Moreover, you will also get to dive into the world of biological membranes, which consist of both proteins and lipids, as wells as to study how protein expression can be modified and studied in live eukaryotic cells.
The fast-paced courses in the programme are taught in small groups and they include significant lab time, allowing you to develop the lab skills that Stockholm University graduates are renowned for, and which employers expect. Writing reports, giving presentatations and reading papers will be second nature to you when you have finshed the program.
The teaching is problem-based meaning, you will also be challenged to develop skills like self-sufficiency and creative thinking, which will help your career outside the lab. It's real science for the real world.
While attending the biochemistry with specialization in protein chemistry programme you will be surrounded by internationally recognised biochemistry researchers, including some of the people who choose the Nobel Prize winners. In addition, you will be able to attend the Nobel lectures of the prize winners themselves.
There is also a robust exchange programme with University of Illinois, Champagne-Urbana, which many students take advantage of to broaden their experience.
The program is 120 ECTS.

The program consists of six mandatory courses (of a total of 60 ECTS) and an independent master thesis project of 30, 45 or 60 ECTS.

You will also be able to take university level electives of 0-30 ECTS depending on the length of the master thesis project. This will enable you to broaden your horizons even further by studing a different branch of chemistry to become interdisciplinary. Some of the most important discoveries are happening where disciplines meet, like where biochemistry meets biology, organic chemistry or neurochemistry.

Year 1

Advanced Methods in Biochemistry, 7.5 ECTS (KB7014)
Protein structure and function I, 7.5 ECTS (KB7020)
Protein structure and function II, 15 ECTS (KB8028)
Spectroscopy of biological molecules, 7.5 ECTS (KB8023)
Structure and Dynamics of Biological membranes, 7.5 ECTS (KB7000)
Proteins in eukaryotic cells, 15 ECTS (KB8027)

Year 2

60 ECTS independent degree project (mandatory).

or

15 ECTS elective courses and 45 ECTS independent degree project (mandatory).

or

30 ECTS elective courses and 30 ECTS independent degree project (mandatory).

Independent project

The independent project is your chance to really focus on research and to study something you are really interested in. The project can be performed in a research group at Stockholm University, at another University or research organisation.

The project can be 30, 45 or 60 ETCS.

You apply for the program through http://universityadmissions.se

Next application round will be starting March 15th 2021.

Eligibility:

Bachelor's Degree in Natural Sciences or equivalent, including at least 60 ECTS in Chemistry, whereof 15 ECTS should be in Biochemistry. The degree should also include an additional 30 ECTS in either chemistry, physics or molecular life sciences. Knowledge equivalent to Swedish upper secondary course English 6 or equivalent.

Selection process

Additional eligibility criteria

Relevance of previous studies in relation to the programme and motivation letter. Note! No interview will be held.

As part of the application for our Master's programme you will be asked to provide a motivation letter. The motivation letter is an important selection criteria and must be uploaded together with your application at the university admissions site.

Please answer the follwing questions, and add the document to your application on university admissions. We expect maximum one A4 page.

Your full name
E-mail address
The name of the masters programme you are applying to
A list of completed courses, including number of credits, which count toward meeting the specific eligibility requirements for the program (please include courses not completed as well)
What inspired you to apply to this particular program?
Lab experience, this programme require very good laboratory skills
Why are you a good candidate?
What do you hope to achieve with your degree?
What research questions interest you and how do they relate to the ongoing research at Stockholm University?

Upload this letter with your application on to universityadmission.se

Study abroad

Students participating in the Master's programme in Biochemistry with specialization in protein chemistry are highly recommended to join one of our study abroad programmes.

University of Illinios at Urbana-Champagne, semester 2 and 3

During semester 2 or 3 you will be able to study at the University of Illinois, Urbana-Champange, which many students take advantage of to broaden their experience.

We have long standing cooperation with this university. Many of the courses on offer may be included in your degree and will broaden your knowledge of proteins and their biochemistry.

Please note that you will only be able to do course work at UIUC, internships and thesis work is not possible.

Erasmus traineeship, anywhere within the EU, semester 3 and 4

Many students will start their career at Stockholm University and decide to go abroad for their thesis work. In the past students have done their master thesis in for example Berlin, Copenhagen, Brussels and Amsterdam. The thesis can be performed in lab, research institute or a company. You will be collecting data abroad in order to present at thesis at SU at the end of the period.

https://www.su.se/english/education/go-international/erasmus-traineeship-abroad

Meet our students

Meet Henry, Masters Student in Biochemistry

Biophysical chemistry is the most interesting aspect of chemistry for me as it presents the opportunity to learn about the fundamental molecular principles behind protein dynamics in an interdisciplinary manner.

My name is Henry Annecke and I'm a British student taking the master's programme in Biochemistry here at Stockholm University — after having studied physics at undergraduate level in Berlin. Applying to the programme was the next logical step for me once I had completed my Erasmus research internship here at the department.

Everyone was friendly and I realised there was a wide range of possibilities available in terms of interesting research groups, fields, and courses.

Biophysical chemistry is the most interesting aspect of chemistry for me as it presents the opportunity to learn about the fundamental molecular principles behind protein dynamics in an interdisciplinary manner, and having come from a different field, I like this approach.

This programme has been the perfect transition into life sciences, and a lot of students have different backgrounds. During the programme, which has a focus on applicable research skills, we have had various lab work. One highlight of this was a computer based bioinformatic lab in which we analysed protein evolutionary homology. After learning much about protein function it was interesting to see how this fits into an evolutionary perspective and to do so using the latest software. Another highlight was in the Structural Biochemistry course in which we crystallised a protein, collected X-Ray diffraction data on the crystal, and then learnt how to build a 3D protein structure from the data. Seeing how a protein structure is produced from start to finish was really enjoyable.

Generally, the courses are designed with a lot of hands-on time which means you learn a lot. The lecturers themselves have unique approaches to teaching which are both refreshing and engaging, and which encourage independent thought and problem solving. Alongside this the campus and Stockholm itself are great places to be and live so if you're considering applying, I'd recommend it.

Best of luck!

Henry

Meet our teachers

If you want to be part of the solution, you need to understand and speak chemistry!

Daniel Daley left Australia for Sweden in 2002. The plan was to stay for two years, but he liked it too much. Now he is a professor in the Department of Biochemistry and Biophysics.

Hello Daniel, can you please tell me a bit about yourself?

– I grew up in Australia and studied biochemistry at the University of Western Australia. (PS, we have an exchange agreement with them if you want to study a semester there). I became interested in chemistry at high school as I had a really inspiring teacher. It was a long time ago, but I distinctly remember that he was extremely enthusiastic about chemistry – which I found contagious. Initially, I liked the idea of understanding how the human body works. Biochemistry offered me insight on a molecular level. And again, I was drawn in by a good teacher who was able to relate complex biochemical concepts, such as metabolism back to everyday activities, such as running and resting.

What is the best thing about studying chemistry?

– It helps me understand the natural world. After all, many natural phenomena are chemical. How muscles contract, how leaves capture sunlight, how antibiotics work, how detergents work, why coffee tastes good etc.

What is your main motivation?

– I'm a curious person, and I really like the idea of discovery… figuring out something that no-one else has yet seen.

How come you ended up at Stockholm University?

– When I finished my PhD, I wanted to know more about membrane biology so I contacted Gunnar von Heijne (one of the leaders in this field) and asked if I could get some postdoctoral experience in his lab. I came to Stockholm University in 2002, and the idea was to stay for two years and get some experience, but I liked it so much that I stayed.

What was it that you liked about Sweden?

– In many ways, Sweden is the antithesis of Australia, and I enjoyed the contrast. For example, winters and the possibilities to do winter sports. I also enjoyed the opportunity to meet new people and immerse myself in a different culture.

Can you tell me a bit about what you have been doing since 2002?

– I opened the doors to my own lab in 2006, and I started a small research group. Our main interest has been to understand how bacteria make proteins. And we apply this basic knowledge to engineer bacterial cell factories that can make valuable proteins, such as hormones, antibodies and enzymes. Some of our discoveries have been patented and are currently being used in the biopharmaceutical and biotech industries.

Why is a master in biochemistry a good choice of education?

– A masters in biochemistry from Stockholm University will give you a world-class education in protein chemistry. You will be taught in small groups, by leading experts and you will be involved in a lot of 'wet-work'. At the end, you will be extremely competitive for PhD positions or jobs in the industry. There is an increasing need for people with knowledge of protein chemistry as proteins are widely used as medicines, medicinal probes, medicinal targets and industrial enzymes.

Do you have any words of advice to potential chemistry students?

– Read, read, read… and ask lots of questions if you don't understand.

How can chemistry and chemistry research lead to a better and more sustainable society?

– There are many 'big problems' to solve these days, such as global warming. Solutions to this particular problem will revolve around renewable energy sources and will most likely come from chemists. So, if you want to be part of the solution, you need to understand and speak 'chemistry'!

Can you tell me about an ordinary day at work?

– I spend a big chunk speaking to people in my research group, as we discuss their experiments as well as those of others. And I spend another big chunk of my time reading and writing papers and grants. And I am quite heavily involved in teaching and organizing the teaching of biochemistry at Stockholm University.

What do you like to do in your spare time?

– I train my son's football team, I love being out in my kayak, and I enjoy keeping fit (running and going to the gym).

Meet our researchers

Being on the Nobel Committee is probably one of the best things you can do as a Swedish researche

Gunnar von Heijne is one of Sweden's most cited researchers in the field of biochemistry and is known for his research on membrane proteins. He has also been a member and chairman of the Nobel Committee for chemistry.

Gunnar von Heijne's academic career started at the Royal Institute of Technology, where he studied chemical engineering. At the same college, he later became an associate professor of theoretical biophysics. After several years as a researcher at Karolinska Institutet and as a science radio reporter, Gunnar became a professor of theoretical chemistry at Stockholm University.

His research has focused mainly on membrane proteins. In collaboration with the Swedish Foundation for Strategic Research, Gunnar built a world-leading centre for biomembrane research at Stockholm University and he is currently director of the Swedish National Cryo-EM Facility at SciLifeLab in Stockholm.

Hello Gunnar, why and when did your interest in chemistry awake?

"My high school teacher was a huge inspiration, but the fact that I got a scholarship to attend the Berzelius Days also played a role. The Berzelius Days is an arrangement that the Swedish Chemical Society organizes annually for Swedish high school students to encourage further chemistry studies at university. My chemistry teacher, Karin Brandt, was very enthusiastic and encouraging. Funnily enough, Tomas Lindahl (Nobel Prize in Chemistry 2015) had the same chemistry teacher, and she taught him the value of science."

Read more (in Swedish): Nobelpristagare Tomas Lindahl hyllar Bromma gymnasium

What has been the best thing about studying, teaching and researching chemistry?

Learning to understand and teach about what the world looks like "on a molecular level". Chemistry is a bridge between physics and biology/medicine. It makes it very exciting since there are so many aspects to a research problem – since the interface with other scientific research is so broad.

What is the best thing about biomembrane research?

It's a field where a lot has happened during my years as a researcher. Somehow, thinking about how membrane proteins are produced in the cell has suited me well.

What did your involvement in the Nobel Committee mean to you?

Being asked to serve on the Nobel committee is probably one of the best things that can happen to you as a Swedish researcher. The Nobel Prize is known worldwide and puts science in the international spotlight at least once a year. Also, we have much fun on the committee!

How can chemistry and research in chemistry lead to a more sustainable society?

"For example, artificial photosynthesis, green chemistry for a leaner and more environmentally friendly production of various chemicals and the lithium-ion battery. Other examples are new materials such as hydrogen storage or removal of CO2 from combustion gases and environmental chemistry to detect and address various environmental problems."

What qualities are needed to become a successful chemistry student?

To enjoy science, and preferably a little math too, is a good start!

Read more about Gunnar von Heijne and his many publications here.

Meet our alumni

"I had aha-moments all the time during my studies"

Daniel Martinez Molina's interest in nutrition led him to the Bachelors programme in nutriton - a program given in collaboration between SU and KI. Today, Daniel is the Chief Scientific Officer and head of research at his own company.

Daniel Martinez Moline, founder of Pelago Bioscience, and one of our alumni!

Hi Daniel, What made you interested in nutrition?

- My high school teacher in biology was the one who first made me understand how fantastically complex nature is. He wanted his students to understand everything from how the citric acid cycle spun to life in a compost. During a lab about energy consumption in the human body, I became interested in what, how and why things happen.

Why did you apply for a Bachelors programme in Nutriton?

I got tip about the programme from the same biology teacher, as he noticed how I was passionate about the subject. At that time, there were only twelve seats on the programme, so I had to fight to get in. The year I started, the number of spots had increased to 18. We were a great bunch of students who had a strong common interest in nutrition. However, we were quite clearly divided into those who thought public health nutrition was most interesting and those, like me, who preferred molecular nutrition.

"Pretty soon I realized that a solid basic education was necessary to really understand what, how and why processes take place in the body"

What did you think of your studies at SU?

The studies at the different universities were different both in feeling and content. Stockholm University was responsible for the first part of the programme and for me it was a change on several levels. It was the start of my university studies and not only did I move from my childhood home but also to a big city. It probably contributed to that Stockholm University feelt both huge and part of a new adventure. - I remember struggling a bit with motivation during the chemistry studies of the first year, I wanted to jump straight into the subject of nutrition and not read about orbitals. But pretty soon I realized that a solid base in chemistry was necessary to really understand "what, how and why" and not just learn what processes take place in the body by heart.

What did you think of your studies at KI?

When we switched to studying at Karolinska Institutet, we spent time both in Solna and Huddinge. For me, it was incredibly cool to be able to take with me the knowledge from Stockholm University and understand how chemistry was behind what we read about in, for example, human physiology or during the course nutritional status. If Stockholm University was responsible for the big and exciting, Karolinska in Huddinge was a little smaller and familiar. Familiar in several ways - in those corridors I also met my future wife. The education extends over many subjects.

What did you like most and why?

I was very thirsty for knowledge and got aha-moments all the time. During the first course in biochemistry, it felt like the right one and when I read human physiology I wanted to completely re-saddle and become an anesthesiologist. After studying nutrition, I wanted to start my own company and help athletes get into top shape. However, I never got caught up in epidemiology or courses on public health nutrition.

Was there any opportunity during your studies that was decisive for your future choice?

There were plenty of such, but if I have to choose, it was when a professor of biochemistry, Pär Nordlund, showed what proteins look like. How to determine its structure and then understand its function. After that, there was no turning back. In almost all the body's and cell's processes, it is proteins that do the work. The advanced courses in biochemistry gave me more of this and with structural biology I was able to understand in detail "what, how and why" - a recurring theme for me.

How did you start with research?

Pär Nordlund also offered me the opportunity to do my degree project in his group - it was great. It was followed by a doctoral position and I was very happy. During my doctoral studies, we moved to Karolinska Institutet, but I was still associated with SU and that was where I defended my dissertation four years later. In my doctoral work, I had managed to determine the structure of "my own" protein and was the first person to see what this particular protein looks like. A powerful feeling,

What do you do today?

Today I am head of research at a company that I have founded. We started the company eight years ago, as a spin-off on an invention from our academic research. The method we invented and developed makes it possible to measure how, for example, drugs or toxins interact with proteins in cells. Our method is one of the few that can detect such interactions without having to intervene in the cell or modify the substance being examined. The method can also be used in other areas such as the plant industry to study the effects of insecticides on crops. We also see signs that the method can be applied in healthcare to understand side effects caused by various drugs or to stratify patients.

In what ways do you benefit from your chemistry studies in the career you have chosen?

The deep basic chemistry is there in the background, sometimes I have to dig into my organic chemistry knowledge to understand the results we get. Other times it is statistics we learned during epidemiology. All the labs we did during my studies are also with me. It's been a long time since I was in the lab myself, but the understanding of how to set up an experiment and analyze the results also comes from the years at university.

"With our method, we look at the cell in an unfiltered way. This means that we often get results that are completely new."

What is the best and most challenging part of your profession?

The best thing is that I get to discover new thing! With our method, we look at the cell in an unfiltered way. This means that we often get results that are completely new. Sometimes our results may also explain observations made and reported by others in the literature. I have also been involved in building the company we run today and have a fantastic group of colleagues who really work towards the same goal.
I feel like I am learning new things every day and it is very satisfying. At the same time, it is my big challenge because I have to prioritize hard so as not to dig too deep where I stand.

What are your plans for the future?

I am working on establishing a postdoc program at our company - an opportunity for PhD students to come in and do basic research with and around our method. This in collaboration with academic expert groups in the Stockholm and Uppsala area. I am also very much looking forward to focusing on clinical applications of our method, something that I think can be very exciting! - The company is growing and in the future, we will move into new, larger premises. Not entirely new to me, these are the same rooms I spent my doctoral studies in, so in some sense some things are coming full circle for me.

Name: Daniel Martinez Molina

Age: 41

Do: Head of Research and co-founder of Pelago Bioscience AB

Many of our students use this programme as a stepping stone towards obtaining a PhD and an academic career. However, alumni from the programme have also landed jobs with top pharmaceutical and biotech firms.