Gå till denna sida på svenska webben
Master's Programme in Language Science with a Specialisation in German
The programme aims at extending and deepening your knowledge in German. It also strengthens your grasp of research methodology, research ethics and your ability to carry out scientific reasoning.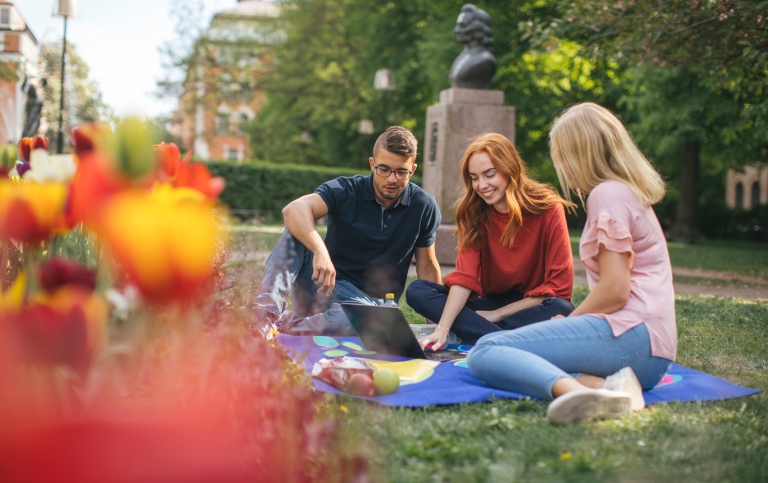 Foto: Niklas Björling
The Master's Programme in Language Science with a Specialisation in German is a comprehensive two-year programme in German linguistics. The programme aims to deepen and develop the knowledge within the student's specialisation and strengthen the student's interdisciplinary academic knowledge, including ethics and research methods. In addition to training the German language on a deeper level, you will gain insight into current research of different kinds of German linguistics. Theories and methods that are applicable in the fields of research are presented and you apply these theories and methods for analyzing information of different kinds. The program also includes discussion and evaluation of the use of analysis tools and their application to linguistic material in German. The degree project (thesis) consists of a scientific paper in German linguistics. The language of instuction for the courses within the main field of study is German.
The training consists of compulsory courses that are common to the whole programme, compulsory courses in your main field of study, as well as optional courses from a pool of courses offered by departments from the Faculty of Humanities.

Year 1

Semester 1

Language in Use, 7.5 ECTS credits (main field: Linguistics)
Scientific Methods and Research Ethics, 7.5 ECTS credits (main field: Philosophy)
German, Linguistics 1, I, 7.5 ECTS credits (main field: German)
German, Literature 1, I, 7.5 ECTS credits (main field: German) or optional course, 7.5 ECTS credits

Semester 2

German, Linguistics 2, I, 7.5 ECTS credits (main field: German)
Optional courses amounting to 22.5 ECTS credits

Year 2

Semester 3

Skill training courses amounting to 15 ECTS credits
German, Linguistics 1, II, 7.5 ECTS credits (main field: German)
Elective courses amounting to 7.5 ECTS credits
The course English for Academic Research, 7.5 credits (main field: English), may be taken either as a skill course or an elective course.

Semester 4

German, Degree Project for a Degree of Master (Two Years), 30 ECTS credits (main field: German)