Gå till denna sida på svenska webben
Swedish History of Ideas
The course is an introduction to some important ideas and thinkers in Swedish history, from Sweden's position as a great power in the 17th century until the Welfare state in the 20th century. Included are such topics as Linneaus, Swedish conceptions of nature and Strindberg.
Information for admitted students Spring 2021
Congratulations! You have been admitted at Stockholm University and we hope that you will enjoy your studies with us.
In order to ensure that your studies begin as smoothly as possible we have compiled a short checklist for the beginning of the semester.
Follow the instructions on wether you have to reply to your offer or not.
universityadmissions.se
Checklist for admitted students
Activate your university account

The first step in being able to register and gain access to all the university's IT services.

Register at your department

Registration can be done in different ways. Read the instructions from your department below.

Read all the information on this page

Here you will find what you need to know before your course or programme starts.
IMPORTANT
Your seat may be withdrawn if you do not register according to the instructions provided by your department.
Information from the department - courses
Welcome to the Department of Culture and Aesthetics. We hope you will enjoy your time with us.
Due to the covid-19 outbreak, the Department of Culture and Aesthetics will continue with online teaching during spring semester 2021.
Conditions may change and students will be informed in the Athena learning platform and on the Department's website.
Teaching via Zoom
Our teachers will use the e-meeting service Zoom for lectures and seminars. It is free of charge for all students at Stockholm University. You will find instructions to how the teaching of your course will be planned in the Athena learning platform.
---
Registration
If you applied through universityadmissions.se you register for your course online via webregistration. You must webregister in the period set for your course – or you will lose your place on the course. If you cannot webregister, please contact the department's student's affairs office, expedition.ike@su.se, before the last day for webregistration to not lose your place.
Registration for courses starting 18 January – 22 March
Art History: 4 – 11 January
History of Ideas: 4 – 11 January
Literature: 4 – 11 January
Musicology: 4 – 18 January
Theatre Studies: 4 – 11 January
Registration for courses starting 23 March – 2 May
Art History: 4 January – 1 March
History of Ideas: 4 January – 16 March
Literature: 4 January – 16 March
Musicology: 4 January – 23 March
Theatre Studies: 4 January – 16 March
Conditionally admitted
You cannot register online if you are conditionally admitted as the department first needs to judge your qualifications. Please contact the student office or student counsellor for more information.
---
Athena
We use the web-based learning and collaboration platform Athena for communication between teachers and students. You log on with your university account. Here is where you will find lecture and seminar plans at least one week before the course starts.
---
Studying with a disability
Stockholm University provides various forms of special pedagogical support to students with long-term disabilities. Please contact special pedagogical support at Student Services if you need support. Make sure to also contact your study councellor at the Department of Culture and Aesthetics if you need extra support during lectures, seminars and examination.
Welcome activities
Stockholm University organises a series of welcome activities that stretch over a few weeks at the beginning of each semester. The programme is voluntary (attendance is optional) and includes Arrival Service at the airport and an Orientation Day, see more details about these events below.
Your department may also organise activities for welcoming international students. More information will be provided by your specific department.
---
Find your way on campus
Stockholm University's main campus is in the Frescati area, north of the city centre. While most of our departments and offices are located here, there are also campus areas in other parts of the city.
---
Read more
---
For new international students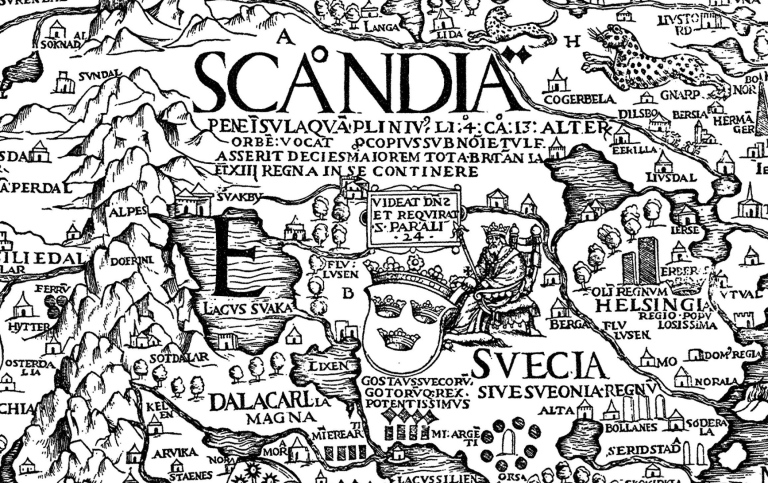 Detail from Olaus Magnus Carta Marina, 1539. James Ford Library. Wikimedia Commons
The course is designed to provide an initial orientation of some important themes in Swedish history of ideas from the Early Modern period onwards.
Teaching format

The course is based on a series of lectures or seminars addressing those themes, and on preparatory reading.

Assessment

Course examination is written and/or oral.

Examiner

Spring 2021

Karolina Enquist Källgren

The schedule will be available no later than one month before the start of the course. We do not recommend print-outs as changes can occur. At the start of the course, your department will advise where you can find your schedule during the course.

Note that the course literature can be changed up to two months before the start of the course.

Student Councellor, History of Ideas

Student office