Where is a good place for baby parrot fish to flourish?
Where is a good place for baby parrot fish to flourish – corals or seaweed banks? To find out, our DEEP scientists went snorkeling in Rio do Fogo reef in northeast Brazil with collaborators.
- Parrot fish are threatened due to overfishing in Brazil, and it is therefore important to explore what keeps populations healthy. We are trying to discover their preferred nursery habitat to be able to preserve them, says Linda Eggertsen, PhD candidate at DEEP.
Linda is doing field work together with Magdalena Mossbrucker, an MSc student at DEEP. Linda is helping to count fish at the research site, comparing the amount and species of juvenile fish in an array of habitats.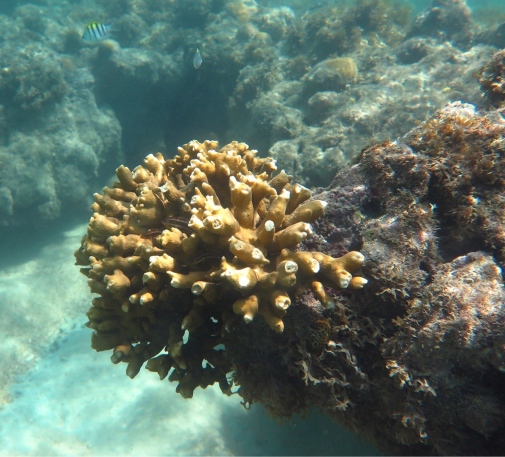 In Brazil: Corals important
They snorkel to examine are shallow coral reefs, sea weed banks and rolling algae mats.
- We think that shallow coral reefs and seaweed banks plays a bigger role than sea grass as nursery habitats in Brazil for parrot fish. One explanation for this can be that small fish can hide in branching corals and that seaweeds are a habitat rich in food, says Linda.
That the parrotfish scrape off algae from the reefs is thought to promote coral growth:
- By grazing algae's off the corals, parrot fish open up space for coral larvae to settle and grow, making the coral grow, says Linda.
To have growing, healthy corals are in turn also important to preserve biodiversity. Linda moreover does field work in Mozambique and has a trip planned there in March that hopefully will fall through. She loves to go to new places for field work and to see the differences in the ecosystems.
- In contrary to Brazil, in Mozambique it appears that sea grass is important as a nursery habitat for parrot fish, says Linda.
The research groups still don't know what attracts parrot fish to different kinds of habitats, but it has been shown that fish larvae can find them via smell or sounds.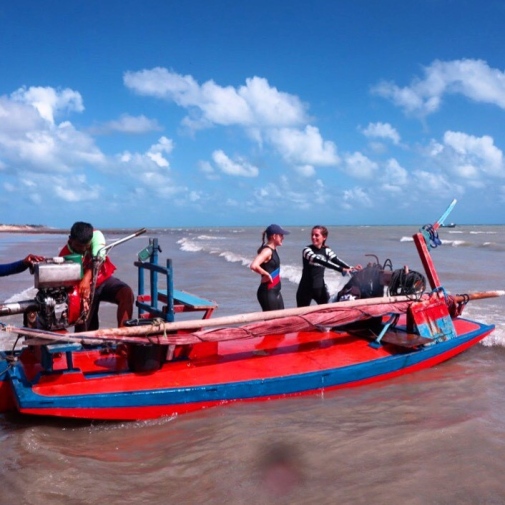 Conservation efforts bigger in Mozambique
There is a huge difference in the interest for conservation of animals and nature in general, comparing Brazil and Mozambique. In Brazil the ministry of fishing was closed a couple of years ago. Now they only have a general Environmental Protection Agency. Linda comments:
- In Brazil we can scream that coral reefs are overfished, and nothing happens. There is a limited interest in conservation of the environment, both from the public and the government.
In contrary, Linda gets the impression that in Mozambique there is interest of conservation, both from the government and NGO. Furthermore in the private nature reserve where Linda works, Vilanculos Coastal Wildlife Sanctuary (VCWS), conservation and management of the natural resources works well.

- The reason they protect the nature reserves is that they can provide an income via for example dive tourism. In Mozambique, the local stakeholders use our data for management, which is very inspiring, says Linda.
For the next field trip in Brazil though, Linda hopes to catch a glimpse of manatees that also live in Rio do Fogo reef - one more of the perks of being a marine biologist, apart from saving the environment.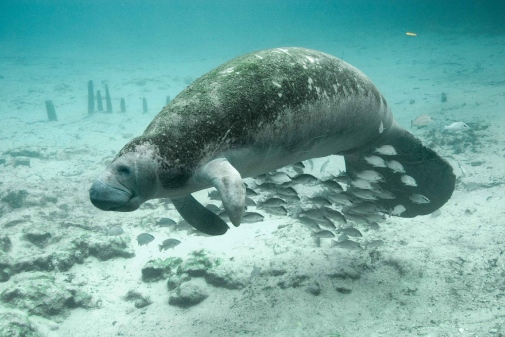 The project is a collaboration between the Berkström lab and the Marine Ecology Lab run by Dr. G Longo at Universidade Federal do Rio Grande do Norte, Brazil.
Last updated: February 19, 2018
Page editor: Amanda Gonzalez Bengtsson
Source: Department of Ecology, Environment and Plant Sciences