Gå till denna sida på svenska webben
Master's Programme in Environmental Science - Environmental Toxicology and Chemistry
The Master's programme in Environmental Toxicology and Chemistry focuses on the journey of a contaminant from its emission and environmental fate, through to its uptake into living organisms and interaction with important biomolecules.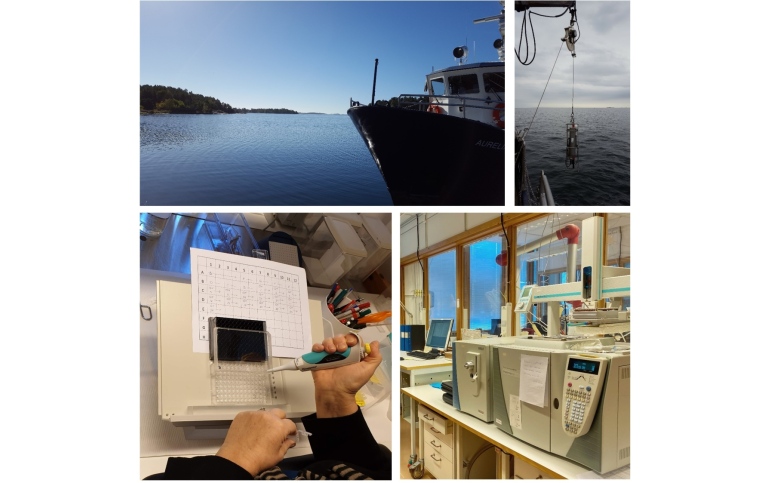 You will learn principles and applications of chemical analysis, physical-chemical modeling, toxicology and risk assessment of environmental contaminants.

As a student, you will learn how anthropogenic activities such as industrial manufacturing, traffic and use of everyday consumer products can release a wide range of chemicals to the environment. You will learn how environmental factors and physical and chemical properties of contaminants affect their transport in air, water and soil, their fate in the environment and their bioaccumulation in food webs.
You will also learn to use new tools and methods for assessing the environmental fate of chemicals. You will learn how to take samples and analyze trace quantities of chemicals in various environmental compartments. You will learn how exposure to chemicals can lead to adverse responses in living organisms through toxicological mechanisms-of-action, and experience new tools available for toxicological research today.
You will get insight into the major European and international regulatory systems and become familiar with criteria and agreements that are designed to keep human and environmental exposures to a minimum. With a deep understanding of environmental toxicology and chemistry, you will be able to critically examine and discuss limitations, uncertainties and possible sources of error in regulatory risk assessments of organic chemicals.
A Master's degree in Environmental Science from Stockholm University prepares you for a stimulating career in environmental management and consulting in private or governmental sectors or for a successful Ph.D. education and research career, anywhere in the world. Environmental Scientists are needed in numerous sectors of society, for example as environmental or sustainability specialists in the private sector and at Non-Govermental-Organisations (NGOs), as well as at government agencies.
The programme employs a variety of learning activities, including lectures, individual and group assignments, field excursions/sampling campaigns, laboratory work, seminars, discussions and workshops and presentations. The programme will also introduce students to several relevant agencies in society handling environmental issues.
Read more: Information on covid-19
The basic structure of the programme: year 1 - compulsory courses; year 2 - optional courses + thesis (30, 45 or 60 credits).

Year 1

Year 2

First admission round timeline

18 October 2021 Online service opens on universityadmissions.se
17 January 2022 Admission application deadline at midnight CET

Second admission round timeline

The Second admission round is an alternative for students from EU/EEA countries as they do not need a residence permit. Non-EU/EEA students will most likely not have enough time to obtain their permit before the start of the semester.

15 March 2022 Online service opens on universityadmissions.se
19 April 2022 Admission application deadline at midnight CET

Read more about imortant dates

Reply to your admission offer!

First admission round:

You have to actively accept the seat you have been offered. To confirm that you wish to keep your place, send an email to admission@aces.su.se no later than 20 June 2022. If you don't do that by the deadline, you will lose the place that you've been offered.

Second admission round:

If you applied to the Second round, you must reply to your admissions offer at Universityadmissions.se at the latest 22 July 2022.