Gå till denna sida på svenska webben
Master's Programme in Environmental Science - Environmental Toxicology and Chemistry
The Master's programme in Environmental Toxicology and Chemistry focuses on the journey of a contaminant from its emission and environmental fate, through to its uptake into living organisms and interaction with important biomolecules.
Information for admitted students Autumn 2020
Congratulations! You have been admitted at Stockholm University and we hope that you will enjoy your studies with us.
In order to ensure that your studies begin as smoothly as possible we have compiled a short checklist for the beginning of the semester.
Follow the instructions on wether you have to reply to your offer or not.
universityadmissions.se
Checklist for admitted students
Activate your university account

The first step in being able to register and gain access to all the university's IT services.

Register at your department

Registration can be done in different ways. Read the instructions from your department below.

Read all the information on this page

Here you will find what you need to know before your course or programme starts.
IMPORTANT
Your seat may be withdrawn if you do not register according to the instructions provided by your department.
Information from the department - programmes
Coronavirus information
To all students: Information about the autumn semester 2020
Registration
Admitted students
Register on the web (Ladok for students) no later than 24 August. Web registration opens August 5. If you have not studied at Stockholm University before, you first need to activate your university account.
Conditionally admitted
If you are conditionally admitted you must be able to show the appropriate documents to prove your eligibility to be able to register for the course. To show that you fulfil the requirement and to remove the conditional admittance, please contact us at the department, studeranu@aces.su.se.
How to decline your offer
If you decid not to attend, it's important that you decline your place as soon as possible so that other students can be awarded a place. Follow the instructions given under Universityadmission.se – 'Application' ( antagning.se – Mina sidor) after you log in. Read more here – Declining your offer – an important step.
Roll call
Read more on the department website.
Welcome activities
Stockholm University organises a series of welcome activities that stretch over a few weeks at the beginning of each semester. The programme is voluntary (attendance is optional) and includes Arrival Service at the airport and an Orientation Day, see more details about these events below.
Your department may also organise activities for welcoming international students. More information will be provided by your specific department.
---
Find your way on campus
Stockholm University's main campus is in the Frescati area, north of the city centre. While most of our departments and offices are located here, there are also campus areas in other parts of the city.
---
Read more
---
For new international students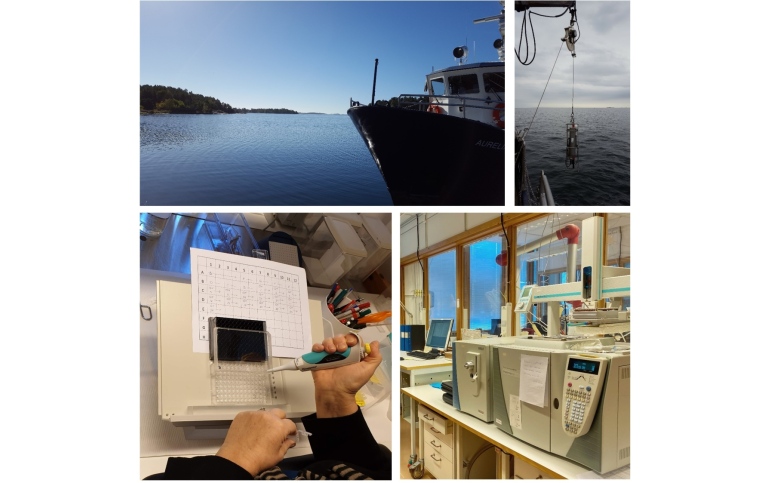 You will learn principles and applications of chemical analysis, physical-chemical modeling, toxicology and risk assessment of environmental contaminants.

As a student, you will learn how anthropogenic activities such as industrial manufacturing, traffic and use of everyday consumer products can release a wide range of chemicals to the environment. You will learn how environmental factors and physical and chemical properties of contaminants affect their transport in air, water and soil, their fate in the environment and their bioaccumulation in food webs.
You will also learn to use new tools and methods for assessing the environmental fate of chemicals. You will learn how to take samples and analyze trace quantities of chemicals in various environmental compartments. You will learn how exposure to chemicals can lead to adverse responses in living organisms through toxicological mechanisms-of-action, and experience new tools available for toxicological research today.
You will get insight into the major European and international regulatory systems and become familiar with criteria and agreements that are designed to keep human and environmental exposures to a minimum. With a deep understanding of environmental toxicology and chemistry, you will be able to critically examine and discuss limitations, uncertainties and possible sources of error in regulatory risk assessments of organic chemicals.
A Master's degree in Environmental Science from Stockholm University prepares you for a stimulating career in environmental management and consulting in private or governmental sectors or for a successful Ph.D. education and research career, anywhere in the world. Environmental Scientists are needed in numerous sectors of society, for example as environmental or sustainability specialists in the private sector and at Non-Govermental-Organisations (NGOs), as well as at government agencies.
The programme employs a variety of learning activities, including lectures, individual and group assignments, field excursions/sampling campaigns, laboratory work, seminars, discussions and workshops and presentations. The programme will also introduce students to several relevant agencies in society handling environmental issues.
Late application will open on 15 July.
If the situation so requires, distance learning will be provided in the beginning of the autumn semester 2020.
Read more: Information for students and staff about the coronavirus
The basic structure of the Stockholm University Master Program in Environmental Science: Environmental Toxicology and Chemistry

Year 1

Year 2

Application open 16 March 2020 - 15 April 2020.

Late application will open on 15 July.