Askö laboratory
The Askö laboratory is located on the island and nature reserve Askö in the Trosa archipelago south of Stockholm. The field station is a national infrastructure resource open for anyone who wants to conduct research, environmental monitoring, arrange courses or host research meetings and workshops related to the sea. The Askö laboratory is part of the network European Marine Biological Resource Centre (EMBRC) and offers access to laboratory, research vessels and equipment.
At Askö, we have a team of five staff members who work weekdays on the island between 08:30-16:00. High-season for resarch and courses is between May and September, but there is activity during the entire year, not least within the national and regional environmental monitoring programs. The station accomodates about 40 guests and there are two well-equipped kitchens for self-service.
The Askö laboratory is home port for our research vessel R/V Electra af Askö.
The weather on Askö in real time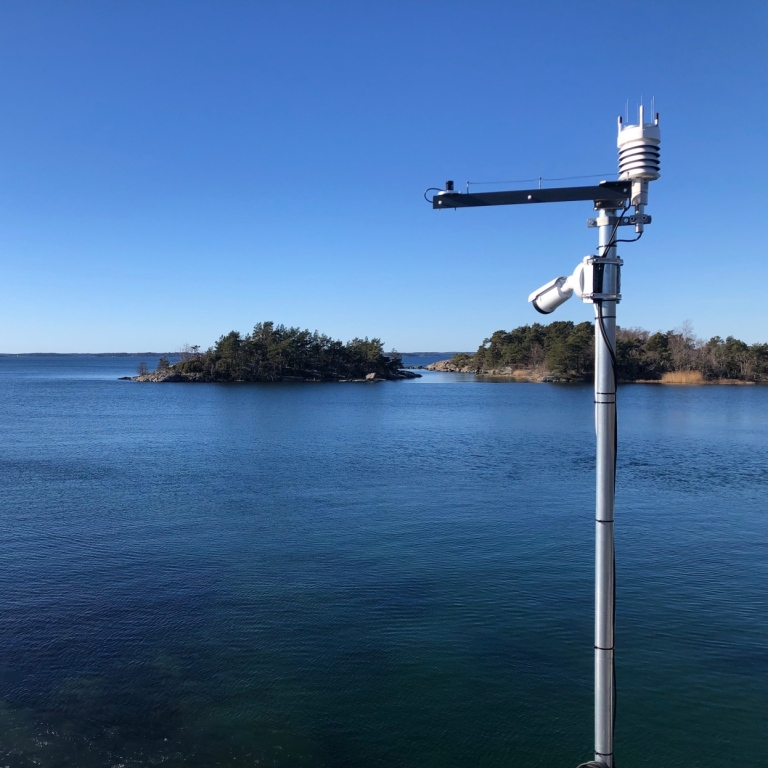 Are you on your way to Askö, or are you interested in measurement data from the island? View the real time updates of weather conditions, temperature, relative humidity and wind direction from the Askö weather station:
Research and environmental monitoring
The knowledge about life below the surface is still almost rudimentary for the sea, compared to what we know about terrestrial environments. Researchers with with a wide range of projects come to the Askö Laboratory. Many work to improve our basic knowledge of ecology in different habitats. Others work to demonstrate the effect of different types of human disturbance on different species and ecosystems. About a third of our Askö visitors are researchers, the rest comprise course students or meeting members.
At the Askö Laboratory, researchers are offered several opportunities to study the sea, directly in field, inside the laboratory or in the middle, in the mesocosm experiment hall. Different methods suit different types of research. Read more about the Baltic Sea Centre's work linked to the environmental monitoring.
Meetings and workshops
With its idyllic environment, Askö is in many ways an ideal place for creative meetings. The isolated location and the beautiful surroundings provide good opportunities to focus, exchange experiences and drive processes forward within a project.
At the station, everything needed for effective meetings is available, an environment that makes it easy to team-build and the opportunity for exciting activities. Maybe try the snorkeling trail during the break? Or take a bike ride to the most beautiful beach in the entire archipelago? Barbeque in the evening sun and have a sauna session in the moonlight! Feel free to contact us for advice and inspiration before your meeting!
Courses and education
Many different courses use the Askö Laboratory annually to let the students try out field work in practice. The majority are university students from undergraduate level programs to highly specialized doctoral courses.
Approximately 400 students spend shorter or longer time at the Askö Laboratory. In total, we host 20 different courses on the island yearly.
Resources, equipment and facilities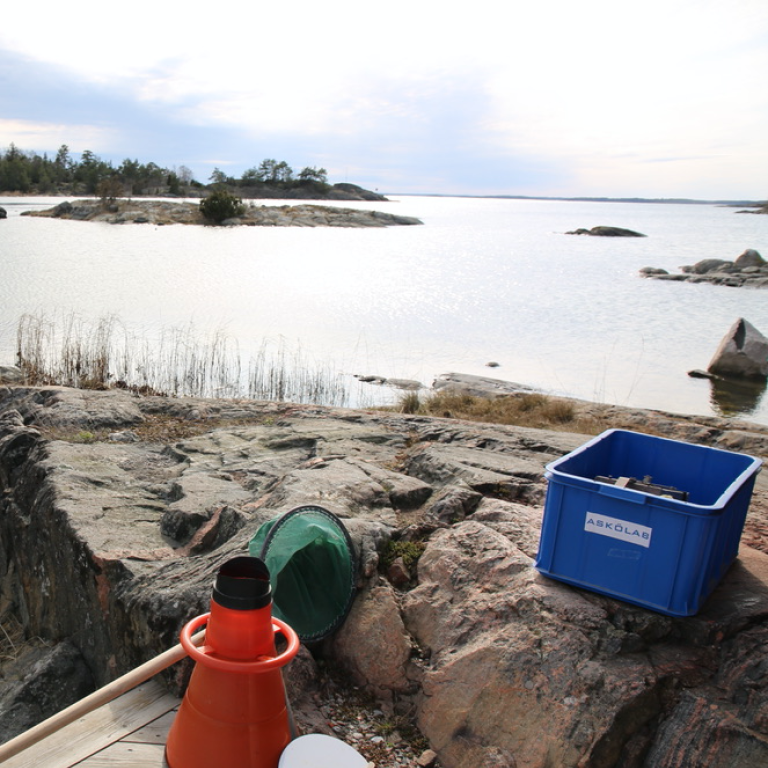 The laboratory is well-equipped for research and teaching, both in the field and indoors. Of course, we also have excellent facilities to hold different types of meetings.
For instance, the station offers running brackish water directly from the sea, climate room, experimental hall, multi-purpose laboratories, conference rooms and wireless internet. Of course we also have plenty of field equipment for sampling, our own diving room and complete snorkeling gear.
Read more about the resources for field- or lab work
The Askö grant for PhD students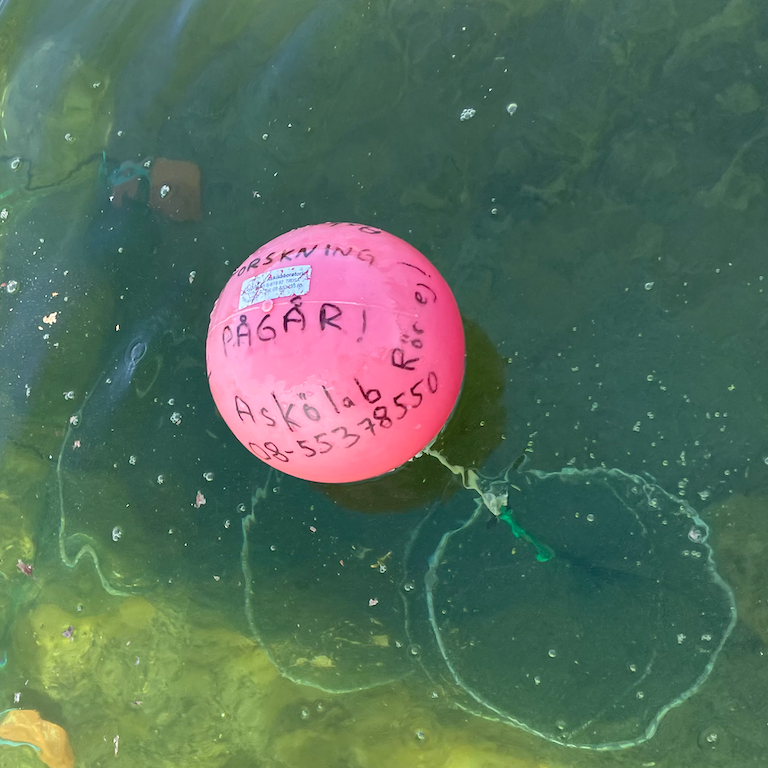 Marine doctoral students at Stockholm University can apply for monitary support for work at the Askö Laboratory.
The application can be made at any time during the year, but preferably when applying for research time at the Askö Laboratory. A maximum of 20,000 SEK per person and calendar year can be granted.
Covers all costs
The support can be used for all types of costs on Askö:
Ships and boat
Use of thermo constancy room and experiment hall
costs for assistance by Askö staff
The support can not be used for:
Travel expenses
Research equipment not available at the field station
Food and other personal items
How to apply
Apply for the Askö grant in connection with your (or someone in the project group) research application at the Askö Laboratory.
The grant is available during the entire calendar year.
Specify your plans in the application.
We want a short report on the achieved results when the project is completed.
The nature on Askö is very beautiful, and there are plenty of berries, mushrooms and wonderful swimming sites with both rocky and sandy beaches. There is also a nice little sauna right by station.
Food and accommodation
There is no shop on Askö, most guests bring food that they prepare in one of our kitchens. It is also possible to order catering for your group, let our staff know if that is a request.
On the island, about 40 people can sleep in dormitories or cottages. Courses usually live in the "course corridor" where you share a room, and research groups usually live in our small houses. Get in touch if you want to know what suits you best! Always bring your own bed linen (sleeping bags are not allowed!) and slippers.
You can only reach Askö by boat from the small harbor Uttervik, just south of Trosa. The travel time to Uttervik from Stockholm is about 1 hour and about 45 minutes from Nyköping. The laboratory is not open to the public, and only pre-registered researchers and courses can visit the field station.
Directions
Take the E4 towards Trosa, junction number 138.
Turn right towards Studsvik; and drive through Vagnhärad.
Turn left on to road 219 towards Studsvik and Västerljung.
Turn left at the sign Trosa 5 km.
Turn right towards Uttervik 7 km, just after Tureholm Castle.
Follow the road all the way down to the harbor. Parking spaces are available.
Price lists
Costs for staying on Askö
Research, fieldwork, courses, meetings and workshops

At Askö laboratory, stays and resource use are charged. Cancellation needs to be done well in advance, and unutilized resources will be charged otherwise. The current price list for marine staff at universities and authorities is given below. Separate agreements are arranged for external visitors. For graduate students conducting field work, the stay is free for up to three months. For doctoral students at Stockholm University, it is possible to apply for an Askö grant to fund field work.
Costs for staying at Askö
All prices are in Swedish SEK.
| | | | |
| --- | --- | --- | --- |
| Askö | | Universities | Authorities |
| Day | per day | 150 | 150 |
| 24-hours | per 24-hours | 300 | 300 |
| Additional boat-rides | per ride | 1 200 | 1 200 |
| Storage 1 kvm (beyond actual experiment period) | per month | 100 | |
| Assistance | per hour | 350 | |
| Hazardous waste | | Actual cost | |
| Transport on the regular boat-rides, usage of conference rooms, labs, climate rooms and experiment hall, is included. Read more about our resources! | | | |
More about what is included:
Transportation between Uttervik-Askö with regular boat-rides (twice a day) is free. Additional departures are offered, but limited to available staff and time. Ask the staff for more information!
Sleeping accommodation in single or double rooms, (bed linen are not provided)
Access to:

Kitchen, lecture hall with projector, library and common rooms
Office desks, study rooms, WiFi and acess to printer
Laboratory with brackish water supply and lab equipment
Field- and sampling equipment
Small boats (requires an introduction at the station)
Costs for using research vessels and boats
At Askö Laboratory we have a different boats and ships. They are used for transport, research, monitoring and education. Skippers and technicians always join the vessels. All prices are in Swedish SEK.
Ship
Universities
Authorities
Full cost price
R/V Electra af Askö
Day-expedition(1)
per hour
1 300
1 900
2 400
Expeditions - list prices(2)
Student courses
Contact Eva Lindell
2 crew
per 24-hours
18 000
24 000
33 000
3 crew
per 24-hours
22 000
31 000
39 000
4 crew
per 24-hours
26 000
37 000
48 000
Limanda
per hour
800
Sprattus
per hour
500
Perca
per hour
300

1) Minimum charge: 4 hours
2) Cost per expeditions is calculated upon booking
Assistance:
Assistance with field sampling, transportation with all-terrain vehicle, workshop service, construction work etc, depending on available staff and time. 350 SEK/h + material cost
Collection of material such as fish, mussles, sediment, water etc.
Fee according to agreement.
Special equipment:
Underwater footage with our ROV. Fee according to agreement.
Welcome to Askö! We who work here at the station have many and varied everyday tasks. In addition to routine maintenance of buildings, boats and equipment we handle shipments and sampling. We do also take care of bookings and plan everyone's stay in the best possible way, whether it's a matter of long-term research or a one-day meeting.

Contact our staff members:
Eva Lindell
Head of the Askö Laboratory
Thomas Strömsnäs
Commander of R/V Electra
Mattias Murphy
Skipper and technician
Henrik Andersson
Skipper and technician
Markus Maxe
Skipper and technician
Jesper Ström
Diving contact
Phone: +46-8-5537 85 80
E-mail: asko.ostersjocentrum@su.se
Address
Askölaboratoriet
619 92 Trosa
Billing address
Stockholm University
Postbox 50471
202 70 Malmö
Note: Always add the reference number 484 on the invoice.
Last updated: September 13, 2022
Source: Department name