Students map the Baltic seafloor
When students of the Stockholm University course in Marine Geophysical Mapping Methods collect sediment cores from the bottom of the Baltic Sea, the cores are immediately used in research. No sample material is wasted. The ability to map the seabed is a much sought-after skill in today's job market.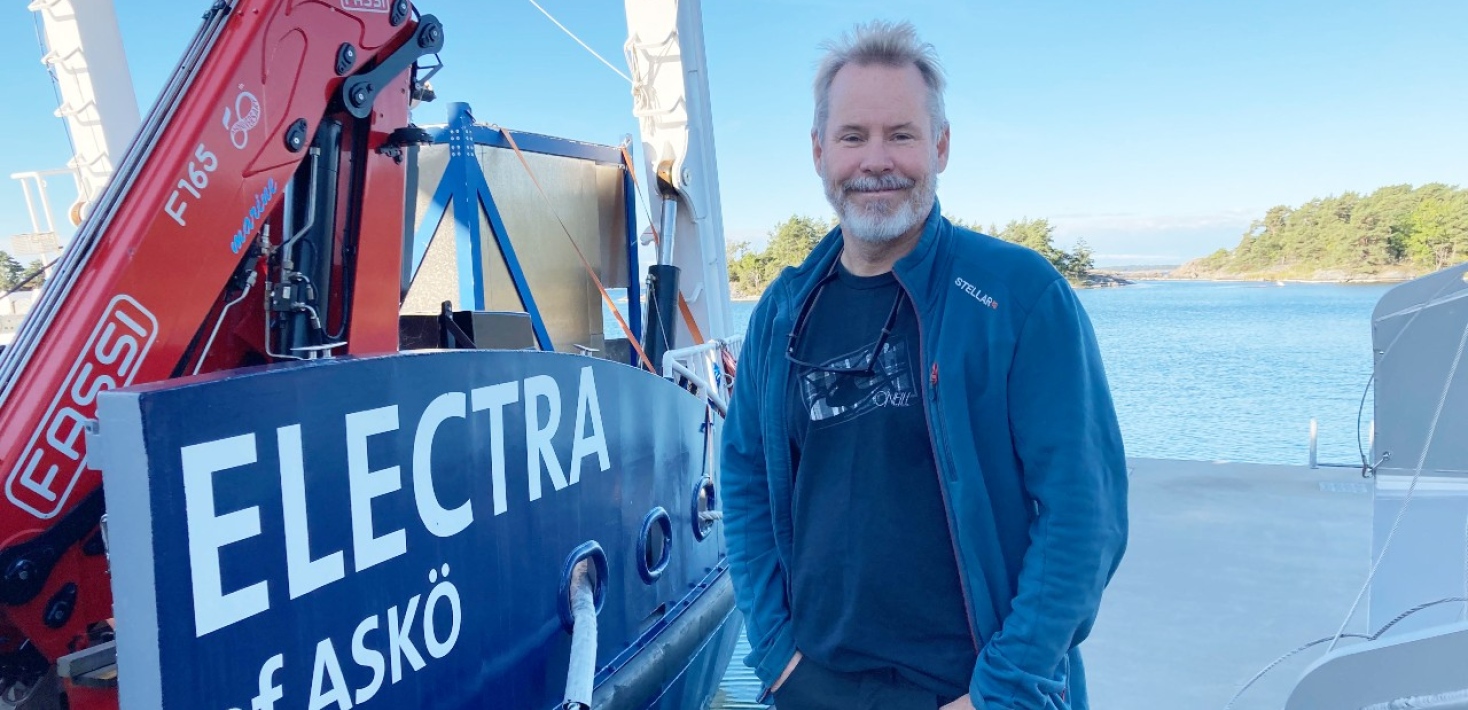 For the second day in a row the research vessel Electra af Askö sets sail with students from the Marine Geohysical Mapping Methods course on board. The day before, they learned how to use multibeam sonar and penetrating echosounder to get a picture of the seafloor topography and uppermost sediment depositions. Today they will take sediment cores from two selected locations on the bottom profile.
Used in groundwater research
Out of 16 students, 6 are from other countries than Sweden, and the course is all in English.
Professor Martin Jakobsson from the Department of Geological Sciences (IGV), coordinator of the course, points to the black-and-white sonar image, revealing a few tens of metres of accumulated bottom sediments. Almost everywhere, glacial varved clay is visible in neat layers.
– But here there are anomalies, blank spots, shows Martin Jakobsson. Probably because there is more water in the sediments there. It could be groundwater.
The sediment cores that the students take from Asköfjärden, close to Stockholm University's field station Askö laboratory in the Trosa archipelago south of Stockholm, are used in a research project on how groundwater seeps into the Baltic Sea.
– We are trying to find out where, how and in what quantities this happens, says Martin Jakobsson. Groundwater can carry substances from land to sea and is a source of pollution dispersion.
Careful mark-up
Matt O'Regan, marine geologist and associate professor at IGV, shows the students how to label the long plastic liner that will carry the sediment.
– We will divide the core into four sections of 1.5 metres each. You don't want them to be longer. You'll understand why when you carry them around – they're really heavy! It's important to know what is up and down for each section, so mark them carefully. If you lose track of that the sample will be unusable, says Matt O'Regan.
The students write with a thick marker pen on the 6 metres long plastic liner. Name of the ship, year and location. The liner is also marked with numbers and letters for all sections from bottom to top, according to current standards.
Electra's captain Thomas Strömsnäs' voice is heard from the navigation bridge through the loudspeakers:
– Now I'm ready to go to EK 80. Are you prepared to start an EK 80-line?
Thomas Strömsnäs can tell the ship exactly where on the nautical chart she should position herself, and then the ship takes over using a dynamic positioning system, with two stern thrusters, that can turn 360 degrees, and a bow thruster.
– It's a pretty powerful system. Wind up to 10–12 metres per second poses no problem, says Thomas Strömsnäs.
The students are assisted by Electra's technicians Henrik Andersson and Mattias Murphy to retrieve two sediment cores, at depths of 16 and 18 metres.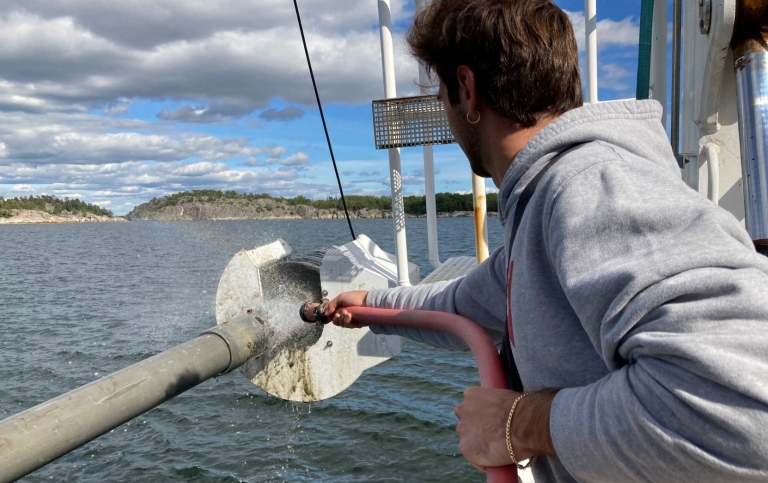 New programme in marine geoscience
– Up until now I've always been more interested in what's on land, but now I feel my interest for the sea growing, says Rebecca Edlund, a second-year student on the Bachelor's Programme in Earth Science.
Her classmate Gregor Weltz is from Germany, doing his whole Bachelor's in Sweden.
– It's problem solving, very intriguing. We measure the seabed with different types of sonar and get a lot of data, not knowing what they mean. Then we combine data from several systems and make a geological interpretation. For our generation, the ocean is what's left to explore.
For those with an interest in that, the job market is good. The demand for marine competence is on the rise, not least marine geophysical mapping skills. It is needed for example for the installation of offshore wind farms and for offshore environmental assessments. To meet this demand, a brand new Bachelor's programme in marine geoscience, all in English, has been launched at Stockholm University.
– There is plenty of work. I get calls from the Swedish Maritime Administration, the Geological Survey of Sweden and consulting companies in both Norway and Sweden who ask: 'How many students do you have?' says Martin Jakobsson.
Historical mapping
The students cut the sediment cores into pieces of the right length with a pipe cutter, put lids on the ends and carefully tape them up. Then the core sections are carried into Electra's small lab on board, to take samples of the pore water. The basic research that these cores contribute to is of interest to, among others, the Swedish Radiation Safety Authority, to know how far groundwater travels into the Baltic Sea.
– What the students get to do in this course is exactly what is done in research projects, says Matt O'Regan. We measure the bottom profile, collect sediment cores and analyse them.
The cores will be taken to the core lab at IGV. There they will be opened and described, and all the raw geophysical data collected by the students will be processed into 3D models.
Martin Jakobsson and Matt O'Regan let the students taste the clay they pick up. At the very bottom is grey, stiff glacial clay, deposited in what was then the Baltic Ice Lake more than 11,000 years ago. When you put it to your tongue, it feels completely smooth, it's so fine-grained. Further up, the clay has a greener hue. It was deposited a few thousand years later, when the Baltic Sea became a sea with saltier water.
Marine geophysical mapping tells us what has happened throughout history, too.
Text: Michaela Lundell
Read more about the course in Marine Geophysical Mapping Methods
Read more about the Bachelor's Programme in Marine Geoscience
Last updated: September 15, 2022
Source: Östersjöcentrum