Incoming exchange students
Exchange studies are perfect for those who wish to explore the world. On this page, you will find what information on how to join us for a semster or two! The Chemistry Section welcomes more than 100 international students every year to our very diverse section.
Welcome to the Chemistry Section
The Section consists of three different chemistry departments (MMK, DBB, Organic chemistry) and we are proud to say that we can offer top class eduction for anyone joining us. When you apply for an exchange period with us, you may choose courses from all different departments, as long as you fullfill the pre-requistes to take them.
Our classe are taught in small groups and includes significant lab time, allowing you to develop the lab skills that Stockholm University students are known for. You will develop skills that will help your career even outside the lab: motivation, self-sufficiency and creative thinking are key from day 1. We offer real science for the real world.
You will work closely with leading researchers with low teacher-student ratios. You will be surrounded by the world's top chemists, not only some of the people who chose the Nobel winners but even attending the Nobel lectures of the prize winners themselves if you are with us in December.
Information for nominated incoming students fall semester 2022
Most welcome to Stockholm in August to start your studies! Please have a look around the Education section of the webpage to find out more about what to expect.
Start by having a look around the "New student tab"
Meet former exchange students!
João from Portugal finished his Biochemistry bachelor degree at Stockholm University last semester. Now he is looking forward to come back for further studies.
Ajda from Slovenia was an Erasmus exchange student at Stockholm university during spring semester 2019. In the fall of 2019 she re-joined us, now as masters student!
Hello Ajda, can you tell me a bit about yourself?
– I come from Slovenia, where I currently study biochemistry at the University of Ljubljana. I decided to come to Stockholm to write my undergraduate thesis as part of my exchange, because I wanted to experience different living, working and studying environments. Stockholm university has had a range of compatible courses, and also gave me the opportunity to work in an English-speaking environment, which was one of the main reasons for my decision.
What does chemistry mean to you?
– I think chemistry is one of the fundamental natural sciences. Studying it and understanding the nature of all compounds, in my case especially biologically important compounds, is crucial for the development and evolution of society in general.
What do you think about studying at Stockholm university?
– I was really satisfied with the whole experience. The location of campus is amazing, you are literally surrounded by beautiful meadows and lakes and you don't really get the feeling of living in a multimillion city! For me, since I am not used to living in big cities (Ljubljana, our capital, has around 300 000 habitants) it was a perfect fit.
I also liked the organization of the university, as it was very easy to settle and to get all the information I needed. Even though the university itself is relatively big, I still think the attitude towards individual students is quite personal.
What do you like the most about Stockholm and Sweden?
– Stockholm and Sweden in general really impressed me. It is the little things that usually leave the most important marks, for me I think it was the feeling of calmness and easy-going-ness. I appreciated the nature and a pretty good organization of most things in general (like public transport system, education system, tourist information, economy etc.)
If someone is considering applying to the exchange program, what would you tell them?
– As for applying to the exchange program, I highly recommend it! As for biochemistry in general, I can only say that writing my undergraduate thesis at the Department of Biochemistry and Biophysics was one of the best experiences. People are really kind and willing to help, the research itself is really interesting and the quality of research is high.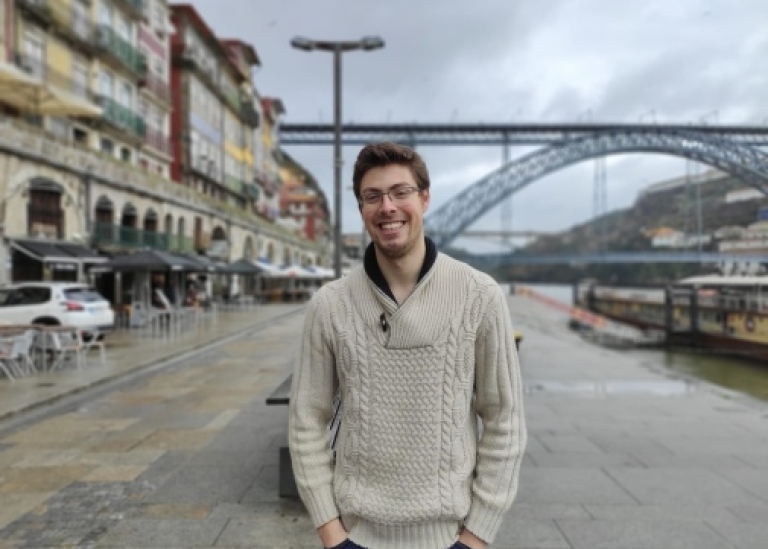 Hello João, can you tell me a bit about yourself?
– I'm currently taking a Biochemistry master degree at University of Porto (Portugal), and last year I successfully concluded my Biochemistry bachelor
degree at Stockholm University as part of the Erasmus+ program. Aside from liking chemistry, I'm also a sports lover, a huge "party animal" and I really enjoy travelling and exploring new places!
Which program did you choose? Why did you choose it?
– I decided long ago that I wanted to study biochemistry. I have always been very passionate about science, and as a little kid I wished to be a "mad scientist" when I grew up. I guess I'm currently living my childhood dream!
Also, the fact that I might be able to develop new research that may increase the quality of life of tons of people in the future is a huge motivation for me to keep working and try to make the world a better place.
What does chemistry mean to you?
– Chemistry has been present in my life since my childhood days, when my curious young self would try to find a reasonable "scientific" explanation for every single phenomenon. Since then, chemistry has brought me many friends, made me undergo great adventures, and given me amazing opportunities – like being able to study abroad for one semester.
Chemistry shaped my life since the very beginning, and I hope it continues to do so in the future.
What do you think about studying at Stockholm University?
– It was somewhat like what I was used to back in Portugal, although there was one big difference: the interaction between students and teachers. Back in Portugal, we have tons of students taking the same courses, so most of the time we don't feel supported by the teacher and we don't even get the chance to talk to him or her at all.
At Stockholm University, the teachers really do their best to know the students and give every single one the support they need. That is something that I really appreciated during my classes.
What do you like the most about Stockholm and Sweden?
– Something that surprised me about Stockholm and Sweden was the amount of green open spaces. There are many beautiful parks and forests everywhere, and all of them are great places to hang out with friends, spot wild animals (especially during the night), do some jogging or just take a relaxing walk.
I also really enjoyed the lakes all across Stockholm, where I could ice skate during the winter, and swim during the summer!
If someone is considering applying to the program, what would you tell them?
– Chemistry and biochemistry is not easy, it requires lots of work and lots of study time... But don't give up! You will always have support from your friends and teachers if you need it!
And you can always take a break from your studies and enjoy the city! Stockholm is a wonderful place. From ice skating in the frozen lakes to spotting wild deers in the forest nearby, there is always something to do, so be sure to study and enjoy all there is to do in Stockholm as well!
Anything else you would like to add?
– Studying at Stockholm University last semester was a great experience that I'm sure I will never forget! Right now, I'm looking forward to coming back to Stockholm and to Stockholm University to conclude my Biochemistry master degree through the Erasmus+ program again next year.
Eligibility
To be eligible for studies in chemistry through a student exchange program the following requirements must be met in order to apply.
There must be an agreement between any of the chemistry departments and your home institution, which allows for student exchange
You must be registered as a student with one of our partner institutions
You must be nominated by your home university for a study period abroad at the Chemistry Section
Nominated students are expected to be highly profficient in English (spoken and written) in order to have a succesful learning experience.
Step-by-step
Your home university nominates you*
We send you a application directions.
Fill in thre requested information and send it to us (chemistry@su.se) together with your Transcript of Records
*Contact the exchange coordinator at your home university regarding the nomination process.
Deadline for nominations
1 May - autumn semester (August – January)
1 October - spring semester (January – June)
Practicalites
As an exchange students you don't pay any tuition fees for your studies at Stockholm University and the studies are not longer than two semesters. Here are some useful links for practicalities once you have decided to do an exchange.
Chemistry Section & Student Affairs Office
Visiting address

Arrheniuslaboratoriet, room M345

Svante Arrhenius väg 16 A-D
In charge of:

Bachelor's and Master's education, application, admission, registration, examination

Here you will get support form:

Student administrator

International coordinator

Student advisor

Director of studies
Office hours

Mondays, Tuesdays and Wednesdays 09.00-11.30 and 12.30-15.00
Phone hours

Mondays and Wednesdays 10.00-11.30 and 12.30-15.00
Last updated: August 15, 2022
Source: Chemistry Section