Populism, political representation, media language and power
EVENEMANG
Datum:
19 november 2020 09:00
-
20 november 2020 18:00
Plats:
Online (Zoom)
Workshop ROMPOL 19-20 november
"Populism, political representation, media language and power"

Organizing committee: Members of the Research network ROMPOL: Françoise Sullet-Nylander, María Bernal, Christophe Premat and Malin Roitman

Registration link for attendees: Zoom Webinar Registration
Program Workshop ROMPOL:

Program Workshop ROMPOL - uppdated November 17 (718 Kb)

LIBRO DE RESÚMENES_ROMPOL IV_2020 _ uppdated November 17 (1434 Kb)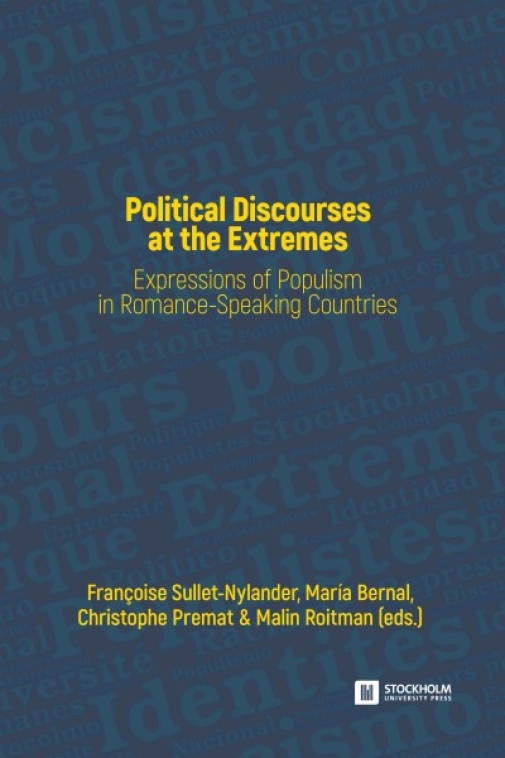 The fourth workshop (November 19th-20th, 2020) within the research network ROMPOL aims to deepen and broaden its previous work on the emerging populism in Europe and in Latin America. This event follows naturally the previous workshop Political Discourse at the Extremes in the Romance Speaking Countries: linguistics and social science perspectives and the edited volume, published at Stockholm University press (SUP) in April 2019: Political Discourses at the Extremes. Expression of populism in Romance Speaking Countries (https://doi.org/10.16993/bax)
The RomPol workshop 2020 will focus on the following research axes:
1) Comparative studies of populist discourses emerging from different countries and circulating in the media, in France, Italy, Spain, Brazil and - for this edition - Sweden;
2) Analyses of the seduction strategies and rhetorical means used in different populist discourses in one of the countries on focus;
3) Studies of media productions (oral and/or written) with focus on the notions of information vs misinformation and the dissemination of fake news, in the light of specific discursive events under the recent years;
4) Investigations of the political representation and the relations between populism and direct democracy in different countries as well as the so-called citizens' initiative referendum (RIC) in France.

These research avenues will provide complementary insights to better understand the rising populism in the countries on focus as well as the way the media participate in its dissemination and circulation. It is our hope that the workshop Populism, political representation and media language and power increase the number of collaborations with researchers from different backgrounds who are interested in interdisciplinary and comparative research on political discourse, in particular on the development of populism in Romance-speaking countries and in north European countries. Several researchers within ROMPOL are also part of the network "Language and Power" at Stockholm University, which will enable us to build bridges between different disciplines working specifically on populism and media power.