Italian
Italy has always been prominent in music, art and literature. Italian culture and politics have had great influence on the Western world. Italian is therefore a good choice if you are interested in topics such as musicology, history or social science.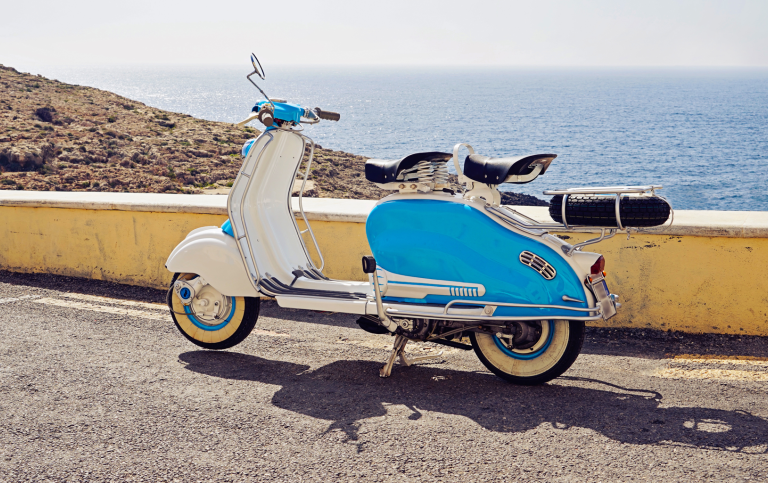 Vintage blåvit scooter parkerad nära kusten. Foto: Kira-Yan
Ever since the Roman Empire, Italy has played an important role in world history. Italian culture, history and politics continue to affect us all today. Those who choose to study Italian will have direct access to this cultural treasure. You will study language structure and practice speaking and writing, but you will also read Italian literature and learn about Italy's history, culture and society.
Considering the history of language, Italian is daughter of Latin and sibling of languages such as Spanish and French. Studying Italian could be particularly interesting if you know any of these languages and are interested in the consequences of language change.
Studies in Italian offer a great opportunity to investigate the relationship between man, language, and historical and cultural change. Whether you choose to study for a bachelor's degree in Italian, or choose to study Italian as a complement to other courses, your studies will help you to develop your analytical skills and critical thinking.
At Stockholm University we offer Italian courses from beginner to advanced level. We also have postgraduate education. At the beginner level, you study basic grammar and practice speaking and writing. During the following semesters, the courses will become more demanding. The studies of grammar become more extensive and you study literature, culture and society, Italian literary history, text analysis, and literary and linguistic theories and methods as well.
Courses in language history and older literature are also included. In the fourth semester, you write a bachelor's thesis that focuses on Italian linguistics or literature. You also study in-depth courses with themes such as dialectology, sociolinguistics or contemporary Italian literature. All courses at advanced level are offered within the framework of Romance languages. We also offers a course of Italian in Italy.
Career opportunities
Studies in Italian provide a broad competence, well adapted to our global world. In addition to knowledge of a foreign language, they develop your intercultural understanding and your written and oral skills. They give you several analytical tools, and they develop your ability to think critically, independently and creatively. Many employers and business markets ask for these skills.
You are suitable as a project manager, investigator or consultant, especially within the Italian market. Your competence also makes you suitable for more specific professions in libraries, at publishers, in museums, and work related to interpretation and translation.
Courses and programmes
Degree
To obtain a Bachelor's Degree in Italian you can combine single courses or follow one of the programmes listed under Education.
To get a Master's Degree in Romance languages with a specialization in Italian, you study one of the programmes listed under education.
Research
At the Italian department, research is conducted in Italian literature and Italian linguistics. The literature research has a comparative and transcultural focus, while research in the linguistic field concerns dialectology and language history, as well as second language acquisition and multilingualism.
Student Affairs Office

The Student Affairs Office is closed until further notice.

French & Italian

French: Studievagledare.franska@su.se

Italian: studievagledare.italienska@su.se

Directors of Studies first and second level