Conference brought together experts in international law
Almost 500 researchers was gathered at Stockholm University and around the world for the first major hybrid conference in international law, September 9-11. Crown Princess Victoria inaugurated the conference.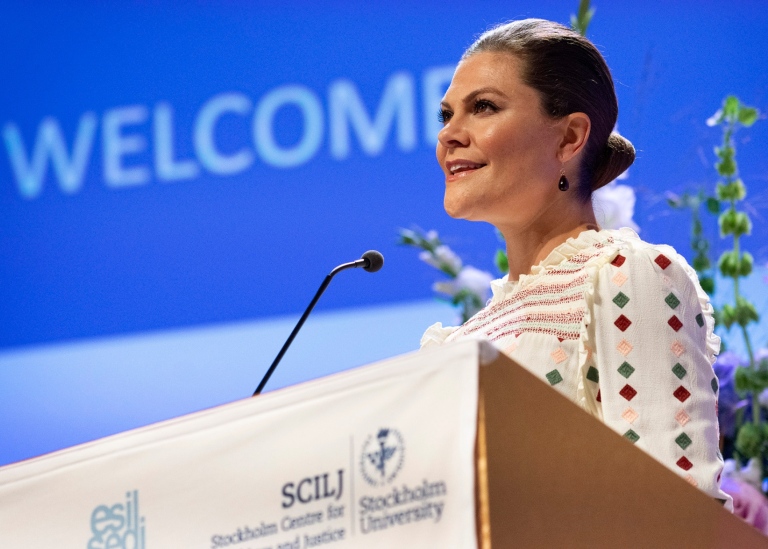 The European Society of International Law (ESIL) is Europe's largest organization for researchers, teachers and students in international law. The annual conference was to be held in the autumn of 2020. When the pandemic came, the event was postponed – but now, a year later, the conference could take place at Stockholm University.
Between 9-11 September, almost 500 participants from all over the world was gathered around the theme, "Changes in international law-making: actors, processes, impact." The conference was organized in a hybrid format: more than 200 participants were on site at Stockholm University, while other participants followed the conference digitally, from different parts of the world.
In her welcome speech, Stockholm University President Astrid Söderbergh Widding expressed joy that it is now once again possible to arrange scientific conferences, and that the hybrid format will become increasingly common.
Swedish tradition of working with international law
Swedish Crown Princess Victoria gave an engaged opening speech in which she emphasized that Sweden has a long tradition of working with international law, with the United Nations as a cornerstone. She emphasized the efforts made by individuals like Dag Hammarskjöld, Alva Myrdal, Raoul Wallenberg, and Folke Bernadotte. The Crown Princess also emphasized that Sweden has made pioneering efforts in international law. One example is the Stockholm Conference 1972 on the environment and the Stockholm Declaration.
"Hence, Sweden and Stockholm is an ideal place to arrange such an important conference," said Crown Princess Victoria.
International law is constantly relevant
The following speakers, Jessika Van Der Sluijs, Dean of the Faculty of Law, and ESIL's Chair Photini Pazartzis also emphasized that Sweden is known for its work on international law.
Hans Corell, chairman of the Stockholm Center for International Law and Justice (SCILJ) and former Legal Counsel of the United Nations, spoke about the long tradition of research and external collaborations in international law at SCILJ and at Stockholm University. He stressed that international law constantly has an important role to play around the world, for example in Afghanistan and Belarus.
"It is necessary to strengthen the rule of law and to fight corruption", said Hans Corell.
The pandemic raises various issues
Pål Wrange, director of SCILJ and one of the local organizers of the conference, emphasized that the ongoing pandemic raises several areas and issues in international law. 20 years after the attacks on the United States on September 11, there is also reason to reflect on what these events have meant for international law.
The introductory session was followed by a discussion on "The Politics of Global Lawmaking" with Martti Koskenniemi from the University of Helsinki and Sarah Nouwen from the European University Institute. The programme then continued with eight "forums" with invited speakers and twelve "agoras". The forum discussions explored more general issues, while the agora discussions are more focused on established research areas.
First major conference in hybrid format
The ESIL conferences have two main purposes, according to Professor Said Mahmoudi, one of the local organizers at Stockholm University. The first is to hear leading international law researchers discuss current issues and update participants on the latest developments in various areas of international law, present the results of research projects, or raise important questions for further reflection and research. The second purpose is to meet other researchers, form networks, establish collaboration with other universities, initiate joint research projects, etc.
A particularly important aspect of this conference is that it is the first major international law conference to take place in a hybrid format with participants both on site and online.
"I am convinced that this conference and our experiences of a large hybrid meeting will influence many other universities' decisions on how to plan academic conferences in the future," said Said Mahmoudi.
Read more about the conference:
esil2021.se/
Stockholm Center for International Law and Justice (SCILJ):
www.scilj.se/

Last updated: September 10, 2021
Source: SULaw