During your studies
On these pages we have collected information that can be important for you during your studies at the Department of Statistics. You can search these pages for answers to questions regarding your education or your study situation. Please also read the general information at su.se/study, or contact us if you do not find the answer to your question on the webb.
Here are the collected links to the course webpages at the Department of Statistics, with information about your teacher, schedule, course descirptions etc.
First semester courses
Second semester courses
Third semester courses
Courses only given within programs
Advanced level
Find your course in the study platform Athena
Athena is a learning collaboration environment, that you can log in to with your university account. Within Athena you can, for example, fetch homework such as written assignments, select a teaching group and get updated notifications about your course from your teachers.
Get support with Athena, or get an Athena app for your mobile phone?
If you don't find your course page in Athena, please contact the Student office.
If you have any questions regarding the contents on your course page in Athena, contact your main teacher.
On the Service Portal for IT you will find support and trouble shooting, if needed:
Free wifi and software for students
Make sure you get access to all IT services for students, including wireless network, university account, Office 365 and other free software. As an enrolled student at the Department of Statistics you can also use our computer labs.
Get access to all IT-services
In order to get access to all IT-services, you need an university account.
Free wireless network with eduroam
There are two wireless networks at Stockholm University: eduroam, which you are recommended to use, and SU. You will find more information on how to get online here.
Free software for students
SAS, SPSS, MATLAB and other software licenses are free to use througout your studies.
SAS statistical software
The statistical software SAS is free for all our registered students. You will find the instructions on how to download it to your own computer below. If you don't have a PC of your own, you can always spend some extra time in our computer labs. There are also free online training courses in SAS.
Computer labs at the Department of Statistics
For more information on our computer labs see above.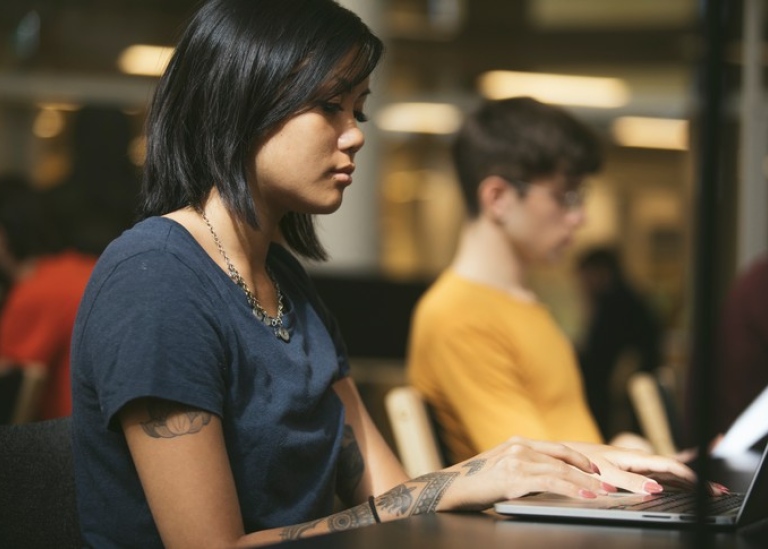 10 reasons to join the student council!
Our alumnus Lisa Nikiforova tells us about the benefits of joining the student council. Today Lisa has a career as a statistician and data scientist.
What benefits did you get during your studies, from being active in the student council at the Department of Statistics?

Join the Student council now! You'll find contacts below.
The Student Council at the Department of Statistics
Positions in a Student Council
Chairperson
The chairperson has the overall responsibility for the student council staying active and on the right track. This can mean being the contact person for the Student Union, convening meetings, putting together an agenda and arranging a meeting room.
Vice Chairperson
The vice chairperson supports the chairperson. If the chairperson is absent or unable to carry out all of their tasks, the duties of the post are carried out by the vice chairperson.
Treasurer
The treasurer has the overall responsibility for the finances, which, for example, means that they apply for council funding and activity funding from the Student Union. It is also common practice that the treasurer buys tea, coffee and snacks for the meetings, and keeps track of all expenses by documenting them.
Secretary
The secretary takes notes during the meeting and writes the minutes of the meeting. They make sure that information regarding the minutes and important events are available to the Student Union and the students.
Student representative positions at the Department of Statistics
Department board (Institutionsstyrelse)
• Language: Swedish
• Meetings per semester: 4-5
• Student representative positions: 2 ordinary, 2 suppliants
The department board is the highest decision-making body at the department. Here, decisions are taken that affects the whole department
Group for study environment and equal opportunities (Rådet för arbetsmiljö och lika villkor, RALV)
• Language: Swedish or English
• Meetings per semester: 2-3
• Student representative positions: 1 study environment and equality officer and 1 suppliant
This body discuses questions regarding study environment and equality at the department.
Education sub committee (Utbildningsnämnden för grund- och avancerad nivå (UNGA)
• Language: Swedish or English
• Student representative positions: 1 ordinary, 1 suppliant
• Meetings per semester: 2-3
This body discuses questions and drafts decisions that affects the education at first- and second cycle courses.
Information on exams at the Department of statistics
Information on hall exams and how to sign up is gathered at the central university web. The hall exams are coorinated centrally.
Please note that all exams are scanned for any kind of cheating, deceiving or forbidden means of assistance. Suspected cheating will be reported to the discipinary board and can lead to suspension. Please read the instructions on the exam and the rules for exams on Stockholm University thoroughly, so that you will know what is allowed on your exam.
For home exams you have to sign up at least 8 days in advance. If you cannot sign up in Ladok, e-mail to expedition@stat.su.se 8 days in advance at the latest.
Examination at another location
Examination at another location - student and third party guidelines and checklist
Exam result and exam review
You can see your own result on www.student.ladok.se.
Exams may be picked up at the Student Office. Exams and hand-in assignments are destroyed after two years.
If you need to re-take the exam again after both the exam and the re-exam within the semester, you can re-take the exam the next semester.
Exams for courses that are only given once per year
Courses that are only taught during the autumn semester have one extra exam during the spring semester.
If you have an agreed prolonged time on your exams, which you have discussed with the study counsellor at the start of your course, and will write a home exam, you have to contact the study counsellor no later than two weeks before the exam date to get your prolonged time.
Do you want to write your thesis at a company?
The Department of Statistics is in contact with several companies and organizations that cooperate with students writing their theses.
What is it like to write your thesis at a company or organization?
---
Study Environment and Equal Treatment
All students at Stockholm University are entitled to equal treatment and respect irrespective of sex, transgender identity or expression, ethnicity, religion or other belief, disability, sexual orientation or age.
Contact information
The head of the group for work environment and equal treatment at the Department of Statistics is the head of the department: Michael Carlson.
You can also contact the study- and career counselor, who works under professional secrecy, e-mail: studievagledare@stat.su.se
The coordinator for equal treatment at Stockholm University, e-mail: jamlikhet@su.se
It is advisable to also turn to the Stockholm University Student union.
At the Stockholm Student Health Services you can get counselling and advise.
Information on equal treatment for students
Within the first three weeks of a course, you can make an early de-registration through Ladok. To qualify as so-called 'early de-registration' the de-registration also has to be done before the first examination.
Please note: If you de-register from a course after the first three weeks, it is not possible to apply for the course again via university admissions and you will only be able to take the course at a later date subject to availability. In that case, you will have to ask for a re-registration at the student's office.
Please note: De-registration from a program does not include de-registration from the courses within the program, you have to de-register from the courses separately.
How to make a credit transfer
If you are a student at Stockholm University and have taken a course at an other University or Department, and want the credits transferred, please fill in the form below, to apply for transferring the credits.
Instruction
The following information needs to be attached to the application in order for it to be complete and considered:
• Certified copies of course certificates, transcripts of records or equivalent where it is stated at which university and when you studied, level, scope of credits and grade.
• Syllabus for the course/s in question
• For the courses in question, a list of literature, and where appropriate, degree project, have to be attached.
Before you fill in the Credit Transfer form, pleace contact the study councellor for advise.
For courses which are not taken within the ECTS grading system, you will need to attach an official explenation of the grading scale compared to the ECTS grading system.

Credit Transfer Form for the Department of Statistics (848 Kb)
Information for students withint the Master's Program in Statistics
Information for students who are already studying within the Master's Program
Student office
Visiting address

Campus Albano, house 4, floor 6

Albanovägen 12
No reception hours from 18 March 2020 and until further notice.
Student counselor
Visiting address

Campus Albano, House 4, floor 6

Albanovägen 12
The reception- and telephone hours are cancelled until further notice. You can book a time with the student counselor by e-mailing. Please e-mail us to book a zoom-meeting. We will not have telephone hours during the spring semester 2021.
Last updated: August 23, 2021
Source: Department name